Two or three times each week I find myself needing to step away from my desk and get some fresh air. And every time, it's the same routine. First to the bank's ATM for cash... followed by the Mini-Mart for a Coke with Lime and a stick of Pepper-Jack Cheese... followed by the Bakery for Po-Boy Rolls. I then go back to my desk, slice the Pepper-Jack Cheese in half, put it in the Po-Boy Roll to make a sandwich, then eat it while drinking my Coke with Lime.
But today everything went terribly wrong.
And I should have known that it would because I was given an Omen of Doom on my way to the bank.
As I reached the intersection, I suddenly noticed that there was nobody around. No traffic. No people. No sound. No anything. It was highly unusual. Naturally, I assumed that The Rapture had just occurred, and I had been Left Behind. Just for fun, I yelled "OH LORD, WHY HAVE YOU FORSAKEN ME?!?"
Only to realize that there was a woman standing right behind me.
I am now officially one of those crazy people who wanders the streets talking to themselves about the world ending.
I suppose it was only a matter of time...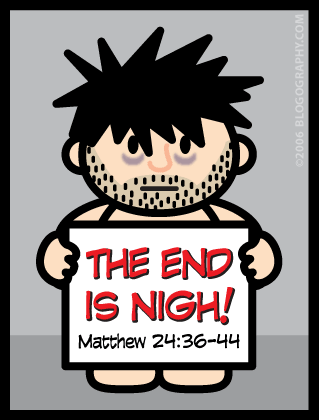 Anyway, I get to the bank's ATM only to find out that my card doesn't work. Turns out that the credit card company accidentally released all their card numbers AGAIN, and so it had to be replaced "for security reasons". Dumbasses.
But it's when I finally get to the mini-mart that the real tragedy occurs...
THEY ARE NO LONGER CARRYING MY BELOVED COKE WITH LIME!!!
Once again I find myself screaming "OH LORD, WHY HAVE YOU FORSAKEN ME?!?"
And so now I am left wondering if the Coke-heads have discontinued it or what. I suppose now it's only a matter of time before I become a rent boy, walking the street with the promise of sexual favors in exchange for feeding my Coke habit...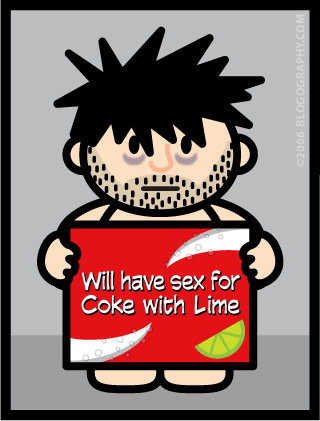 Coke bastards! The item replacing Coke with Lime is called "Vault" and it appears to be a rediculous hybrid of soda and energy drink. That's some stupid shit right there... if I want a frickin' energy drink, I'll buy a Red Bull.
In protest, I decided to skip on Coke products and buy a Dr. Pepper instead.
Except now that I've opened the bottle, I realize that it's not REAL Dr. Pepper... it's Dr. Pepper with Vanilla and Cherry flavorings. YARGH! I HATE CHERRY FLAVORING!!
I'm having a very bad day.