Despite working my guts out over the holiday weekend, I still made time to go see Memoirs of a Geisha at the movies. As a Japanophile, it was an absolute necessity.
But make no mistake that I wanted to see the movie because I was a fan of the book... nothing could be further from the truth. I positively despise the book Memoirs of a Geisha on which the movie is based. It is a highly fictionalized crap-fest that shits all over the secret "flower and willow world" of the geisha and is an insult to Japanese culture on several levels. I am positively horrified that the book is the big success that it is, because it propagates stereotypes and false information that go against everything geisha are supposed to be about.
No, I went to see the movie because I am a mega-huge fan of Michelle Yeoh. And also the incomparable Ziyi Zhang, who I fell in love with ever since watching the sublime Crouching Tiger, Hidden Dragon...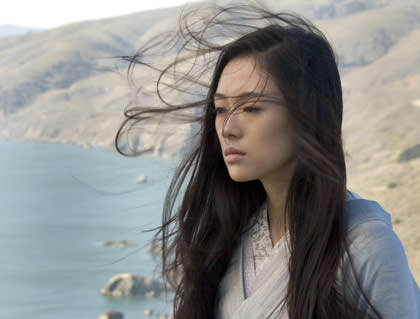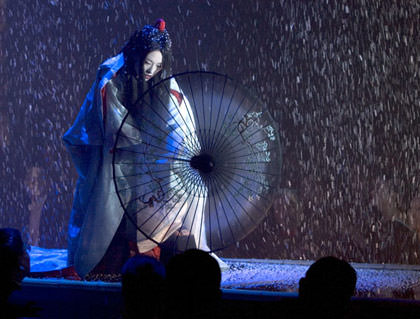 But here's the problem. Neither Michelle Yeoh or Ziyi Zhang are Japanese.
Sure their performances weren't terrible, but they should have never been cast in the first place. They were hired for the job solely because they have name recognition (no matter how vague here in the US) and because Western audiences won't know or care that they aren't Japanese. They look "Asian" and that, apparently, was enough.
Unless you appreciate Japanese culture, in which case they are about as Japanese as I am. Seriously, I could have been cast as the geisha, and it would have been just as "authentic"...
Anyway...
The word "geisha" literally means "arts person" in Japanese. Geisha are not prostitutes, as most Westerners would think, but living, breathing, moving, works of exquisitely beautiful art. Sex never enters the picture (which is not to say that geisha don't have sex, it's just that they do not have sex as geisha, which is a big difference). Geisha are highly trained from a young age to sing, dance, play instruments, compose poetry, facilitate conversation, and dozens of other art forms... like gracefully pouring tea and making ikebana (interpretive Japanese flower arrangements). They are entertainers of the highest caliber, and respected artists both in action and appearance.
Which is why the movie and book sucks ass. in order to appeal to the tawdry nature of Americans, everything is infused with sex. You've got geishas having sex (in their okiya!)... geishas selling their virginity... geishas having their clothes ripped off... all these ridiculous things which are included solely to sell books and movie tickets. Obviously I can't say that these things never happened to a geisha in real-life, but they are in no way indicative of what geisha represent, and it saddens me to think that this is the image Westerners will have of them. I mean, sure it's one-step above the prostitutes that most people have in mind now, but not much of one.
Putting the true nature of geisha and reality aside, the film still fails in my opinion. It was beautifully shot with capable actors, but that doesn't compensate for the uneven pacing that's paired with a poor (and somewhat pedophile-freaky) story. Unlike The Last Samurai, which I was able to buy into as fanciful Japanese fiction, Memoirs of a Geisha never managed to absorb me. Too many flaws kept getting in the way.