You know the satisfaction that comes from a job well done? The sweet victory of completing a project you can be proud of? Knowing that you took the time to do something right, and it shows?
Yeah, me to. It's a great feeling isn't it?
Unless you are building a web site.
Because no matter how much time you spend making sure everything is compliant with web standards... no matter how long you take to validate every line of hand-coded HTML... no matter what you do to ensure that everything will appear exactly as you intended it to look...
It all falls apart when you look at the site in Internet Explorer...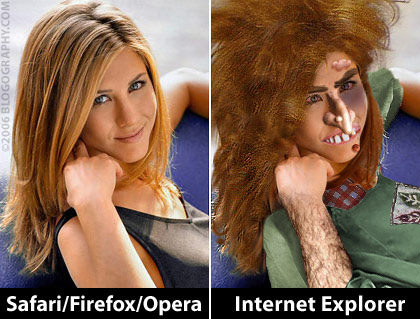 Suddenly, all the hard work... all the hours... all the painstaking attention to detail... it's all turned to shit because Microsoft's browser sucks ass. Sometimes the Internet Explorer Effect™ is so heinous that sites which render perfectly in every other browser on earth become unusable. I could go into details (the box model is f#@%ed up, floats aren't handled properly, no support for max-width, etc. etc. etc. etc.) but none of it really matters. The simple fact is that Internet Explorer is garbage. Unfortunately, people don't seem to realize it...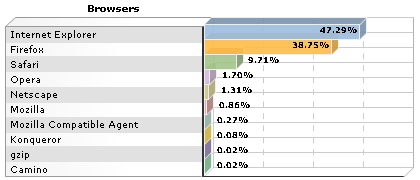 HALF the world is using Internet Explorer, so it doesn't matter that the browser sucks donkey balls. You pretty much have to hack your site to work around all the bugs, omissions, inaccuracies, and f#@%-ups in IE, or else all these people will think it's your fault things look like crap.
There's always the hope that the next version of IE will fix all the problems, but it doesn't really matter because so few people will bother to upgrade. This makes Internet Explorer the equivalent of a case of herpes that will never go away completely. All you can do is put a condom on your site and hope that it doesn't mess things up for the browsers that don't have an STD.
I dunno. Maybe if enough IE victims are convinced to make a better choice, the percentage of users will drop so low that designers won't have to worry about the Internet Explorer Effect™ anymore. Finally, the internet will be beautiful once again (and mostly disease-free).
Oh well. Since I've spent most of my day being beaten into submission by a crappy web browser, I might as well get that "FOUR THINGS" meme out of the way. I've been tagged a couple of times before, but now Gerry and Karla have nabbed me in a weakened state, so here we go:
Four jobs that I've had...
Fruit Acquisitions Manager (Cherry Picker).
Refuse Elimination Technician (Janitor).
Customer Sales Relations Supervisor (Sales Clerk).
Lord of the Known Universe (T-Shirt Designer).
Four movies I can watch over and over...
Four places I have lived...
Four TV shows I like to watch...
Four foods that I like...
Cheese.
Cheese Sandwich.
Cheese Pizza.
Johnny Rocket's Streamliner Burger (no grilled onions) with raw onions, mayo, and Cheese.
Four web sites I visit daily...
Four things I want to do before I die...
Visit Greece, Australia, Egypt, and Southern Italy.
Finish my comic book.
Meet Elizabeth Hurley.
View the Earth from Space.
Four places I'd rather be...
New York City.
London.
Rome.
Maui.
Four albums I can't live without...
101 by Depeche Mode.
Major Earth, Minor Sky by a-ha.
Disintegration by The Cure.
The Shore by The Shore.
Four places I've been on holiday...
Bali.
Thailand.
Japan.
France.
Four people I'm tagging...
Dang. Now I want some cheese.
"When my get-up-and-go has got-up-and-went, I hanker for a hunk of cheese! When my ten-gallon hat's a feelin' five gallons flat, and I'm feeling kinda weak in the knees... I hanker for a hunk of, a slab, or a slice of, I hanker for a hunk of cheese!"