I don't really care about football because I'm more of a baseball kind of guy with an occasional basketball infatuation (college ball only, because pro basketball doesn't seem to be about basketball anymore). But even then, it's just entertainment and not a reason to go insane.
And yet if you live anywhere in the vicinity of the Pacific Northwest, odds are you are going out of your freakin' mind right now because the Seahawks have finally managed to make it to the SuperBowl. It's a pretty big deal here, or so I gather.
All I know is that every time I turn on a local television station lately, I've got to watch everyday citizens dressed up like clowns and acting like obnoxious douchebags...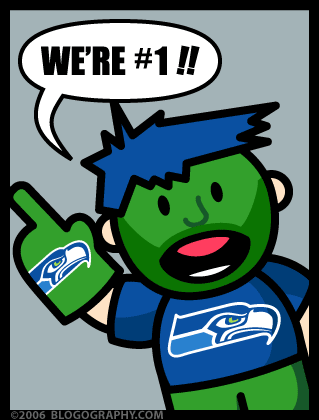 People with blue hair. People with green hair. People with painted faces. People yelling and screaming... "WE'RE NUMBER ONE!!" and "STEELERS SUCK!!" — It's kind of like what I envision armageddon is going to be like.
Don't get me wrong. It's not like I have anything against people being all excited and having team spirit for fun... but the idiots that they're always showing on television act like rabid freaks who are in desperate need of therapy. I'll be very glad when football is over, though a bit frightened at the possibility of Seattle losing. I envision the Space Needle on fire and the city engulfed in chaos... the WTO riot of '99 is still fresh in my mind.
Anyway, for the sake of all my fellow Washingtonians who are dying to win the SuperBowl, I'll shout out my obligatory "Go Seahawks!" for the Showdown in Motown.
That's about all I can do, considering that winter storms have caused multiple avalanches on the mountain passes, and westward routes to Seattle are closed until further notice.
In even more disturbing news... whilst flicking through channels last night, I noticed that sicko pervert Pat O'Brien is back to hosting one of those boring Hollywood gossip shows. It is impossible for me to even look at the freak without having those disgusting drunken answering machine tapes playing in my head.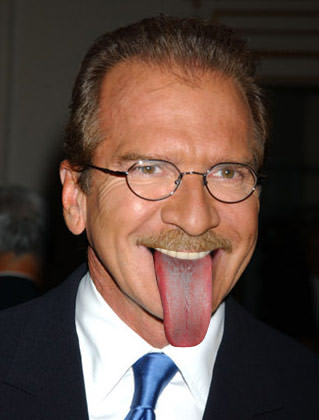 Was it too much to ask that he quietly disappear after being released from rehab?? As annoying as he was before all this, he's just plain creepy-scary now.
In other words, he's perfect for politics.