Here is my one word review of Brokeback Mountain from last night...
Borrrrrrrrrrring.
It was boring. Beyond boring. The cowboy love story was not enough of a story, and everything in-between was so mind-numbingly, coma-inducing, kill-me-now, BORING that I found myself counting ceiling tiles. Yes the cinematography was first rate and the scenery was pretty... but that doesn't excuse this long, drawn-out, snore-fest of a film. I remain positively dumbfounded that Brokeback Mountain is getting such critical acclaim. Between Heath Ledger mumbling every word of his incomprehensible dialogue and having to sit through long stretches of NOTHING, I can honestly say that this is one of the worst movies I've ever seen.
I never thought I would find myself looking forward to watching some hot man-on-man action but, since that was the only action to be found, there was nothing else to do. The story tried to show how society was so unforgiving of their love that they had no choice but to enter into straight marriages that neither were happy in. But the result was cliched and felt tacked on... as if stereotypical screaming babies and an unapproving father-in-law were supposed to be some kind of excuse for them to keep having feelings for each other. In the end, the wives who were being cheated on for the sake of forbidden romance were the more sympathetic characters. I always felt that Ennis and Jack's marriages should have been a sad result of something both wanted but weren't brave enough to have... but this didn't come across in the film. At least not to me.
On a more positive note, I'll bet the porn remakes are going to be entertaining...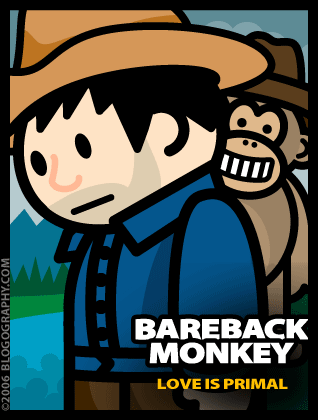 The thing that surprised me most was not the actual movie, but that there were so many people there to watch it. Despite this being 2006, I live in a somewhat redneck area of Central Washington. To have a fairly good-sized audience of mostly older people at a 4:45 showing is remarkable. I can only hope that this indicates society is becoming more accepting of gay cowboys having sex. It would be nice to live in a world where consenting adults can have love and happiness wherever they are lucky enough to find it, and not have to worry about being judged or killed for it.
Overheard in the parking lot after the movie was over: "I nearly choked on my popcorn when that boy took that other fella from behind like that... heh heh heh, homos!"
Errr, well... maybe there's a ways to go yet, but at least the guy had a mind open enough to go watch a Western where the cowboys had been all homosexualized by the homosexualizations of those homosexualizers in Hollywood. That's a start.
Anyway, the night wasn't a total loss. Thanks to Michelle leaving me a hot tip in a comment, I was able to drop by Safeway and pick up a couple boxes of Peanut Butter Captain Crunch cereal for the bargain price of 2 for $5... score!
I wish I could quit you, Captain Crunch.