Oh happy day. Something must be up with my internet connection, AGAIN, because ecto is hanging any time I attempt to post to my blog, AGAIN. I spent hours last night trying to figure out what the problem was, but nothing seemed to work. And now tonight the problem seems to have mysteriously fixed itself, AGAIN. I wonder if it could be my Wireless Router dying or something?
Anyway, today was a very strange day. I got int--
GAH! ELIZABETH HURLEY IS ON TELEVISION! ELIZABETH HURLEY IS ON TELEVISION RIGHT NOW!!! Delicious! Hmmm... apparently she went to Elton John's wedding or something. Awww, that's not fair... they barely showed her!
Now where was I? Oh yes... blah blah blah... my day was strange... blah blah blah... somebody crashed into my car.
I got home from work early because there was some work I needed to finish on my laptop. So I pull into my spot and start unloading my car, when all of a sudden this idiot comes tearing into the ice-covered parking lot at full speed. For some reason, the dumbass thinks that his car is immune from sliding on ice, and actually seems surprised when he doesn't stop immediately after stepping on the brakes. Seeing him sliding towards me, I jump out of the way. He doesn't hit me, but slides square into the rear bumper on my car, then rolls down his window with a big smile on his face...
DUMBASS DRIVER: HA HA! Bet you thought I was going to hit you!
&nbsp
DAVE2: Yeah, well you DID hit my car!
&nbsp
DUMBASS DRIVER: Awww, it was just a tap! There's no damage.
&nbsp
DAVE2: If you're going to drive in bad weather, why don't you learn how first?
&nbsp
DUMBASS DRIVER: You're overreacting!
&nbsp
DAVE2: And you're a DUMBASS!
The smile disappears after that, and he revs his engine and peels out. He wasn't actually parking... just dropping somebody off... thankfully. But I love the fact that HE'S mad at ME because HE ran into MY CAR! He didn't even appologize. Classic!
I wonder what he would say if he ran over a little kid in a crosswalk? "IT'S JUST A TAP! GET UP AND WALK IT OFF! THERE'S NO DAMAGE!!"
Dumbass.
Like I said, it's been an interesting day.
CHAPTER 19: Bashing Through the Snow.
LEGO ADVENT CALENDAR TOY OF THE DAY: Remote Control Car.

While trying to track down the evil Lego Buzz, our hero runs into Lego Buzz Jr., who refuses to give up where his dad is at...

"TELL ME WHERE LEGO BUZZ IS AT, KID!" yells Lego Dave, his voice clipped.
"No way, you tool!" snaps Lego Buzz Jr. "I ain't telling you dick!"
"Are you talking to him on that walkie-talkie? inquires Lego Dave. "Let me talk to him!"
"Ha ha ha! This isn't a walkie talkie you dipshit!" Lego Buzz Jr. says with a sneer. "It's for my remote control car!"

Clutching the remote, Lego Buzz Jr. presses some buttons and a small car goes zooming by. It circles a few times, then comes to a stop right in front of Lego Dave.

"Wow, that's pretty cool!" exclaims Lego Dave.
"Yeah, I know, freak-bag!" Lego Buzz Jr. says as he rolls his eyes.
"I wonder how cool it will be when I smash it to pieces with my foot!" taunts Lego Dave. "Now why don't you tell me where Lego Buzz is before you have a remote-control pile of junk!"
"NNNOOOOOOOOO!" cries Lego Buzz Jr.! "That's mine! MINE! MINE! MINE!"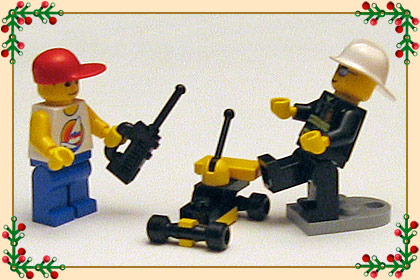 "You better tell me!!" shouts Lego Dave. "Or I'm busting it up!"
"Okay! Okay!" whines Junior. "He went to pawn some jewelry at the shop down on Main Street. NOW GIVE ME MY CAR YOU BASTARD!"
"Sure thing." says Lego Dave. "But I'm afraid that I'm going to need to borrow something from you before I go."

His eyes ablaze, Lego Dave removes the hand-axe from his belt and slowly walks towards Lego Buzz Junior...

Has Lego Dave finally fallen off the deep end?

FIND OUT TOMORROW WHEN DAVE'S "A VERY LEGO HOLIDAY TALE" CONTINUES!