I have a strange amount of free time tonight, but nothing really interesting to write about. That almost never happens. I guess that means things are going to be pretty random this time. If I were you, I'd skip today's entry.
One thing I DID do was go see the new movie The Family Stone today, and found it fairly entertaining. The only thing that really, really bugged me was the last five minutes of the film, where they decided to tack on an incredibly stupid and condescending "happy ending" that was completely unnecessary (and unbelievable). Why is it that films made for American audiences feel compelled to wrap-up and explain every last little detail? Are audiences really so stupid and unimaginative that they need it all spelled-out for them? It's really quite sad, because the movie was pretty good otherwise. The casting was perfect, though I think Luke Wilson completely stole every scene he was in.
And, in other news, Fed-Ex told me that I need a reality check...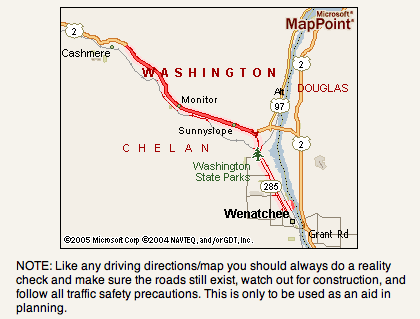 Yes. Thanks for the tip. Always best to make sure that the roads still exist before driving on them. I'll be sure to keep that in mind.
Oooh... now here we go... Anthony has tagged me with a "List Five Weird Habits of Yourself" meme! I'll go ahead and answer, but I have a policy to not tag others, so feel free to tag yourself if you want.
Five Weird Dave Habits...
Whenever I have a job where I am working a cash register, I have this nasty habit of bitch-slapping people who don't trust me to count out their change. The minute they start recounting it, I can't help it... they get slapped (just kidding Anthony!).
I am in the habit of stopping at every magazine stand I pass so I can check to see if there is anything new happening with Elizabeth Hurley. This isn't so weird until you understand that I will gladly stop at three separate stands in the same mall just in case one of them has an Elizabeth Hurley magazine that the others somehow missed.
I cannot pass up watching Star Trek's I, II, IV, or VI when they air on television. This is particularly weird habit considering that I own them in extended DVD editions that are commercial-free.
When traveling, I have the habit of packing a pair of "lucky underwear" for the return-trip home. They're a pair of "Tiki Bowl" Joe Boxers, and have been traveling with me for years. I am starting to get worried that they will wear out, so I rarely wear them except on travels.
I have the expensive habit of buying every new iPod model that Apple releases. I always give away the older version when the new one arrives, but that still adds up to a lot of money spent on iPods. I haven't got the iPod Video yet, but I'm guessing that will happen eventually.
Hey, how about that, I actually managed to scrape together enough stuff to post an entry after all!
CHAPTER 18: Little Bummer Boy.
LEGO ADVENT CALENDAR TOY OF THE DAY: Kid with a walkie-talkie.

After the murder of his good best friend Barky the Dog, Lego Dave sets out for revenge against the evil Lego Buzz...

"BAAAAAAAARRRRRRRRRRKYYYYYY!" yells Lego Dave, his fist shaking in the air. "I WILL AVENGE YOOOOOOOUU!"

But where to find Lego Buzz? He could be anywhere by now! Not knowing where to go, Lego Dave decides to wander back to the demolished jewelry store where he first met him to look for clues. But, along the way, he spies a mean-looking kid with a walkie-talkie playing with precious gemstones... just like the ones that Lego Buzz stole from the jewelry store safe he broke into!

"Hey kid! Where did you get those precious gemstones?" asks Lego Dave.
"None of your business, loser!" snipes the little jerk. "Why don't you get lost!"
"Well I'm a fireman, kid, you have to tell me, because it's the law!" proclaims Lego Dave.
"If you must know, my dad gave them to me!" snaps the mean kid...


"Dude!" exclaims Lego Dave. "Your dad is Lego Buzz?"
"Yeah? So what, you dick!" quips the brat. "I'm Lego Buzz Jr.!"
"Wow!" says Lego Dave. "I'm a good friend of your dad's. Where is he at?"
"Bite me!" Junior retorts with not an ounce of respect. "I ain't telling you anything!"

His first clue is a dead-end! How can Lego Dave track down Barky's killer now?

FIND OUT TOMORROW WHEN DAVE'S "A VERY LEGO HOLIDAY TALE" CONTINUES!