This afternoon I wanted to work at home so I could concentrate on my job without distraction. But, since I live in an apartment complex with a bunch of elderly people who are hearing impaired, "distraction" is a relative term. In order to compensate for slamming doors and radios being blasted at full-volume, I mask the ambient noise by cranking the volume on my television. The trick is to find some show that you are completely uninterested in so that you won't want to pay attention to it.
Since Lost wasn't playing, I settled on Little House on the Prairie.
For those who have never seen it, the show is a bundle of wholesome entertainment that's about as entertaining as head lice. It centers around a 19th century pioneer family who settle in a small frontier town in the American Old West. From what I've seen, the stories are usually folksy little anecdotes that should take ten minutes to tell, but are somehow drug out into an hour... things like one of the daughters telling a lie to their parents and feeling bad about it, but they tell the truth in the end and everybody lives happily ever after. Thrilling, I know.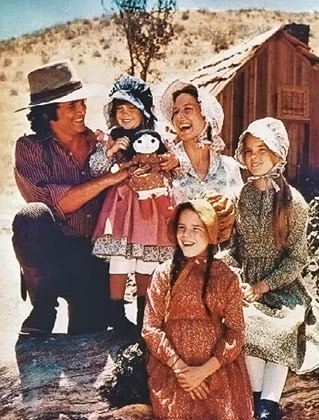 Usually, I could safely ignore the show, because this kind of ridiculous pap is everything I loathe in television. But something happened today. Something different. The harder I tried to ignore it, the more riveted I became.
Today's episode revolved around the town moron (Luke) falling in love with the town bitch (Nellie), but things got complicated when the town school teacher (Miss Beadle) found out that Luke was buying a $1.05 ring for another girl... oh the humanity! During the aftermath, I was treated to some of the most compelling dialogue ever to be uttered on television...
Miss Beadle: I came out here to say that anyone who leads a young lady on and then just lets it drop is NOT a very nice person! Luke, how could you be so inconsiderate as to hurt poor Nellie Oleson like that?

Luke: Me hurt Nellie? Shucks Miss Beadle, I'd never do nuthin' to hurt Nellie. She's kinda like my girl.

Miss Beadle: Well then, would you mind explaining the ring that you bought for Mary Ingalls?

Luke: Shoot, I didn't buy that ring for Mary. She just helped me pick it out. It's for Nellie's birthday.

Luke's Dad: Yeah! He spent most of the money he was savin' for a rifle on it!

Luke: It was worth it... for Nellie.

Miss Beadle: Oh Luke, I'm sorry! I apologize. I- I can see now it was just an unfortunate misunderstanding.

Luke: That's okay. I'm gonna give her the ring tomorrow night before we go to the corn shuckin'!
But the true brilliance of the episode was not realized until Luke's dad decided to put the moves on Miss Beadle!
Luke's Dad: Eva... I reckon' you know how I feel about you. And feelin' like I do, I was hoping-- AWWWWW! I'm just a dumb, uneducated pig farmer!

Miss Beadle: Adam Simms! Don't you DARE talk like that! Now there's a lot more to education than book readin'!! Now look, you know more about pigs... more about hogs... and more about farming than I'll ever know! And what's more, you have wonderful qualities! You've got special qualities that so-called "educated people" will never have! And you're a good man. And you're a good father. And- and you're kind and considerate. And-

Luke's Dad: Eva will you STOP!

Miss Beadle: Well I will if you want me to, I was just trying to show you that--

Luke's Dad: No, no, if you don't stop... I can't ask you if you'll do me the honor of becoming my wife!
Cue the violins.
So as I am sitting there watching the pig farmer with his buck-oh-five ring planning to propose on the evening of the annual corn-shuckin' festival, I start to think... wouldn't it be wonderful to live back in those simpler times? Wouldn't life be so much better without all the complexities of modern life?
F#@% no.
If I suddenly found myself living in the Little House on the Prairie, I'd hang myself from the barn rafters.
Well, right after I slap Mrs. Oleson and push Nellie off a cliff. The bitches.
CHAPTER 20: Holly Jolly Smashmouth.
LEGO ADVENT CALENDAR TOY OF THE DAY: Skate Board and Helmet.

Lego Dave is seeking revenge against the evil Lego Buzz for killing his canine companion, Barky the Dog, and has finally learned his location from the nasty Lego Buzz Junior...

"I TOLD YOU WHERE LEGO BUZZ IS, NOW GIVE ME MY REMOTE CONTROL CAR!" screams Lego Buzz Junior.
"It's yours... but, as I said, I need to borrow something..." replies Lego Dave while brandishing his hand-axe. "... YOUR HAND!! Bwah ha haaah!"
"Waaaaahhh!" screams the brat as Lego Dave chops his hand off.
"Oh don't be such a baby!" says Lego Dave. "I'll bring it back so the hospital can sew it back on."

Grabbing the severed hand (which is still clutching the remote control), Lego Dave is tying up Lego Buzz Junior, when he notices a skateboard leaning up against the wall.

"Oh, I'll be borrowing this skateboard too" declares Lego Dave. "And this helmet... you can't be too safe now-a-days!"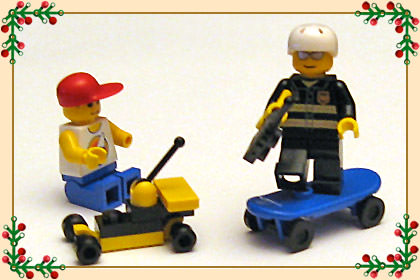 "I hope my dad saws your head off!" says Lego Buzz Junior. "You've chopped off the wrong hand, bitch!"
"He is welcome to try" snaps Lego Dave. "Because I'm ready for him this time."

Hopping on the skateboard, our hero takes off towards Main Street for the final confrontation with the evil Lego Buzz.

Will Lego Dave finally be able to avenge the death of Barky the Dog?

FIND OUT TOMORROW WHEN DAVE'S "A VERY LEGO HOLIDAY TALE" CONTINUES!