I loathe to shop.
I honestly think I'd rather spend a day at the dentist over having to spend a day shopping. And that's on a "normal" day... for the week before Christmas, I'd rather be bludgeoned with a crowbar than have to go shopping.
So guess what I had to do today?
And it was as horrible as I had thought it would be. Mostly because I had to run all around town in order to get the things I needed. This is unusual for me, because normally I just go to Target and, if Target doesn't have it, I assume the item in question doesn't exist. But today I didn't have any choice. There was a list of things I had to get, and Target only had a few items on it.
So I had to (=shudder=) GO TO THE MALL.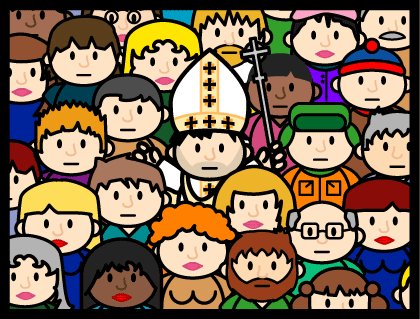 Along the way I got hit up for a cigarette by an underage smoker, then literally hit with a big box by some bitch talking on her mobile phone instead of paying attention where she's going. Yeah, it was a big bucket of fun.
But the worst part of it all was my visit with Santa.
As I was making my escape from the Mall of Horrors, I somehow got entangled in the line to have your picture taken with Santa. But there was no Santa. Santa was gone. In his place was a sign that said "Santa needed ASAP!" As I looked around at the smiling faces of the snot-nosed kids waiting to meet the fat man, I started to feel bad that Santa had abandoned them. Then I started thinking...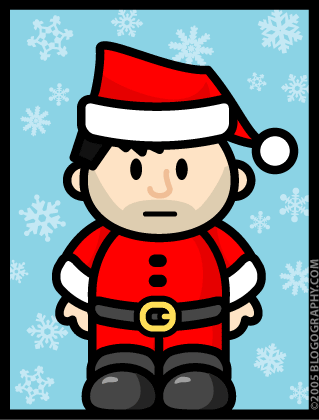 I could so totally be Santa!
Fortunately, such desperate measures were not needed because Santa came along directly... but barely. The Santa they had scrounged up looked like he was going to die any minute now. Hence the sign, I suppose.
I stood there staring in fascination as the decrepit St. Nick could barely sit up in his chair. And then a kid came running up to sit on his lap and I was horrified at the prospect that Santa's tiny legs were going to snap in half under the strain. This was not good at all, because the not-so-fat fat man's expiration date was rapidly approaching. He wasn't really jolly at all, instead he was more uhhhh... sedate... than you would expect.
I had to leave before one of these kids killed Santa, because I just don't think I could take that.
It was a real shame too, because I was totally going to ask him for a reliable internet connection for Christmas.
And a Porsche 911 Carrera 4S Cabriolet.
And a date with Elizabeth Hurley.
Oh yeah... and peace on earth.
(But only if he doesn't hold me at three wishes... because then I'm totally sticking with the internet, Porsche, and Elizabeth Hurley).
CHAPTER 21: Winter Blunderland.
LEGO ADVENT CALENDAR TOY OF THE DAY: Chef with Pizza.

Lego Dave is seeking revenge against the evil Lego Buzz for killing his canine companion, Barky the Dog, and has finally learned his location from the nasty Lego Buzz Junior...

"I'M COMING FOR YOU LEGO BUZZ, YOU BASTARD!" screams Lego Dave as he tears down the street.

Skating like a man possessed, Lego Dave starts heading down to Main Street's pawn shop. But just before he gets there, he sees Lego Buzz in a pizzeria. Hopping off his board, he enters the restaurant...

"It'sa delicious pizza!" says Lego Chef. "Eata youself silly, guy!"
"NOT SO FAST DOGGY MURDERER!" screams Lego Dave as he runs up to the table...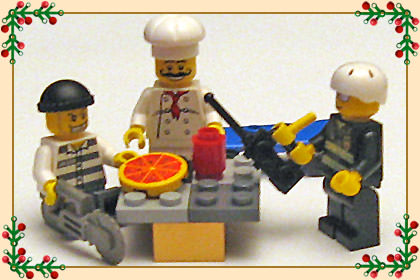 "Hey fella!" says Lego Buzz. "What's up?"
"You killed Barky!" cried Lego Dave, his voice choked with emotion. "Now I'm going to kill you!"
"Not likely, dude!" laughs Lego Buzz as he revs up his rotary saw. "I think it's YOUR time to DIE!!!"
"Hold on a second!" says Lego Dave. "I think you'll be handing over that saw right now!"
"Yeah, right!" snickers Lego Buzz sarcastically.
"Recognize THIS?!" quips our hero as he holds out the severed hand gripping the remote.
"Ha! Looks like your construction worker friend didn't make it!" chortles Lego Buzz.
"Noooooooo!" chuckles Lego Dave. "Take a closer look!!"
"GAAAAAH!" screeches the evil Lego Buzz. "What have you done with Lego Buzz Junior?!?!!"

It appears that our hero finally has the (heh heh) UPPER HAND now! Or does he?

FIND OUT TOMORROW WHEN DAVE'S "A VERY LEGO HOLIDAY TALE" CONTINUES!