For reasons unknown, I am experiencing random flashes of total despair. Only for a second... then it's gone again.
I'm a little bummed about that, but not for the reason you think.
I'm bummed because the despair doesn't stick around long enough to be useful, and that's just annoying. I could use a little despair in my life. It's a terrific creative motivator. As it is, I'll just have to be content to stumble along in mediocrity.
Oh well. That's good enough to make my own Warholl "Marilyn" portrait. I've wanted to to it for ages, but never got around to it until tonight...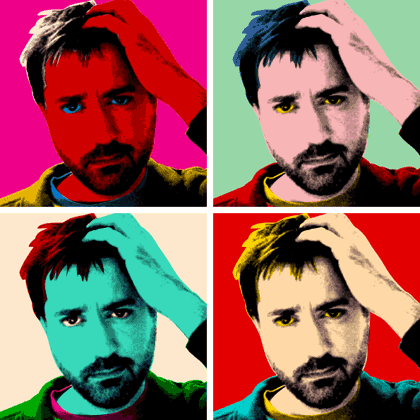 Hmmm... now that I look at that Warhol homage, I am totally thinking that I need to dye my hair blonde. I am SO hot!
Well, either that or dye my skin blue.
But before I get to today's Lego Advent Calendar story... has anybody listened to INXS's new album Switch? I had nothing but poor expectations with Michael Hutchence gone, but ended up being completely floored. There are some beautiful tracks on that release, including my personal favorite, Afterglow.
CHAPTER 5: Jingle Kills
LEGO ADVENT CALENDAR TOY OF THE DAY: Police Doggy and Police Barricade.

The meth lab that Lego Dave set on fire ended up having a police office inside! Things are not looking too good for our hero...

"You're coming down to the station for impersonating a fire fighter and a possible arson charge!" the officer said, his words sharp. "Then we'll get to the bottom of all this!"

Suddenly, out of nowhere, a police dog appears, snarling violently at the officer. "Bark! Bark" goes the dog.

"Ack! Get away you mangy mutt! I thought I had you locked in the squad car!" the police officer snaps. "Stupid K-9 unit!"

Suddenly enraged, the dog attacks the police officer, tearing into his jacket with his teeth. From the tattered remains of the policeman's pocket drops a baggie filled with rocks of crystal meth.

"Hey! You're a crooked cop that's a meth addicted!" Lego Dave declares.
"So what!" the police officer snipes. "When my backup gets here, who do you think they're going to believe... a decorated officer of the law, or a guy impersonating a fire fighter?"
"Well I think they'll have a hard time hearing your side of the story with an axe in your chest!" Lego Dave replies as he buries the hatchet in the officer...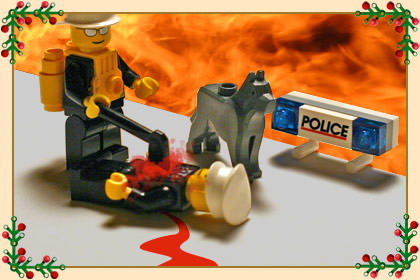 "Bark! Bark!" says the doggy as he pees on the dying officer's head.
"What a mess!" exclaims Lego Dave. "The police and fire department will be here any minute Barky... we'd better get rid of this body!"

Things are getting complicated... what will Lego Dave do next?

FIND OUT TOMORROW WHEN DAVE'S "A VERY LEGO HOLIDAY TALE" CONTINUES!