I don't feel like getting out of bed today.
Fortunately, with a PowerBook and a wireless network, there's no need to get out of bed! I can just lay here and the entire world can come to me. Not only that, but my Lego Advent Calendar is just within reach on my desk... and I can almost... argh... just about... get my fingers on it... and there we go. Wow. It's a little Lego police officer. That's going to make for an interesting turn in the story.
And speaking of interesting turns... my rant yesterday about my name and blog content being commandeered to advertise mattresses has only served to get me put on two more mattress sites. Apparently, the same scumbags are running all three, and all I did by complaining about it was provide more material for their Google-aggregating asses to steal. It's like a virus that spreads... all in the interest of getting people to click on their Google mattress ads. I find it fascinating that so many people are using theft as a business model now-a-days. Even worse... they're probably making money at it.
They all must die, of course. Once I've achieved world domination, I'll get right on that.
And speaking of Google searches... I continue to be amused at what searches people are using to find Blogography. I realize that most of the time I'm listed because random words in one of my archives somehow manage to fit the search criteria, but it's still bizarre. Here's some of the "cleaner" results I've seen this morning:
"CSI Miami David Caruso over acting" - I complain about it enough, and he really does suck ass on an otherwise good show, so this one actually makes sense.
"Catherine Bell porn" - I wish.
"elizabeth hurley naked" - If only! Now that's just cruel.
"who is David Simmer?" - I ask myself that same question every day.
"chop penis off food" - Please, please tell me that this was not a research project. I should have realized that this would get me into trouble.
"thick ass fine naked bitch gallery" - At first I thought "no way!" But then I followed the Yahoo! search and, sure enough, there's Blogography right next to some really, really disgusting other sites. I find it amusing that this guy was so specific in his quest for porn, and feel bad that I must have disappointed him when he got here.
"Paula Radcliffe peeing picture" - Sorry, you won't find that here... and why would you possibly want to see such a thing? This is actually a common search that brings people here, which is disturbing for oh so many reasons.
"dave fantasy ass" - You know it baby!
Sigh. I suppose now I HAVE to get up so I can go to the bathroom. I also need to grab my camera.
Not that I am going to take pictures of myself in the bathroom or anything... I just need to take a photo of the Lego toys for today's chapter.
Seriously... you really need to get your mind out of the gutter!
I need to get my mind out of the gutter as well, but the words "elizabeth hurley naked" are stuck in my head.
CHAPTER 4: Jingle Bell Cop Rock
LEGO ADVENT CALENDAR TOY OF THE DAY: Disgruntled Policeman with Walkie-Talkie

Scaling the burning meth lab, fake fire fighter Lego Dave sets out to rescue a crack whore from the inferno...

"I'm coming to save you Miss Crack Whore!" Lego Dave cried above the roar of the flames. As the cherry-picker ladder rose higher and higher, he could barely make out a figure standing in the smoke-filled window above.

After agonizing minutes, the bucket finally reached the second floor.

"Here I am to sa-- hey! You're not a crack whore!" Lego Dave exclaims.
"No you idiot, I'm a police officer!" replied the disgruntled figure, his face twisted into a perpetual smirk.
"That's okay Mr. Policeman, I'll save you!" Lego Dave replied. "Hop in!"
"Thanks guy" said the police officer, as he climbed into the bucket.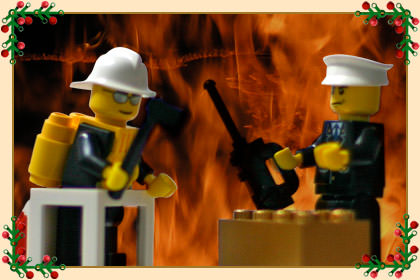 "I am so totally brave!" Lego Dave said proudly. "They're sure to make me a fireman now!"
"What?" said the policeman. "Hey! You're not a real fire fighter! What's going on here?"
"Don't say that. DON'T SAY THAT! I AM A REAL FIRE FIGHTER" Lego Dave replied frantically. "I've proven it by rescuing you!"

As the bucket reached the ground, sirens could be heard in the distance. The police officer had called the fire department on his walkie-talkie when the fire had broken out.

"You stay right there fella!" the police officer demanded. "I'm calling for back-up, and we're going to have to take you down to the station for questioning..."

Has Lego Dave's fire fighting adventure come to an end?

FIND OUT TOMORROW WHEN DAVE'S "A VERY LEGO HOLIDAY TALE" CONTINUES!