This morning I woke up wanting a couple of slices of toast with strawberry jam. This is nothing new, I wake up every morning wanting a couple slices of toast with strawberry jam. What was different was when I looked out my window... there was a cap of grey cloud-cover everywhere you looked, but a ribbon of morning sky stretched all the way around the horizon. This made for some bizarre atmospheric conditions that painted the nearby mountains BLUE!
By the time I grabbed my camera and was out the door to work, the blue was receding into the valleys as the sun got brighter. After I finally found a clearing with no telephone poles or trees, I managed to find a small spot that was still tinted...
What you have to do is use your imagination and picture ALL the mountains in blue. It was bizarre and beautiful at the same time. I'm pretty upset that I didn't manage to get photos, because it's something I've never seen before. Sometimes nature produces things that are stranger than anything you can churn out in Photoshop.
I'm really nervous about today's "Lego Holiday Tale." It started out as a cute story about a psychotic guy wanting to be a fireman who gets into drunken adventures with crack whores and an axe... but with each new toy that reveals itself, things just get darker and more disturbing. It's almost as if the story is writing itself. Yesterday I had a dead body that needed to be disposed of, then today a little guy with a rotary saw comes out of the Lego Advent Calendar? What kind of sick bastards have they got working at Lego anyway?
For some bizarre reason I thought that the little Lego people would alternate between boys and girls so that the calendar would be accessible to both sexes... but that's not turning out to be the case (thus the crack whore storyline that ended up going nowhere). I have no idea what's going to be popping out of the calendar tomorrow, and part of me doesn't want to find out...
CHAPTER 6: Choppin' Around the Christmas Tree
LEGO ADVENT CALENDAR TOY OF THE DAY: Crook with a Rotary Saw.

Lego Dave had to axe a crooked meth-addicted cop to avoid being arrested. But now both the fire department and the police are on the way...

"Well this is a fine turn of events, Barky!" Lego Dave said with a hint of irony in his voice. "We've got to get rid of this body before the CSI guys come and bust my ass!"
"Bark! Bark!" replies the dog.

Just then a man appears carrying a rotary saw and wearing a malicious grin.

"Hey buddy! Did I just hear you say that you need to get rid of a body?" the shifty-looking man inquires. "Why not leave that to me and my little friend... HA HA HA HAAAAHH!"
"And who might you be, guy?" Lego Dave asks cryptically.
"They call me Lego Buzz, fella!" he says through gritted teeth. "BWAH HA HA HAAAAAHH!"

Before Lego Dave can get a word out, Lego Buzz has fired up his saw and is cutting the now-deceased police officer into pieces!

"Dude!" Lego Dave exclaims with a yelp. "That's balls-nasty!"...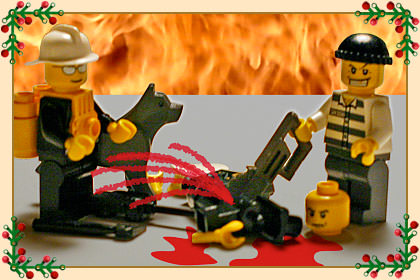 "Bark! Bark!" offers the dog slyly.

Holy crap! How much worse can things get for our hero now?

FIND OUT TOMORROW WHEN DAVE'S "A VERY LEGO HOLIDAY TALE" CONTINUES!