Tonight was a bit of a bummer. I had some errands to run in Wenatchee, and decided to stop by Quizno's for a bite to eat. Despite my love of all things Quizno-Toasty, I don't eat there very often because it's so astoundingly expensive. But it was the least I could do to reward myself for having to brave the cold and crowded streets. Unfortunately, Quizno's has now crossed over the line from "merely expensive" to "total rip-off." Their bread, which used to be of fairly good size, was barely over 2-inches wide on my sandwich tonight! WTF? Was this some kind of freak bread accident, or is Quizno's shrinking the size of their sandwiches on purpose? They sure as heck didn't shrink the price.
As if that wasn't bad enough, it was a fairly mediocre episode of Veronica Mars on this evening. Of course, it's only mediocre when compared to other episodes of Veronica Mars. Compared to all the other crap on television, it's positively brilliant. My one complaint is the lame resolutions for Deputy Leo and Meg, which seems to have been a half-hearted attempt to explain their absences in future episodes.
Fortunately, there was one good thing that happened today... my DVD set for the complete first season of 80's classic Hart to Hart arrived! There's something special about a show that features a massively wealthy couple who are so bored that they travel the world solving mysteries with their dog and their butler. Heaven only knows this is exactly what I would do if I had big money.
Well, that and being able to afford to eat at Quiznos with their new and unimproved skinny bread.
CHAPTER 7: All I Want for Christmas is my Two Left Feet
LEGO ADVENT CALENDAR TOY OF THE DAY: Safe with Precious Gemstones.

A stranger named Lego Buzz has appeared on the scene and cut the dead crooked cop into itty bitty pieces...

"How is this supposed to help?" Lego Dave asked. "Now instead of one easy-to-carry body we've got a bunch of really gross chunks!"
"Bark! Bark!" added the dog helpfully.
"Chill out buddy!" Lego Buzz replied. "I've got an idea. Grab some parts and follow me!"

Gathering bloody meth-addicted chunks of policeman in their arms (and a severed hand in Barky's mouth) the motley crew runs away from the raging crack house inferno just as the fire department arrives.

"Quick, in here!" Lego Buzz says as he enters the back door of a jewelry store. "I was breaking into the safe when I saw you guys axe that bad copper across the street!"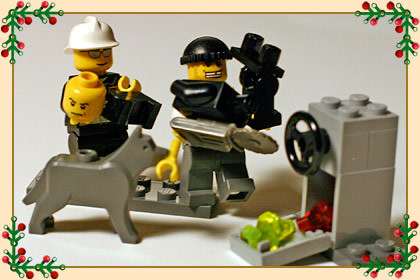 "And what are we supposed to do with these body parts?" Lego Dave asks as he waves a left foot in the air.
"Easy!" Lego Buzz chirps happily. "We'll put the body pieces in this safe then toss it in the river!"
"Are you nuts?" Lego Dave replied cautiously. "All of this won't fit in that tiny safe!"
"WE'LL PUT THE BODY PIECES IN THE SAFE AND TOSS IT IN THE RIVER I SAY!!" Lego Buzz screamed. "AND I'M GOING TO PUT YOU AND THAT DOG IN THE SAFE TOO! BWAH HA HA HAAAAAH!.

Lego Buzz revs up his rotary saw and starts moving slowly towards our hero and his brave canine companion.
"Bark! Bark!" says the dog in alarm, the severed hand dropping from his mouth...

Whoa! How is Lego Dave going to get out of this one?

FIND OUT TOMORROW WHEN DAVE'S "A VERY LEGO HOLIDAY TALE" CONTINUES!