Turns out some crap-weasle is using my name to endorse products for advertising dollars. And now I have to ask any lawyers out there... can I sue this douche-bag for impersonating me and using Blogography to advertise a mattress that I've NEVER OWNED in an ENTRY I NEVER WROTE?!? Isn't this identity theft? I DON'T ACCEPT ADS OR ENDORSEMENT FEES AT BLOGOGRAPHY! This is a personal choice that may change in the future, but it should at least be MY CHOICE!
Just look at this crap...
Sorry, but my price for selling out my blog is $25,000. And now I WANT MY FREAKIN' MONEY! I also want to sue for damage to my reputation, identity theft, and the fabulous catch-all: "pain and suffering." You owe me ONE HUNDRED THOUSAND DOLLARS you f#@%tard!!
WTF? I mean seriously... WHAT THE F#@%?!?
Who in the hell thinks it is perfectly acceptable to fabricate a blog entry using somebody else's identity? Shouldn't there be ramifications for this shit? This is MY blog and I F#@%ING CHOOSE WHAT TO WRITE HERE. On April 14th, 2004, I was (ironically) blogging about somebody stealing my identity for spam and Lomo effects on photographs.
But a A MATTRESS?!?
Seriously... do a search for "mattress" on Blogography and see what comes up (other than this entry). I HAVE NEVER EVEN MENTIONED THAT WORD!!
And, while I'm at it... will somebody tell that ass-clown over at "memes.org" to STOP USING MY NAME AND MY CONTENT FOR THE SOLE PURPOSE OF ADVERTISING STUPID SHIT?? The terms of my Creative Commons license CLEARLY STATE that my stuff can only be taken for NONCOMMERCIAL USE, but all his sites are obviously just frames to support advertising, WHICH IS A COMMERCIAL ENDEAVOR YOU IDIOT! Yet here's an excerpt from one of my entries as picked up on web search...
According to his profile, he's a self-proclaimed "expert on corporate blogging, the blogosphere, online social networks, virtual communities, online brand promotion, online brand protection, online brand intelligence, online buzz marketing, and online viral marketing."
I guess all that corporate hype bullshit is supposed to imply that he's some kind of internet marketing genius for hire... which is funny, because he's obviously trying to flood blog trackbacks to get himself links and drive up his Page Rank so he can sell more... except I DON'T HAVE TRACKBACKS ENABLED YOU MORON!
I wouldn't hire the dopey bastard to clean my toilet. "Online Brand Protection?" And how do you accomplish that... by stealing content from others, thus ruining THEIR brands? Just another douche-bag thief who makes money off of other people's hard work without their permission and in violation of copyright laws. Want to advertise crap? Write your own blog you donkey-ball-licking dumbass.
Now get me a lawyer so I can start suing some asses! I am looking for somebody thoroughly unprincipled, unethical, immoral, shameless, corrupt, dishonest, devious, evil, and unscrupulous who will stop at nothing (including death) TO GET ME MY MONEY!! Oh wait... that's pretty much all lawyers isn't it? I never thought that I would be happy about that.
CHAPTER 3: We Wish You a Merry Arson
LEGO ADVENT CALENDAR TOY OF THE DAY: Cherry Picker Ladder

Oh noes! The fire that Lego Dave started in a meth lab to prove his fire fighting skills has inadvertently trapped a crack whore inside...

The flames grew higher and higher, quickly turning the meth lab into a flaming deathtrap! From the second story window, the crack whore is screaming for help from out of the inferno... "Help! Help" she cries.

Lego Dave starts frantically looking around for something that might help him to rescue the drug-addicted prostitute. Luckily, a crew working on the power lines have left their electronic "cherry picker" ladder nearby. Without hesitation, Lego Dave climbs into the bucket and rises into the flames...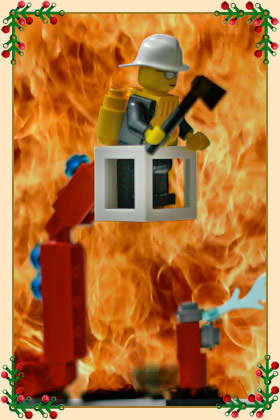 But will the ladder be tall enough?

FIND OUT TOMORROW WHEN DAVE'S "A VERY LEGO HOLIDAY TALE" CONTINUES!