WARNING. Today's Blogography contains subject matter of a disturbing nature. Rather than be upset by what you read and then feel the need to write me another hate mail, why not just save us both the trouble and go f#@% yourself. Thanks!
As I slowly approach the finish line of the project that has been consuming every waking moment of every day for the past two weeks, I have been able to squeeze in a bit of free time to check in on some blogs and make a tiny dent in the hundreds of emails that have been accumulating. It is not a lot of progress, but it does make me feel better knowing that my life is on a track back to "normalcy."
And now that I'm finally going to have some honest-to-goodness free time in my future, I find myself starting to think of what I am going to do with it. The list goes something like this...
Launch BloggerPeeps.
Start working on my talk show.
Catch up on my DVD backlog.
Finish a rant I started (fire is involved).
Make some ice cream.
Wash my piles of dirty clothes.
Sleep.
But that's a week away. In the meanwhile, I still have loads of work to do and a blog entry to write. This should be easy... I could just weigh in on the two topics that are dominating the blogosphere right now:
iTunes 4.9, now with podcasting! Whatever. I mean, I am still waiting for the killer content that is going to make me care. Apple has a few promising podcasts in their directory (Al Franken!), but there's nothing going on that is going to make me suddenly fall in love with something that is still 99% crap.
President Bush's speech. Not to undermine our "war on terror" or the troops laying it on the line to safeguard this Nation... but are you EVER GOING TO f#@%ING ADDRESS the false pretenses which got us into the war in the first place? Here was your opportunity to explain yourself in regards to the "Downing Street Memo" and all the other crap that is starting to surface, but you say N-O-T-H-I-N-G. If you think people are just going to "forget" all the bullshit that got us into this, then you desperately need to get a clue. How can I be encouraged by your words when your track record has me questioning everything that comes out of your mouth?
So if I am not going to write about iTunes or Bush, what's the topic for the day? Find out in an extended entry!
Okay then. I think I will write about how sick and f#@%ing tired I am of reading news stories about body parts turning up in fast food... first it was a finger in Wendy's chili... now another finger in Applebee's salad. It's all so stupid.
I suppose it's only a matter of time before other parts start showing up...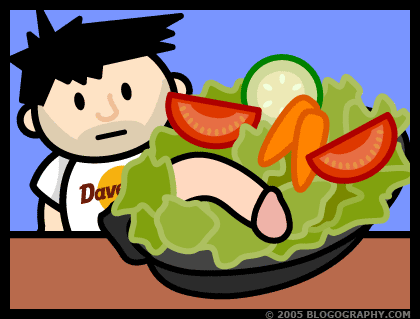 "Uhhh... excuse me, but the menu said nothing about chopped penis in my garden salad, and I'm a vegetarian."
Now, the Wendy's chili thing turned out to be a hoax, which only makes sense. I expect that the salad thing will end up the same way. I mean, if I cut MY finger off while chopping some lettuce, I think I'd notice. And it's absurd to think that if somebody cut off their finger that they'd just say "oh that's too bad" and then not try to find it. It's even more absurd to think that they would go ahead and ship out a bunch of lettuce when a body part is missing. A hoax is the only rational outcome for something like this.
But then you read about the finger that ended up in an ice cream, realize that shit like this can actually happen, and all of a sudden the "penis in the salad" scenario doesn't seem so far fetched. I mean, some guy COULD get pissed because he has to work overtime at the salad processing plant. The guy MIGHT decided that he wants revenge on his employer. The guy PERHAPS could determine that peeing in the salad chopper is a rational act of defiance. Then POSSIBLY the guy could get distracted by a sexy co-worker at a very bad moment. This guy's dick CONCEIVABLY MIGHT POSSIBLY COULD end up in your salad.
This worries me greatly.
Though something tells me that it would not be wise to order up a salad and tell them "I'd like the penis on the side" or even "hold the penis." Even if you asked nicely, things like this are bound to be misinterpreted... even at Burger King where they encourage you to "have it your way."
Hmmm. Looking back, I really should have written about iTunes. Heaven only knows what this entry is going to get me in Google searches.