I am so totally bummed. My PowerBook appears to be dying. I guess I shouldn't be surprised... the poor thing is three years old and has been drug around the world a dozen times over. I've grown quite attached to her, but the constant overheating and erratic behavior makes her unreliable, and I need a PowerBook I can count on.
Sadly, methinks it's time to consider a replacement. =Sob!= It seems like only yesterday I was waxing poetic over my Titanium-covered baby...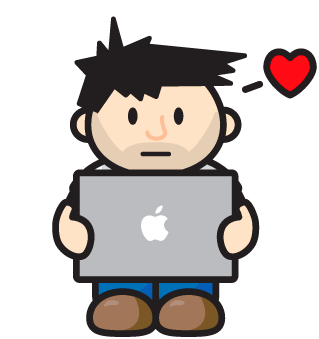 In the midst of my grief over my ailing PowerBook companion, I received an odd call on my mobile phone. Unfortunately for the anonymous bitch who called, I was in no mood for a wrong number, especially with her attitude...
Dave: Hello?

Anonymous Bitch: WHERE ARE YOU? YOU'RE 30 MINUTES LATE!! WE'RE GOING TO ORDER WITHOUT YOU!!!

Dave: WELL I'M SORRY!! I crapped myself on the way to the restaurant and thought it would be better to change my pants and be late rather than show up smelling like shit! Order me a jelly donut and a fifth of Jack Daniel's and I'll be there in ten minutes!

Anonymous Bitch: WHAT? WHO IS THIS??

Dave: I SAID TEN MINUTES!! And that donut had better be fresh!

Sigh.
Can you appreciate how difficult it is being me? I am forever lashing out with smart-ass comments and then immediately regretting it afterwards. My only excuse is that I am so incredibly brilliant that my evil brain is capable of bypassing my sense of shame on its own accord. Either that, or I have no shame to begin with. Either way, it's just not my fault, so I suppose I should stop feeling bad about it.
There. I feel much better knowing that I am not to blame for my poor behavior.
The day wasn't all bad news, however... a big congratulations to James & Erin on the birth of their new baby girl! Welcome to the world Vivian Bow! I must admit to being a bit surprised that they didn't name their first-born child after me though.
Oh well. Even though "David Vivian Bow" has a nice ring to it, I'm very happy for the three of them.
Speaking of happiness, have you registered yourself on the Blogography Reader's Map over at Frappr? Other than sending me a million dollars, it's the easiest way to ensure you will be spared my wrath once my evil plan for world domination has been unleashed. Only by registering now are you assured of my benevolence come D-Day! Mwah ha ha haaaaah!