I've recently started drinking Kool-Aid again.
No, I have no idea why. I haven't drunk it since I was a kid and yet, as I was walking by the Kool-Aid aisle in the store, I had the sudden urge to buy some. And not the pre-mixed crap either... the real Kool-Aid in little packets that requires you to add your own sugar in huge amounts. Sadly, some of the standard flavors I used to enjoy have been replaced with strange new varieties, but they're still ever so yummy.
Which is not surprising. I mean, Kool-Aid consists of is a cup of sugar that has been chemically flavored... what's not to love about that? The only thing that frightens me is not tooth decay or a shorter life expectancy, but the Kool-Aid Man...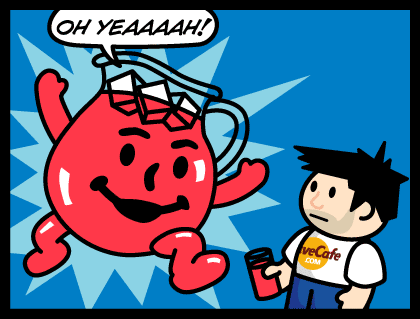 Crazy bastard. He always shows up and starts busting through walls and stuff so he can terrorize kids and feed their hyperactive young bodies a crap-load of sugar. But he's a man(?) with a mission, so you've gotta respect that.
But now we have an all new Kool-Aid Man...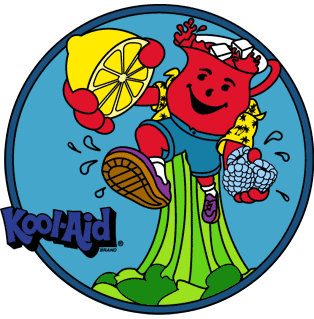 What the f#@% is THAT?!? In an attempt to make Kool-Aid Man "cool" they've given him a Hawaiian shirt, hip purple tennis-shoes, and pants. PANTS?!? Kool-Aid man doesn't have PANTS! This is just sick. If Kool-Aid Man wears pants, that means that Kool-Aid Man is packin'.
Kool-Aid Man now has a penis.
I can only assume it's made of glass like the rest of him. Going to the bathroom must be a very delicate and dangerous process... and I don't even want to speculate about Kool-Aid Man gettin' busy with it.
Who are the sick and twisted dumbasses that would give Kool-Aid Man a penis? He used to be a glass picture of Kool-Aid with arms and legs... I have no idea what he is supposed to be now. Is he some kind of mutant? Was a man somehow combined with a picture of Kool-Aid in a freak nuclear accident or something?
This is highly disturbing.
Oh well. All I can say is that if new scary-ass Kool-Aid Man crashes through my wall, he's getting a kick in his glass testicles. Call me a pussy if you like, but I don't think the manly rules of engagement apply in a situation like this.