Whooooo! Happy Independence Day!
Today is the day where every red-blooded American gets to be a patriot. Or at least torch off some fireworks and burn the house down. Or whatever. It's also a day when politicians can wrap themselves in the flag and wax poetic about America so they can sucker people into believing that they actually give a crap about something other than money and power.
And what better way to do THAT than to drag out the old flag-burning debate? And that's exactly what the House of Representatives did last month when they endorsed a Constitutional amendment to ban such activities.
It's a perfectly lovely non-issue diversion that works every single time. I mean, why would we possibly want to waste time solving real problems like unemployment and health care when we can discuss idiots who are so stupid that the only way they can get their point across is to burn something.
Yes, I said it... I think anybody who burns a flag is a raging moron.
Partly because they have no respect for people who fought and died for what that flag represents... but mostly because it's just so lame and pathetic. About the only thing more pathetic is a politician trying to make it illegal.
And let me tell you why.
I was once involved with a project that had a very "patriotic" theme to it. As I started work, it was brought to my attention that it is forbidden by the "Flag Code" to use the flag as a symbol on anything except military, police, and firefighter uniforms. It is considered especially heinous to use the flag on "temporary" items which are discarded after use, or any form of advertising. This is considered to be desecration.
I adhered to this ideal for years because I didn't want to offend anybody. But then I started noticing that the flag appears on EVERYTHING from party streamers and T-shirts to campaign signs and posters. That's when I finally just decided to ignore the "Flag Code" and use the flag in situations where I want to sum up America in one iconic symbol. Hey, they do it for the Olympics, and all kinds of other organizations, so why should it be any different for citizens like me? So long as I use the flag respectfully... as a symbol of nationality and pride... I actually think this is a good and patriotic thing to do. Like when Perry and I went on our Hard Rock Run through Europe and I designed badges and pins for the event. I used flags to show nationality, and find nothing wrong with that: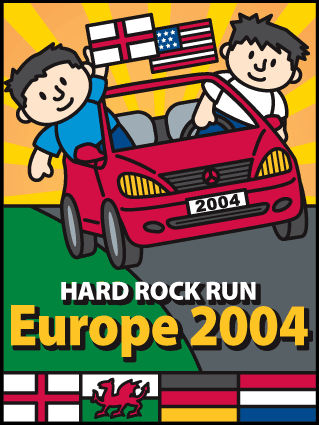 But, with the flag appearing on practically everything, my point about lame flag-burners and the politicians against them is totally proven. Let's take this example: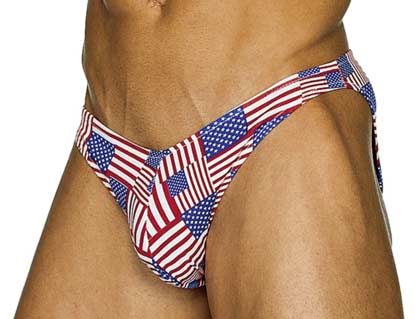 Yes, it's a pair of flag underwear. But think about it for a moment. Let's imagine that this buff, shaven stud with a small penis was wearing these flag underwear to a dinner party. Then let's imagine that this was a dinner party where some food was under-cooked, and he got sick. Then let's further imagine that he got diarrhea and shit his pants.
Thus shitting on the flag of the United States of America.
Now, I don't know about you... but, in my mind, shitting on the flag is far worse than burning it. So if our STUPID f#@%ING POLITICIAN ASSHOLES decide that they need to distract us from REAL problems by amending the Constitution to make flag-burning illegal... then where is the amendment making SHITTING on the flag illegal?
And, because I'm in a mood, here's another example: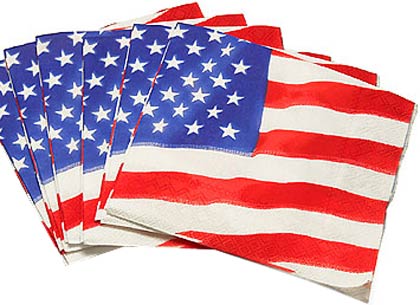 Those are flag napkins. But think about it for a moment. Let's imagine a high-school girl is going to a 4th of July party. Then let's imagine that she decides to drink alcohol for the first time and consumes a fifth of Jack Daniel's (another American institution). Then let's further imagine that she gets alcohol poisoning and pukes all over the buffet table and they clean it up with the napkins.
Thus smearing the flag of the United States of America with puke and tossing it in the garbage.
Now, I don't know about you... but, in my mind, cleaning up vomit with a flag and throwing it in the garbage is far worse than burning it. So if our DUMB-f#@% POLITICIAN IDIOTS want to waste taxpayer money to distract us from REAL problems with a new amendment... then where is the amendment making PUKING on the flag and THROWING IT IN THE GARBAGE illegal?
I could go on and on, of course. My imagination knows no bounds when it comes to stuff like this. But let's wrap this up, shall we?
FLAG BURNERS: Lighting up a flag in protest is pathetic, lame, and disrespectful. You are doing NOTHING to further your cause. All you are doing is trying to get attention because you know flag burning is going to upset people (and these people are probably far braver and worthy than your sorry ass will ever be). Obviously, you are unintelligent, unimaginative, and most-likely illiterate if the only way you can make your point is to burn something. Furthermore, the fact that people can puke and shit on the flag with no recourse makes your act of defiance just sad and embarrassing.
FLAG-BURNING BAN POLITICIANS: The flag of the United States of America is an enduring symbol of this Nation. It does not require protection. You can burn it, shit on it, or wipe up puke with it... and this country shall endure. Your pathetic attempt at lying to people about preserving freedom while making laws that would limit this same freedom is a slap in the face to anyone who has ever died while serving under it. Shame on you. Shame on you for crapping all over the memory of these brave people by using the flag as a distraction from the REAL problems facing this Nation. Shame on you for wasting valuable time on flag-waving while your constituents are going sick because they can't afford to visit the doctor or buy medication. Shame on you for speaking out so vocally over a piece of cloth when people are wearing tattered rags because they have no jobs to earn money to buy clothing. Shame on you for wrapping yourself in the flag at a time when brave men and women are dying in service of it far from home. Stop it. Just stop. Stop bringing shame to yourself and the people you serve and DO YOUR f#@%ING JOB!
MY FELLOW AMERICANS: On this day where we celebrate our independence and freedom, realize this: our country is more than a flag. Things are temporary. Ideals are not. Don't let yourself be suckered into distraction by those who are trying to exploit you over a thing. A new amendment to the Constitution banning flag burning is not going to bring back jobs. It's not going to make health care affordable. It's not going to win the "war on terror". It's not going to do ANYTHING to solve the REAL problems facing us as a Nation. It doesn't matter if you are a Democrat or a Republican. It doesn't matter if you are rich or poor. It doesn't matter what race or religion you are. Because what you really are is an American. And as an American, you have a rare gift to decide who represents you in our government. You have a rare opportunity to demand more from those whom you elect to serve you. So ask yourself this... does it make sense to waste YOUR time and YOUR money to create an amendment that makes flag burning illegal, when people can still shit in their flag underwear and puke on their flag napkins? There are far better things our politicians can be doing to serve us than passing a law that isn't going to help people, but instead limit the freedoms we've paid so dearly for.
Now go eat apple pie, watch a baseball game, light off some fireworks, and shoot guns from the back of your pick-up trucks... and do it quickly before they add a new amendment to the Constitution which makes it illegal. Happy Independence Day.
Movie Quotable of the Day:
"You realize we're all going to go to college as virgins... they probably have special dorms for people like us."
Day-Before-Yesterday's Answer:
Labyrinth
(1986) with David Bowie and Jennifer Connelly.