I went and saw Mr. & Mrs. Smith today, and it has to be the most entertaining movie I've seen this year. It also has the highest body count. Angelina Jolie was stunningly hot, and this was the first role since 12 Monkeys that Brad Pitt has done that I've enjoyed (a pleasant surprise). The only problem was the ending, which fell a little flat, but getting there was so good that I didn't much care. I am embarrassed to admit that I am secretly hoping for a sequel. I could watch Angelina Jolie blow stuff up and shoot people for hours. I could especially watch her shoot the dumbass behind me WHO MADE A MOBILE PHONE CALL DURING THE MOVIE!!
Whenever you think you've seen the ultimate depths of human rudeness, somebody comes along to prove you wrong. One day that idiot is going to end up with his mobile phone deeply impacted into his ass. That would rule.
My love and addiction for Kitty Spangles Solitaire is well documented. But Kitty and I drifted apart after I upgraded to MacOS X Tiger, because she refused to play anymore. I had forgotten about it, but then Swoop released a Kitty upgrade, so I wrote and got a working serial number and she's all better now. There's a few improvements in the new version. One option is that a pig comes out and tells you when there are no more moves...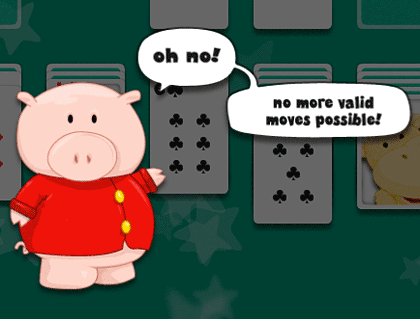 It's great at first. You don't waste any time running through a deck when there's no cards you can play. But after a while, all I want to do is bake that little ham when he comes on and tells me I'm a loser. That's pretty drastic considering I'm a vegetarian...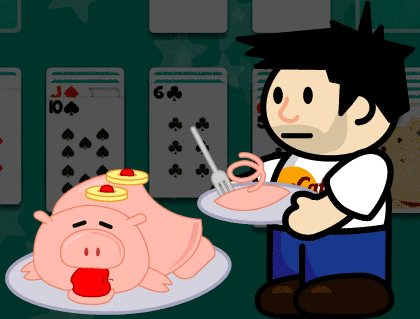 Mmmmmm... bacon!
Movie Quotable of the Day: "Wouldn't this be a great world if insecurity and desperation made us more attractive?"
Yesterday's Answer: American Pie (1999) with Jason Biggs and Seann William Scott.