Okay, I have GOT to stop watching Veronica Mars. With each new episode I turn more and more into a thirteen year-old schoolgirl, and it's really starting to piss me off. But I am getting ahead of myself...
Last night I was all wrapped up in a super-secret project for Blogiversary 2, and forgot that there was actually good television on. It wasn't until after work today that I was thinking "hey, I forgot to watch Scrubs and Veronica Mars last night!" So I ran two stop lights, hit an old lady (with cat), and bowled over a couple of children playing in the street (they deserved it, what were they doing in the street anyway?)... all so I could get home and watch TV.
And so there I am watching Veronica Mars and there's only 15 minutes left, when all of a sudden it happens. Veronica and Logan kiss right there on my television!!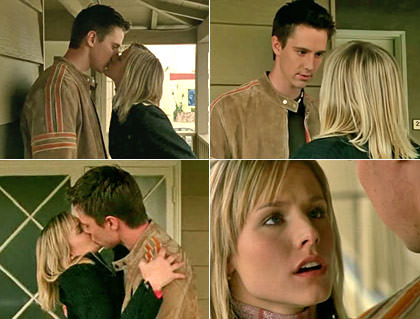 Here's the bullet points...
First I'm like "oh shit, that kid from Home Improvement has just kidnapped Veronica Mars!" But what's this? She was talking to Logan on her mobile phone, and he hears her getting kidnapped!
So when the kidnapper takes Veronica to the sleazy Camelot Hotel, Logan shows up and punches the kidnapper in the face! But uh oh, the kidnapper was actually an undercover Federal Agent!
After she's done talking to the Fed, Veronica is all "Oh Logan you saved me!" and gives him a quick BFF kiss.
Then Logan is all "Dude! Veronica Mars just totally kissed me on the lips!" and he's thinking "Man, I was just crying like a little bitch last episode! What is she doing kissing a pansy-ass like me?"
And then Veronica is like "I am such a whore! Just a little while ago I was kissing my boyfriend Deputy Leo!" and starts to walk off.
But Logan is all "I gotta get me another taste of THAT" then grabs her arm and starts to mash on her.
Veronica starts mashing Logan back and all of a sudden they both are like "WTF are we doing?" And Veronica runs away.
Then Veronica looks back to Logan and is all "Oh I am so confused!" and Logan is looking back at her and is all "I am totally going to score with Veronica Mars!"
omg! OMFG!!! So now I am going to spend the rest of the evening downloading screen caps and making pretty graphics for my blog that say "Veronica and Logan 4-ever." And then I need to start a new web site called "VeronicaLovesLogan.com" where I can write my own Veronica Mars fan fiction!
But now I am starting to remember that I am not a thirteen year-old girl, and have better ways of spending my time. DANG YOU TO HECK VERONICA MARS!! Only four episodes left until all our questions are answered.
Veronica's fingers gently caress the puka shells around Logan's neck. "I want you" she says, her voice throaty. "But Veronica, I've joined the CIA! I leave for Budapest in the morning!" he replies, running the back of his hand across her cheek. "Then I guess we had better make the most of the time we have. Take me! Take me now, Logan!" she screams, the tears coming easily. "Oh Ronnie, I love you so..."
Movie Quotable of the Day:
"We've got a blind date with Destiny... and it looks like she's ordered the lobster!"
Yesterday's Answer:
Dogma
(1999) with Ben Affleck and Matt Damon.