After going through a mile of bubble-wrap to get all of the fabulous Blogiversary 2 prizes packed up (just waiting for the T-shirts!) I thought I would update my Mac G4 Cube to Tiger and watch a little TiVo and a couple of NetFlix DVDs.
First up was Shaolin Soccer, which kicks so much ass that you almost need a new genre of film to describe its ass-kicking proficiency. If you've ever wanted to know what would happen if a soccer game took place in The Matrix, then this film is your answer. Really cheesy dialogue also makes this one of the funniest films I've seen in a while. The DVD had both the shitty, butchered "American" version and the vastly superior "Chinese" original (with English subtitles).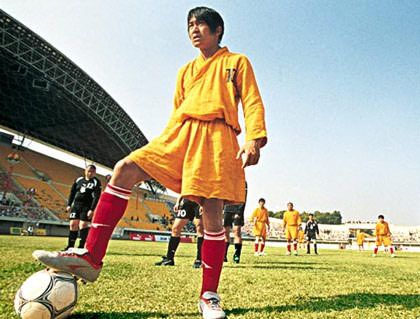 Next was Erasure: Hits!, filled with incredibly bad videos that are so gay that even gay people must think "wow, those are some pretty gay videos!" I am really schizophrenic when it comes to the music I listen to. At home, in my car, and on my iPod are groups like Radiohead, System of a Down, Depeche Mode, Oasis, Nirvana, Nine Inch Nails, and Pearl Jam. While at work, I am strictly synth-pop with groups like Erasure, New Order, Thompson Twins, Pet Shop Boys, and Moby (which is why my AudioScrobbler profile looks the way it does). Of all of them, Erasure is easily the undisputed queen of bubblegum synth.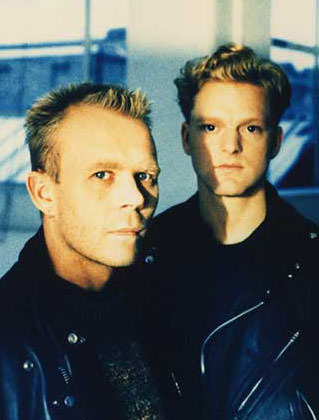 Sadly, not a single video in the entire Erasure canon is worth a crap (the low point is when both Andy and Vince are dressed in full drag as very ugly women singing Abba's "Take a Chance on Me"). It's really too bad given they are capable of such beautiful music... "You Surround Me," "Joan," "A Little Respect," "I Broke it All in Two" and so many more. Why can't their videos be as lyrical and beautiful as the songs they depict? Sad.
Lasty, I watched the two-part Enterprise episode: In A Mirror Darkly. It's where we get to have the boring Enterprise characters all evil and interesting (finally) because they're in the Star Trek "Mirror Universe." It's fun to see Archer gone all insane... but even more fun to see Hoshi as a power-crazed whore in a belly-shirt who will sleep with anybody to advance her career. Delicious. I also found it a bit touching to see T'Pol and the other aliens attempt a coup against the evil humans, knowing they would fail completely in order to maintain continuity with future Star Trek series. If the show were this good for the past four years, I might have actually bothered to watch it (and so would everybody else, which means UPN wouldn't have had to cancel it).
Which begs the question... why is it that Trek producers just don't understand what Star Trek fans want to see? We want action! LOTS AND LOTS of ACTION! Don't have characters sit around in decontamination chambers and talk for an hour straight... blow some shit up! The reason Captain Kirk was so cool was because in any given situation he would either fight with somebody, shoot somebody, or have sex with somebody. THAT'S IT!! That's all he did, and we loved it! But now all we get for action is people sitting around the bridge saying stupid shit like "let's re-route the EPS conduits" and then pressing a bunch of buttons so they could go back to boring talk again. Stupid. I have every last episode of the original Star Trek on DVD and watch them all the time. I don't own any of the other series, and usually won't be bothered to watch them for free on television either. Why? Because when I tune in to Star Trek I want to actually be entertained (and there wasn't much of that to be found in anything that followed the originals, except the movies #2, #4, #6, and #8). Please, if there is a god of science fiction television, let Paramount fire the dumbasses who have been running Star Trek into the ground for the past 20 years and get somebody who will actually entertain us with the next series.
Movie Quotable of the Day: "...and I hope the people of the United States of America will be able to sleep better knowing that women like us have guns."
Yesterday's Answer: The Black Hole (1979) with Robert Forster and Anthony Perkins.
And now for a few more MacOS X Tiger observations in an extended entry.
• They have finally (FINALLY!) fixed the column-view in open/save dialogue boxes so they can be resized! No more trying to guess what a filename really is when a column isn't wide enough... just make it wider.
• There's a new Graphic Calculator app! Very cool, and hidden away in the "Utilities" folder.
• Apple now has a "real" dictionary installed (Oxford American Dictionary & Thesaurus). There's a program you can run to make a query, but it's kind of useless considering there's a much handier contextual menu and Dashboard widget included. It's SO nice not to have to be connected to the internet to look up a word! Don't know what something means? All you have to do is highlight it and control-click to find out...

• My second network card has stopped working. Hopefully there is a Tiger driver available for it. (UPDATE: Yep, the good folks at Asanté had the Tiger driver waiting, and all is well again).
• Spotlight does not search inside Adobe documents. This sucks ass, because 75% of my documents are in either Illustrator or Photoshop. Probably an Adobe issue?
• Apparently, iPhoto albums are also not indexed by Spotlight... only keywords. This is just stupid because how many people actually use keywords? Both photo descriptions AND any group titles entered into iPhoto should be indexed somehow, because that's probably where everybody puts the relevant data in the first place. If I have a group of Grand Canyon photos, shouldn't they show up when I type "Grand Canyon" into Spotlight?
• QuickTime supports DivX natively now? And my Dual-G4 can't play any of the movies from Apple's HD Gallery without dropping massive frames... I guess a G5 really is required.
• Image Capture now has icons for all the different cameras? At first I thought it was a generic camera that only coincidentally looked like mine. But then I plugged in my other camera and the icon changed! I wonder how many different camera icons Apple has got stored up? Or do they come from the device itself?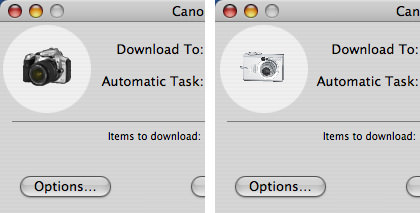 • Yargh. Why am I not allowed to rearrange my mailboxes in Mail? Geez Apple, pull your head out on this one and give us a flexible email client instead of this constrictive mess.
• I like Dashboard more and more. I should probably upgrade it to a "B" rating, but still wish you could embed widgets on the desktop.
• I never noticed before, because my sound was off... but there are a lot of little "feedback sounds" sprinkled throughout Tiger for things like emptying the trash to getting new mail. They don't bother me as much as these things usually do.
• Is it just me, or is Tiger faster? I noticed it on my desktop machine, now I'm noticing it on my PowerBook as well.