One of the (many) things to love in the new MacOS X Tiger release is the new High Definition video codec that's built into QuickTime 7. The technical name for it is "H.264," whereas the "H" stands for "Holy crap this is amazing-looking video!" At first I had a little trouble with playing samples from Apple's HD Gallery, and assumed it was because my computer wasn't fast enough. But I think that might have just been because Spotlight was indexing in the background at the time... now it works great on my Dual 1.42GHz G4 Mac.
All the clips are amazing (and big!), but the movie trailer for "Serenity" is just jaw-dropping. I must have watched it a dozen times now. Each and every frame looks like a hi-res photograph instead of the blurry mess you get from regular video compression. Just look at the detail...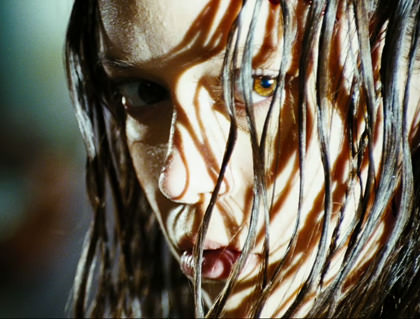 Every pore in her face... ever hair... is clearly visible. It's almost surreal. Now compare that to the previously released "large-sized" trailer...
Incredible. It doesn't hurt that the movie looks like it's going to kick huge amounts of ass when it arrives on September 30th. I was not a real fan of the cancelled "Firefly" television show, but I will absolutely be going to the feature film sequel.
Right now, QuickTime 7 is only available for the Mac, but a Windows version is promised soon.
I so want a $10,000 HD video camera right now.