I should preface this entry with the disclaimer that I abhor violence... I really do. I think that anybody who resorts to violence is pretty damn stupid because they couldn't find a better solution. That being said, I am at the end of my rope and want a gun. But, unlike most gun-toting morons that end up in the news for shooting somebody for no good reason at all, I actually have a good reason...
I want to blow away all the morons who don't understand the concept of KEEP RIGHT EXCEPT TO PASS.
Here's a typical scenario... I'm driving home from Seattle yesterday and SEVERAL TIMES come across this: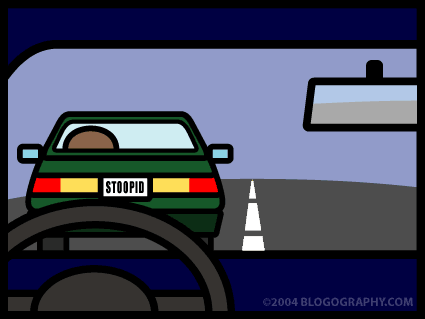 The dumbass is driving in the PASSING LANE but is NOT PASSING ANYBODY!! They're in the WRONG lane and won't move over (WHICH IS AGAINST THE LAW) because they are just too damn ignorant to know their left from their right. People like this are too stupid to be driving... probably too stupid to be living, and so I think it should be within my legal right to take care of the situation with a big-ass gun. If I have to pass your lame ass on the right, then you deserve to have your shit ruined...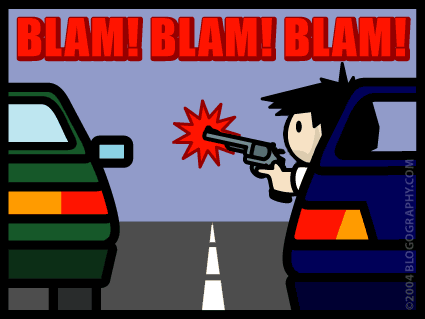 Furthermore, if they are in the wrong lane AND driving under the speed limit then not only should they be taken out... but I should be able to hunt down their entire family because this is obviously some sort of genetic defect that should be eliminated for the good of society.
"KEEP RIGHT EXCEPT TO PASS" is pretty self-explanatory, so what's the problem? As usual, it boils down to people being stupid. Isn't it about time we do something about this ever-growing problem on America's highways?
UPDATE: I was e-mailed a link devoted to exposing and reporting "Left Lane Dicks!" Not only that, but a quick Google search reveals all kinds of rants by people fed up with these morons. Apparently I am not alone.
UPDATE: Was just sent a link to an excellent site, which allows you to see if your state has lane laws like Washington. Visit "Drive Right, Pass Left".