I am to the point right now where I quite honestly don't know what to make of American society. We've become a nation of hypocrisy that defies all logic to understand, but so long as it's labeled "conservatism" everybody seems to be onboard with it. I don't know whether to laugh or cry, but it's become so annoying that what I really want to do is beat the crap out of somebody.
(Then submit a video of said beating to America's Funniest Home Videos so I can win $10,000).
Today's rant brought to you by your friends at the FCC, this country's first and last defense of common decency!
The Federal Communications Commission was founded in 1934 to regulate communications via radio, television, wire, satellite, and cable. Unfortunately, the same prude bitches that formed the committee in 1934 are apparently still in charge. So let's see... assuming the average age of its membership back in the beginning was 35, that would make them 106-years-old today.
And there you have it! That explains everything! The most popular show on television is CSI: Crime Scene Investigation which regularly features graphic depictions of gore and violence. The most popular new show on television is Desperate Housewives which regularly features graphic depictions of sex, sexual innuendo, and sex. Yet the FCC has no problem at all with such programming. What they do have a problem with is a nipple on a breast flashed on the screen for 5 seconds (FINED!). They don't have a problem with Oprah discussing oral anal sex, but they do have a problem with Howard Stern discussing the same subject (FINED!). It's random bullshit that even a genius couldn't figure out (I should know... I am a genius, and I sure can't).
To me, this is compelling evidence that the FCC is indeed staffed by 106-year-old geriatric, senile, ass-clowns just as I suspected! They don't know what they hell they're doing because they've lost all cognitive ability. Their brains simply don't work anymore. The lights are on, but nobody is home. And because of this, television networks live in fear.
Case in point: Showing a cartoon with a naked ass in 1965: ACCEPTABLE. Showing a cartoon with a naked ass in 2003: ACCEPTABLE. Showing a cartoon with a naked ass in 2005: WHO THE f#@% KNOWS! And that's why FOX television decided to blur out the cartoon ass on a cartoon character in a cartoon show (the brilliant Family Guy) in a recent cartoon airing. A CARTOON! They have no idea if such a thing will get them fined, so they're having to play it safe so that an organization who controls what we are allowed to watch won't punish them.
And that's the stupidest thing I've ever heard. f#@% the FCC for being outrageously inconsistent and generally STUPID. f#@% FOX Television for being such pu$$ies. f#@% EVERYBODY ELSE for allowing stupid shit like this to happen in the first place. What's next? The internet is communication and under FCC jurisdiction... so will the dumbasses decide that web content needs to be regulated? Well, better safe than sorry! From now on, all nude cartoon representations of myself will be appropriately censored...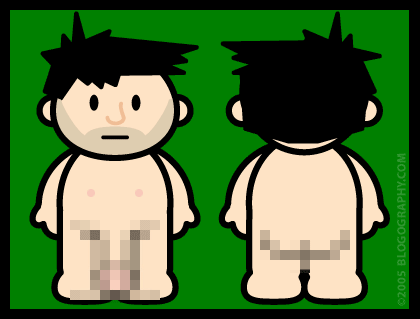 And, as another public service for conservative America, here's a clue: IF WHAT'S ON TELEVISION OFFENDS YOUR HYPOCRITICAL ASS, THEN GET RID OF YOUR f#@%ING TELEVISION! OBVIOUSLY YOU'RE NOT SMART ENOUGH TO TURN SOMETHING OFF WHEN IT BOTHERS YOU, SO DO US ALL A FAVOR AND JUST DON'T WATCH IT!! That way, we can abolish the FCC, and let advertising dollars and television ratings dictate what stupid crap is aired on TV... exactly as the founding fathers of this country intended.