Well that was fun. My usual five-minute commute to work ended up taking just over an hour. First I couldn't get TO my car. Then I couldn't get IN my car. Then I couldn't get out of my parking spot. Then I couldn't get out of the driveway. All thanks to a lovely ice storm that blew through last night.
Things actually started yesterday around 4:00. That's when I heard the gentle "plink plink plink" of frozen moisture falling onto the skylight at work. By the time I left at 5:00, little beads about 2mm in diameter were washing across the landscape like sand, making a "swoosh swoosh" sound when walking through it. By the time I went to bed at 11:00, the beads turned into drops that were too big too freeze on the way down, so we had heavy rain in freezing weather.
The result was not pretty. Here's my car door handle frozen solid, with the ice having flowed into the mechanism. I eventually managed to free it by squirting hot water into the seams...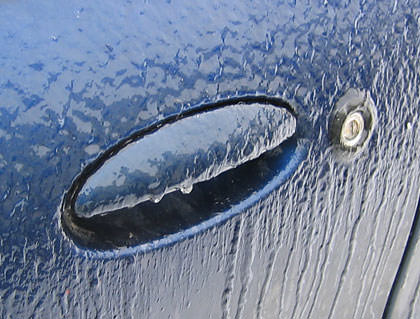 Of course, getting the handle to work is only half the battle. Here's the door seam after I've been chipping into it for five minutes with an ice pick. I couldn't use hot water, because it would probably have cracked my windows...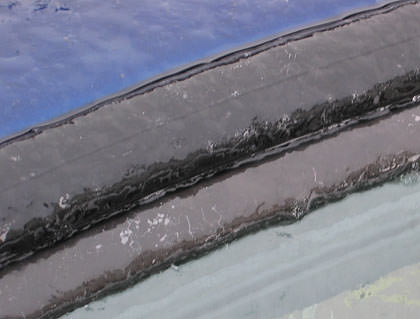 Here are pieces I finally managed to chip away from the trunk with a screwdriver (so I could get to my ice scraper). The only reason I was able to do this is because Saturn cars are not made of metal, they are made out of some kind of flexible polymer. I kept flexing and denting in the panels and eventually the ice would crack enough to be removed. A pity that kind of thing didn't work on the windows, where the ice had bonded so hard that no amount of scraping would remove it...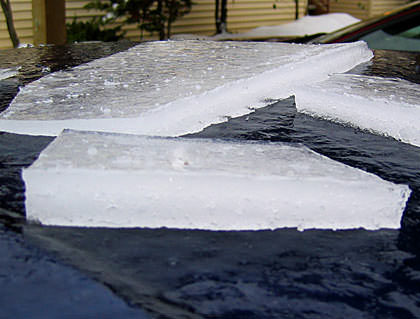 Once I got to my ice scraper in the trunk and used it to open my door, I was able to turn on the defroster. Twenty minutes later the ice was easily removed. Well, not easily, you're still having to try and balance on a sheet of ice while you scrape, but easier than a screwdriver. Of course, then the challenge is to actually drive on an incredibly slick surface. It was not easy, and it took at least ten minutes to successfully get out of the driveway. Fortunately Cashmere has a top-notch snow-removal crew, so the roads were okay, but you still had to hit the brakes five car-lengths before the stop or else you'd end up in the middle of an intersection.
I really, really hope I don't have to go through this tomorrow.