It's a wacky kind of Bullet Sunday on this cold December day...

• Pink. Genius writer Blake Edwards passed away this week. He was the creator of a number of important works such as Breakfast at Tiffany's and Days of Wine and Roses, but will forever be best known as creator of The Pink Panther series of films he made with Peter Sellers. Out of the opening title sequences from those movies came one of my favorite cartoon characters ever... The Pink Panther...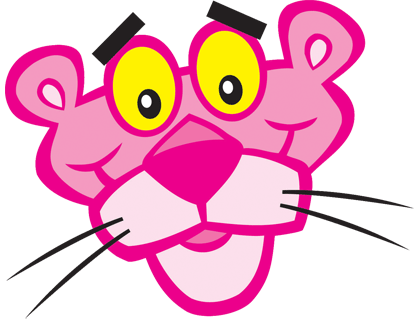 I used to love those cartoons. For the longest time I've wanted to purchase the DVD sets so I could watch them again, but could never justify the rather high price ($60 at Amazon!). Fortunately, they're also available for rent at Netflix (alas, no instant streaming), so I'll have to get on that one of these days. As for Mr. Edwards... thank you for the laughs. May you rest in peace sir.

• Larry. Call me a hater, but I have never liked Larry King. I found his interviews to be to absolute crap. Half the time Larry seemed completely unprepared and left me wondering if he even knew who he was talking to. The rest of the time he was just plain boring. I never understood why he was so popular... except that he somehow managed to attract popular guests on his show. Probably because doing Larry King is so easy and risk-free since his interviews were always so embarrassingly superficial. Definitely not because he was any kind of appealing personality. He always came off as either a creepier version of Mr. Burns from The Simpsons...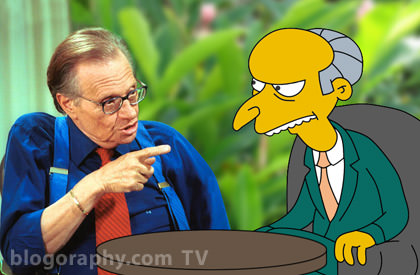 ... or a freaky alien...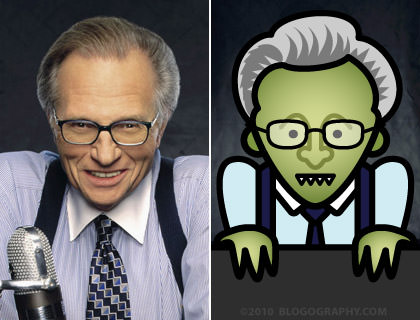 Needless to say, I'm not sorry he's now retired. And while I'd definitely say that Joy Behar is a step up from Larry, I don't think she's particularly winning when it comes to interviews either. So I don't know what CNN is going to do now. Hopefully find somebody who knows how to give a decent interview.

• Shaun! A couple years ago when I was in Germany, I was introduced to a new television series starring Shaun the Sheep... a character from the Wallace & Gromit short fim A Close Shave. As you'd expect from an Aardman Animations production, the show was fantastically funny and clever... and dialogue-free!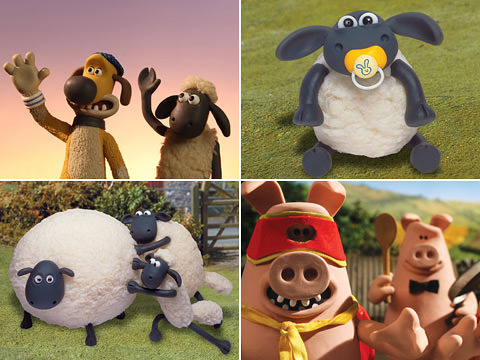 Well, after waiting and waiting and waiting, they finally released the complete first season on DVD...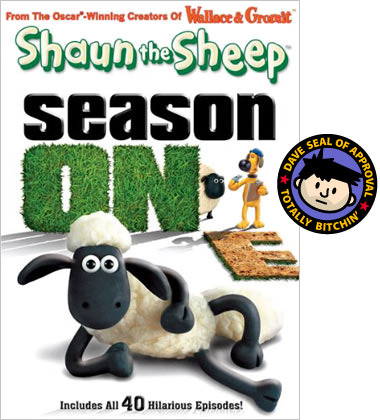 Highest possible recommendation. Seriously, you've got to see these short episodes. I bought it from Amazon, but episodes are also currently available for Instant Stremaing from Netflix!

• Lens. Every once in a while you get a glimpse of where technology is taking us... a little peek at what's coming down the pipe. This week it was something called "World Lens" for iPhone. It uses the iPhone's camera to "read" an image for text. Then, depending on the filter you select, the app will process it for translation or some other trickery... like reversing the letters in any words it finds. It then pastes the output onto the original live image...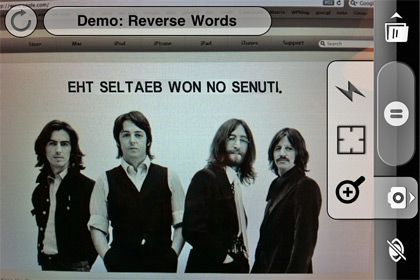 The app is free from the iTunes Music Store. Currently there's $4.99 English->Spanish and $4.99 Spanish->English filters with more promised. To see it in action is pretty spectacular...
One day, they're going to be able to put stuff like this on a contact lens or as a chip implant in your brain so you can just look at something and get it translated directly. And I'm guessing audio translation isn't that far off. The future is all magic from here on out. Or it could be. If we let it.

And there you have it, Bullet Sunday begone!