And so the event I traveled 5000 miles (8000 kilometers) to attend, finally arrived... BITCHSTERDAM 2! As expected, it was well-worth the trip, and everybody had an awesome time. Just another reminder why I love blogger meet-ups so much!
As it was a beautiful day in the Netherlands, we decided to head into Amsterdam early and play tourist (even though The DutchBitch is a native and Lady Penelope and I have been here many times). It's such a beautiful city with so many things to do, that it would be a crime not to spend some time exploring. Eventually decided on a canal boat tour...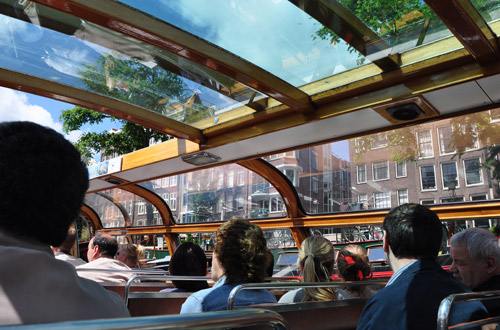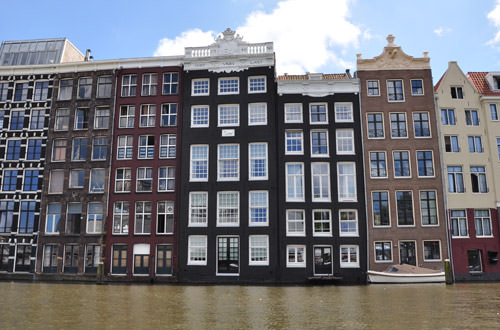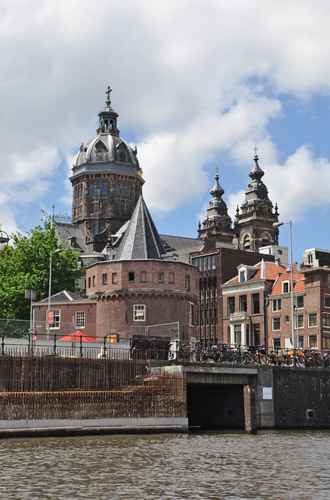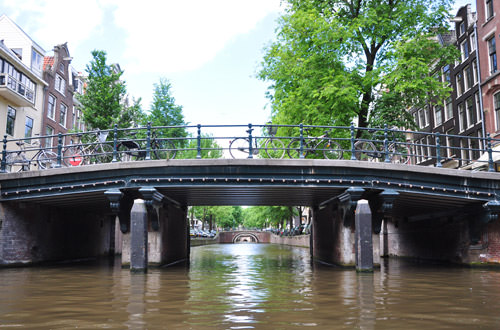 Since the Lady Penelope had never been to the Red Light District, we wandered through the neighborhood for a while. I've only ever seen it at night, and it was an entirely different experience in the daytime...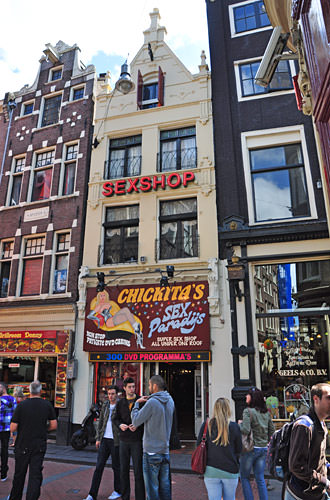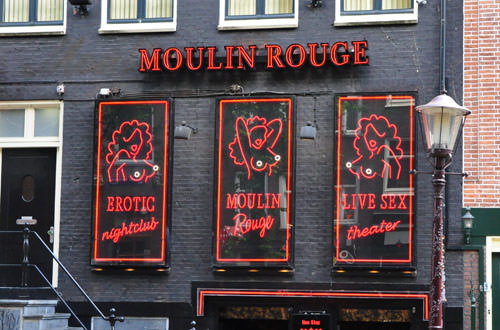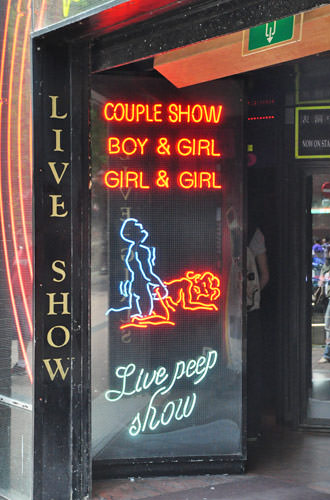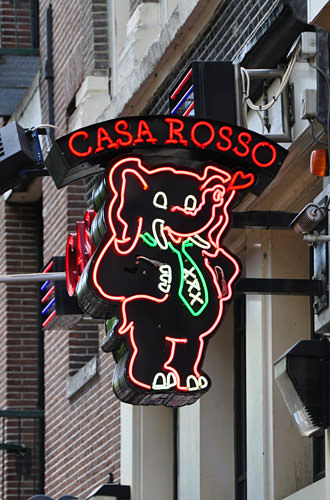 Along the canal in the Red Light District is actually quite beautiful in the daylight, as all the seedier elements are not so noticeable...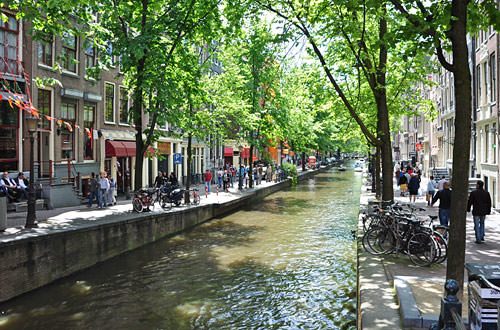 Throughout the Netherlands everybody has World Cup fever. It's a bit difficult to explain to Americans, except to equate it to the Super Bowl (if the Super Bowl took place once every four years and the entire world was competing for a spot to play in it)...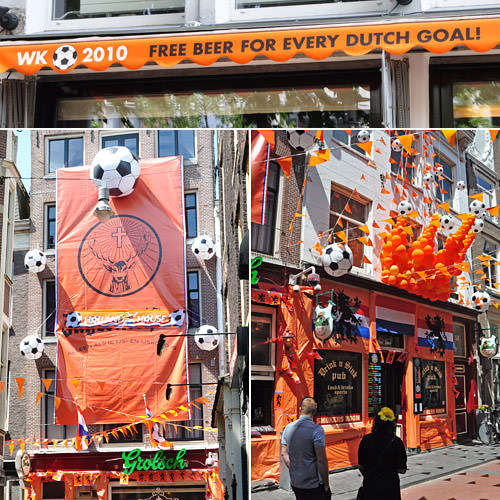 England was expected to wipe the floor with the USA in today's match, and the English were having a big laugh at the anticipated beating they were most certainly going to dish out to us. Unfortunately, things didn't go as planned, and the Americans managed to hold England to a tie game of 1-1. Many tears of agony were shed in Blighty, I'm sure. A really good recap to explain it all is over at the BBC.
After goofing about Amsterdam for a few hours, we headed to the Hard Rock Cafe early so we could have a few drinks while waiting for Bitchsterdam to ensue. The scenery at Max Euweplein was... interesting... to say the least...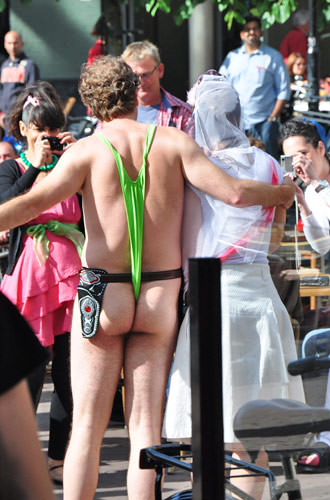 I'll leave the Bitchsterdam recap and photos to DutchBitch but, suffice to say, we all had a lot of fun. Many Euros were spent to make sure of it...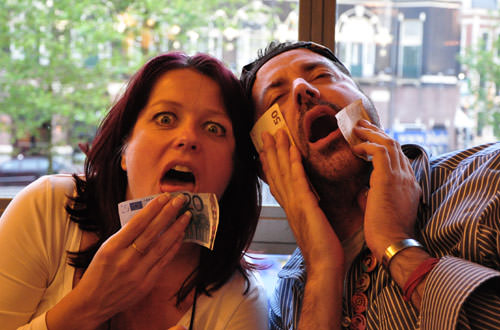 A big shout-out to Blogography reader Erik who was kind enough to come over and say "hello." He was sitting at the next table with his friends, and somehow managed to recognize me in my drunken state!
After Bitchsterdam had ended, we were walking back to the car park when we saw a drunken barefoot man kicking his shoe across the street. A motorcycle police officer was keeping a careful eye out, and went to question the man, who replied "What the fuck do you want?!?" Much to his credit, the police officer let the man go on his way... even when he shoved his shoe down the storm drain...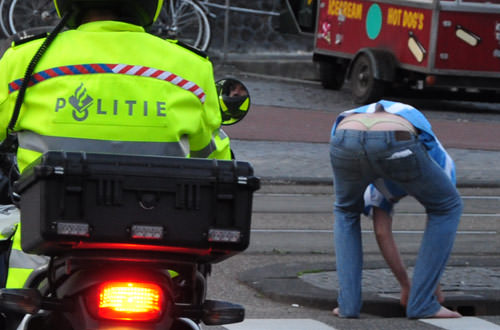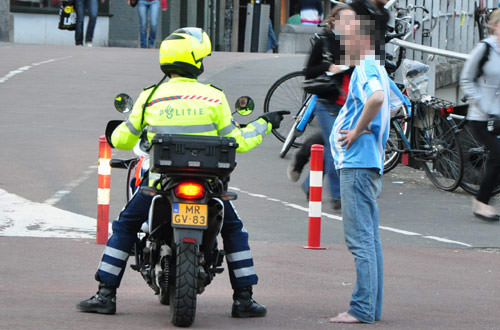 But then the drunk man decided to do some property damage by trying to tear out a street sign. This was something the the police officer could not ignore, and the result was obvious to everybody except the drunk guy...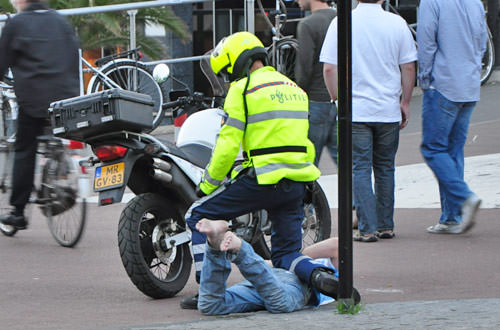 Backup forces arrived in the form of two beautiful lady cops in a squad car, who were apparently signing autographs while the drunk guy got hauled off in a van...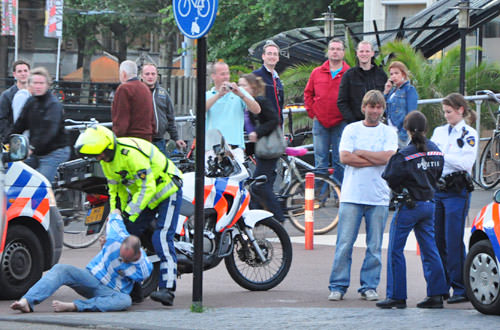 Bravo to the Amsterdam Police, who were incredibly calm, cool, collected, and reserved in trying to keep everybody safe! And bravo to drunk guy for giving us some post-Bitchsterdam entertainment!
And bravo to DutchBitch for an awesome day!

And so here I am in DutchyLand.
There was a bit of an adventure leading up to this moment, because my airport hotel caught on fire at 11:45pm last night. Except not really... it ended up being a false alarm that caused the entire hotel to be evacuated for 30 minutes. The alarm was a continuous piercing shriek that gave me an instant headache of massive proportions. This made getting any sleep a total impossibility. Which is a lovely thing to have happen before hopping on an airplane for nine hours...
So I haven't slept in two days, and still have a full day ahead of me.
Yay! I'm a zombie! Again!
After landing, The DutchBitch and Lady Penelope picked me up for a trip to the city of Alkmaar, where they have a famous cheese market and cheese museum. As a lover of all things cheese, I had been dying to go for years, and the ladies were nice enough to indulge me.
As were were making our way through Alkmaar Centraal, I started noticing these badges embedded in the street...
This was very confusing to me, because it looked like an invitation for you to let your dog take a shit here. I asked DutchBitch about it, and she said that the red ring indicates that the action within is FORBIDDEN.
Back in the USA, the sign would look like this...
Alkmaar has a serious dog shit problem, so they should put more of these signs up. Perhaps if they switched to the American version, it would help make things more clear?
In any event, I'd think what Alkmaar really needs to worry about is this...
Because eating too much cheese can definitely have unpleasant effects on a person's digestive system.
The Cheese Market itself is fun. They have a kind of reenactment you can watch with cheese runners and the whole bit...
Behind the festivities is a beautiful Cheese Museum that shows a lot of cheese history and cheese-making stuff. You ever get a view down to the market...
But the most IMPORTANT thing about the Cheese Museum at Alkmaar is that you get a free sample of cheese! Because the cheese is free, it's undoubtedly the cheapest, crappiest cheese Dutch Euros can buy... but it still kicks the shit out of 95% of the cheese you can buy in the USA.
Lunch, of course, consisted of an Old Cheese Sandwich and Patatjes Met. Which is about my favorite lunch on earth when freshly made in the Netherlands...
Hooray for cheese!