I'm a big lemonade fan.
Especially on a warm day when it's made from freshly-squeezed lemons.
I sometimes find myself eating at restaurants not because of the food they serve... but because they serve up a great lemonade... Hot Dog on a Stick comes to mind.
In the summer I buy lots of lemonade... mostly the quality brands that are made with real sugar instead of shitty high fructose corn syrup. My favorite brands in my neck of the woods are Simply Lemonade and Newman's Own Lemonade. Though I usually add a little water to them because they're a bit too strong. If you can find it, one of my all-time favorites is Hubert's Lemonade. It's fantastic, but I can only seem to get it when I'm in California...

Sometimes when I'm feeling really ambitious, I'll buy lemons and make my own lemonade...
DAVE2'S DELICIOUS LEMONADE RECIPE
5-7 Lemons
1 cup of Pure Cane White Sugar
Juice the lemons until you have 1-1/4 cups of juice. They will squeeze easier if you roll them roughly on your countertop for a while before cutting them open. Dissolve the 1 cup of sugar in 1 cup of hot-hot water (if your tap water doesn't get hot enough, you may have to use your stovetop... I microwave until boiling then dissolve the sugar in it). In a glass pitcher, combine the sugar-water and lemon juice. Add 5 cups of chilled water (if you like stronger lemonade, cut back on the water). Serve over ice or chill and serve cold.
The problem is that homemade lemonade is a pain in the ass to make.
So when I saw a product called Minute Maid DROPS that will make regular old water taste like lemonade, I was all over it...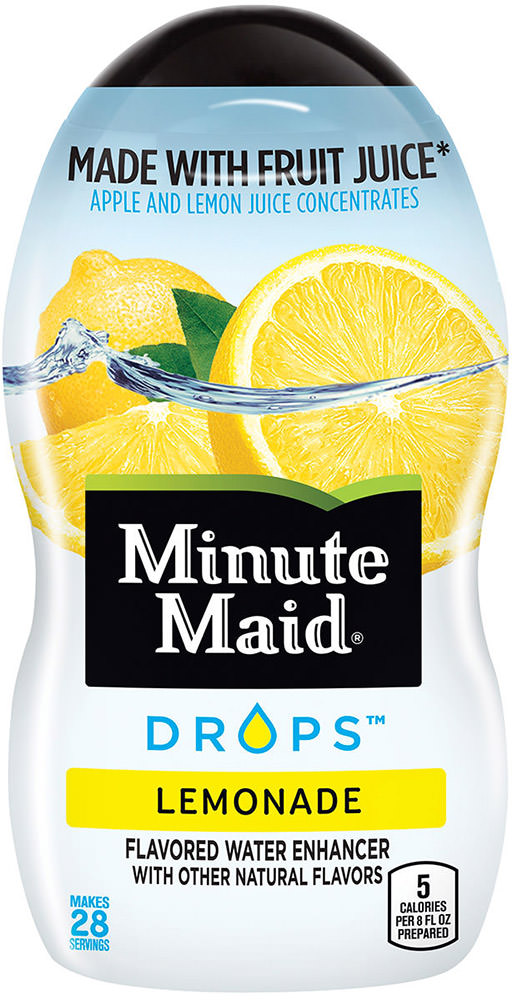 BAAAARRRRRRRRRFFFFF!
ZOMG YOU GUYS! THIS IS ONE OF THE MOST DISGUSTING THINGS I'VE EVER TASTED! It makes a glass of water taste like lemon-scented toxic waste! I think it has to do with the vomit-inducing sweetener they've got going on... "stevia and sucralose." I have no idea how they're made, but I'm guessing it involves invoking the devil.
Anyway... whatever this stuff is, it's NOT lemonade. Legally it shouldn't even be allowed to be labeled "lemonade."
And now I'm sad, because it will be years before I can erase the memory of this horrific shit and not have it taint future lemonade experiences.
Hopefully I'll find a use for this crap so I'm not out $4.79... maybe it's good for cleaning the toilet or something.