I didn't get any sleep last night, so this will undoubtably be a barely coherent edition of Bullet Sunday...
• Discriminated. Everybody is discriminated against at some point. And some people definitely get it worse than others. And while I'm sure progress is being made every day, every once in a while I hear something so outrageous that it makes me question if we've not reached a point where that progress is running backwards. Today was one of those days, because I received an email from a friend who filled me in on his recent bout with discrimination. It's all at once disgusting and disappointing, made even more so because he has no recourse. I have faith that eventually the human race can live together without prejudice. We have to, or we perish. But that day keeps getting further and further away to me, and I can't help but feel overwhelming sadness because of it.
&nbsp
• Bear TV. I want this...
Awww... It's a television that you can snuggle with after you're done watching him!
&nbsp
• Disc. In the continuing effort to convert my analogue life into digital 1's and 0's, I've been having all my old photo negatives and paper pictures scanned. I'm probably 80% there. The problem is that it's going to be a long road to reaching 100%. Some media, in particular 110 Black & White negatives and Kodak's infamously crappy Disc Film, are really expensive to have done right...
I don't know why I ever bought into the technology. Probably because the camera was so small and easy to load. Unfortunately, those conveniences necessitated tiny negatives which produced crappy photos. I only used the stupid thing for less than two years, but they were two very important years... Thus my junior year of high school: Disc. My first trip to New Orleans: Disc. My senior year of high school: Disc. Fortunately my parents bought me a 35mm Canon A-1 for graduation so I was set after that. But right now... my past belongs to Disc. Will digital be forever?
&nbsp
• Pushed. When I read about a movie that features super-powered psychics battling it out in Hong Kong... well... it's not like I can pass that up. I didn't even bother to look at the reviews over at Rotten Tomatoes, I just add it to my NetFlix queue and watched it when the DVD arrived. Only to discover that it's one of the stupidest, most needlessly incoherent and incomprehensible messes I've ever seen. The entire film was nothing more than a set up for a sequel, but it sucked so horrendously bad that there probably isn't going to be a sequel. That leaves us with a half-finished disaster that's sometimes pretty to look at, but has paper-thin characters and a patchwork story that ends up being a pale imitation of Scanners. When the hell are filmmakers going to understand that you make the best movie you can... THEN worry about a sequel? The sad thing here is that the concept is so cool. But this piece of EPIC FAIL! will undoubtedly kill any hope of a great film of this kind being made for quite a while.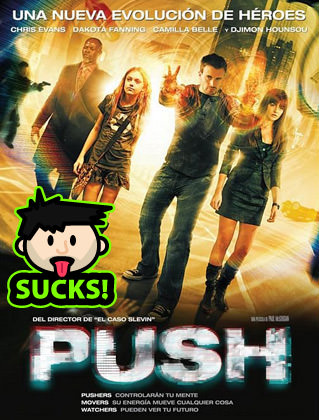 &nbsp
And that will have to be it for this edition of Bullet Sunday... I don't think I can make it through two nights in a row without sleep.