As I type this, Twitter is down. I don't have a lot of time to spend on Twitter, but I feel incredibly disconnected when I go to see what's happening there and can't get through. Amazingly, you don't even get a Fail-Whale anymore... just a blank white screen.
If I could Twitter right now, I'd undoubtedly tweet my surprise that the stunningly beautiful Audrey Tautou just showed up on my television in an advertisement for Chanel No. 5. A little internet research reveals that the spot was directed by the incomparable Jean-Pierre Jeunet, who had previously worked with Tautou on two of my favorite films: Le fabuleux destin d'Amélie Poulain (known as Amélie in English-speaking countries) and Un long dimanche de fiançailles (known as A Very Long Engagement here).
I don't usually post random videos, but this commercial is too beautiful to not be seen...
Or heard. We're also treated to Billie Holiday for a soundtrack.
Everything Jeunet touches is surreal and magical. Even a commercial for perfume. And now all I want to do is watch Amélie and A Very Long Engagement back-to-back. Even though it's 10:30 at night and I have a ton of work to do and I'd be up until 2:00am.
Another time, I guess.
Interestingly enough, Jeunet has a new film that debuted in France back in October called Micmacs à tire-larigot...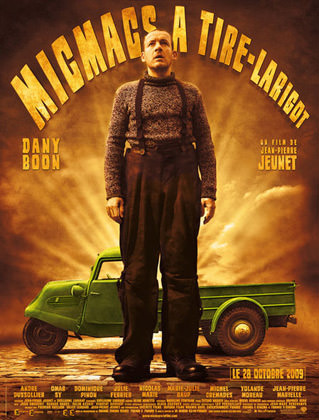 I can't wait to see it, even though it sounds like it is very different from his previous two films.
But sometimes different is good.