Fryslân (Friesland) is a region in the Northern Netherlands I have long wanted to visit. Partly because I want to visit all regions of the country... but mostly because it was home to some of my ancestors. My family name of "Simmer" is from the word "Summer" in the Fresian language, and my father has traced our genealogy back several generations to the area.
There are a number of routes you can use to get to Fryslân from South Holland, but The DutchBitch decided to take us the most direct (and interesting!) route... across The Afsluitdijk, a massive dike constructed from 1927 to 1933 which has a roadway over it. The dike completely enclosed a saltwater bay (known as Zuiderzee) which eventually became a giant freshwater lake called IJsselmeer. The 20-mile long dike also allowed for the reclamation of the land masses Wieringermeer, Noordoostpolder, and Flevoland, which added considerable area to the country. On a map, The Afsluitdijk (marked with a red arrow) looks like this...
Amsterdam is in the lower-left there. The areas I've shaded green are lands reclaimed from the sea.
When looking at a map, any time i saw The Afsluitdijk, I thought of it looking like the Øresund Bridge or something...
Which is absurd, of course, because a dike is nothing like a bridge. I guess in my mind it would just look cooler if it was. The reality isn't quite so glamorous, but still interesting...
Obligatory iPhone panorama shot (click to embiggen)...

Stopping at the half-way point.
After an hour-and-a-half drive, we arrived at our first stop... the city of Harlingen. It's a beautiful old fishing town that's the birthplace of my great-great-grandparents...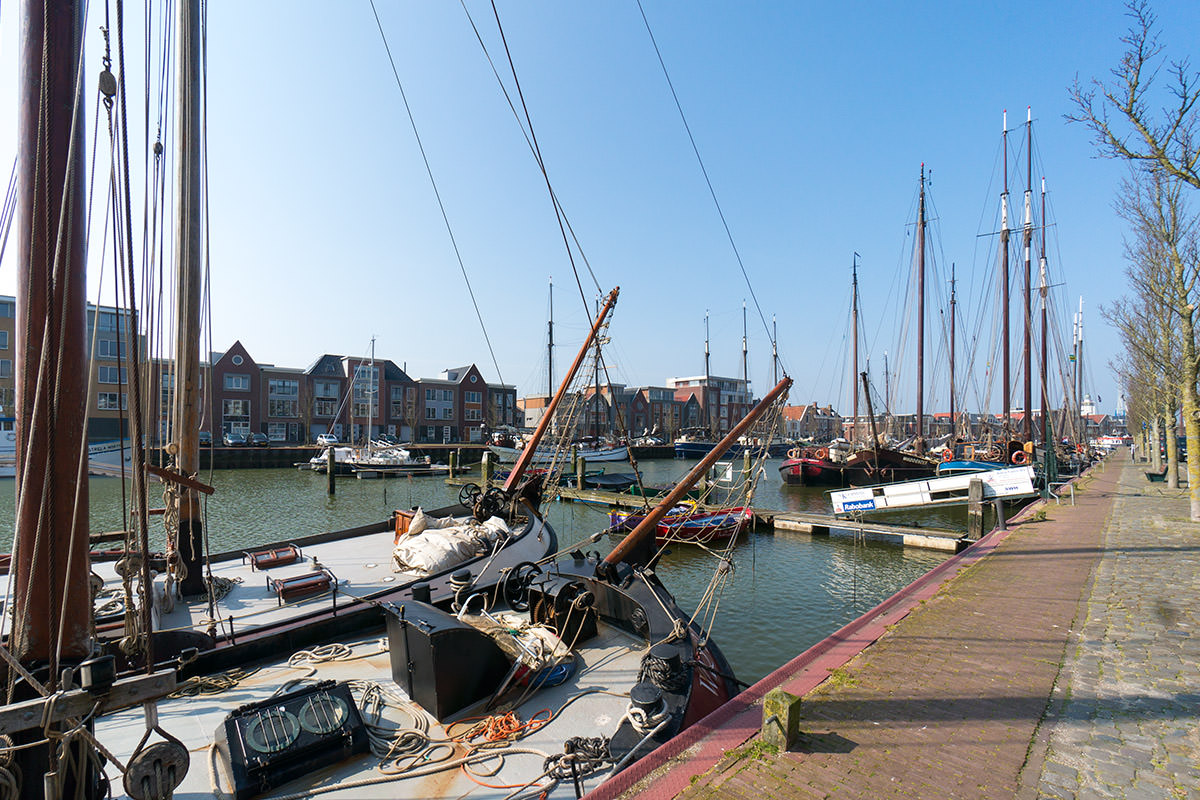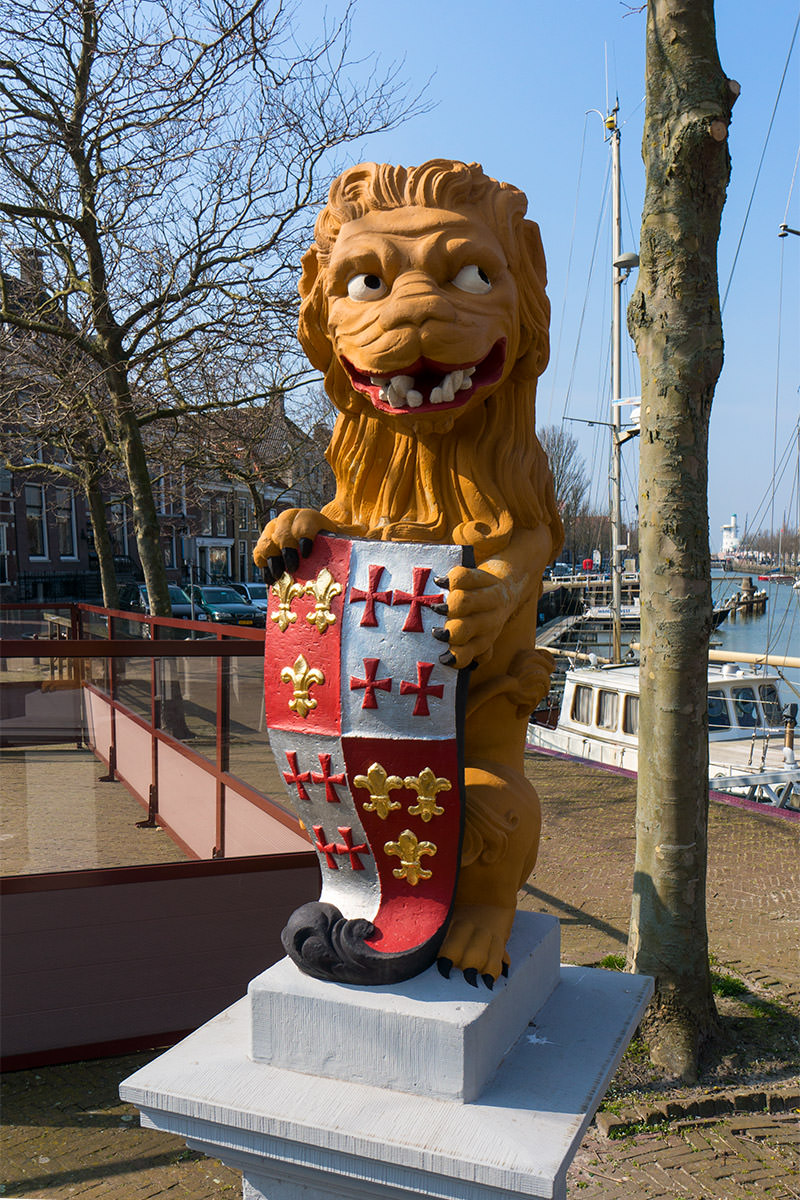 Stopping at the tourist office, we learned that the area where my great-great-grandparents were born was the poor part of town and a real shit-hole, which is why it was eventually torn down. Which is to say that it was undoubtedly a beautiful and incredibly desirable area of the city to live until my family left, at which time it became a detestable shit-hole, I'm sure. Today, it has once again become a premium, expensive neighborhood to live, so I guess things have come full circle.
Because this area had been completely torn down, the street where my great-great-grandfather was born no longer exists. It has become a private dead-end alley to the right of this cool little house here...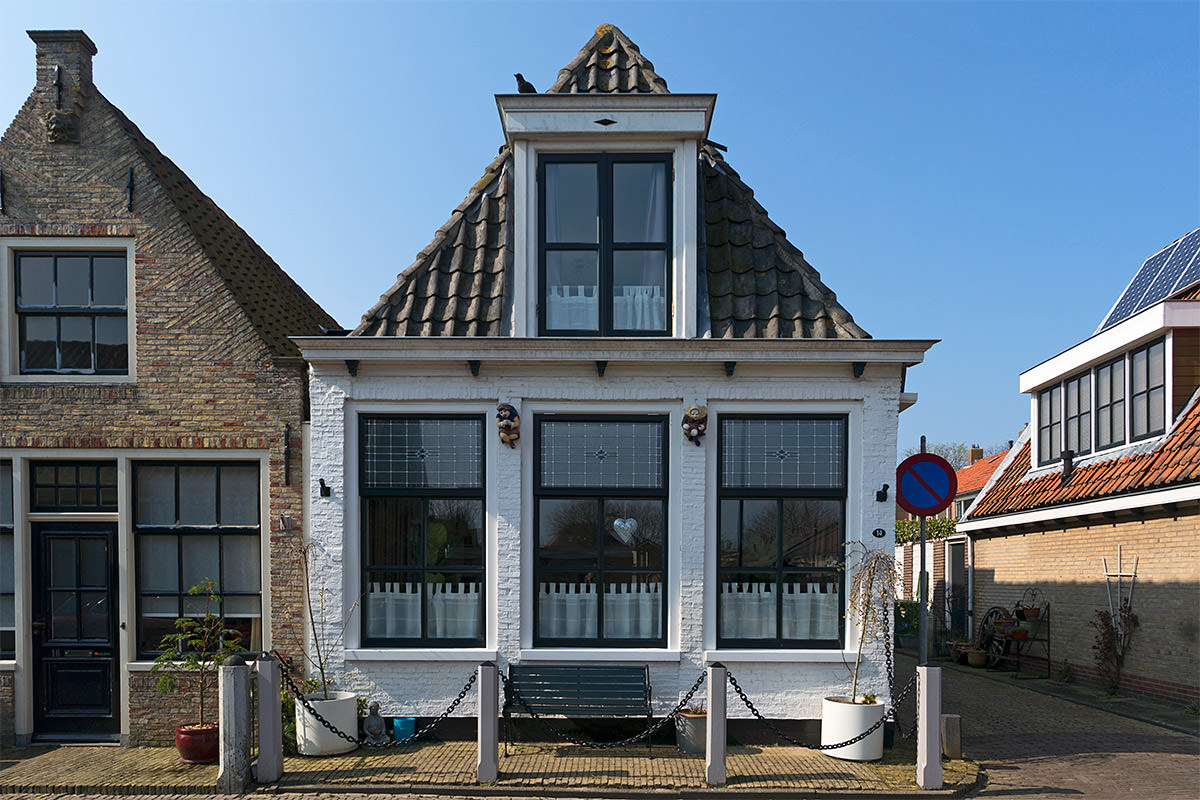 The place where my great-great-grandmother was born has been torn down and divided up into different lots, so I just walked around the block to see the area where she had lived...
After a nice lunch downtown, The DutchBitch and I walked back through the city where she spotted this...
PIRATE brand Virginia Cigarettes... made in the Netherlands?
From Harlingen, we headed to Leeuwarden for more family history. Our first stop was just a block up from our hotel, which is the former location of the Galileërkerk, a church where my great-great-great-great-great-great-grandfather Johannes was interred. The original building was demolished in 1940, but it's location was just north of the former post office, which would be in the vicinity of the building to the left there...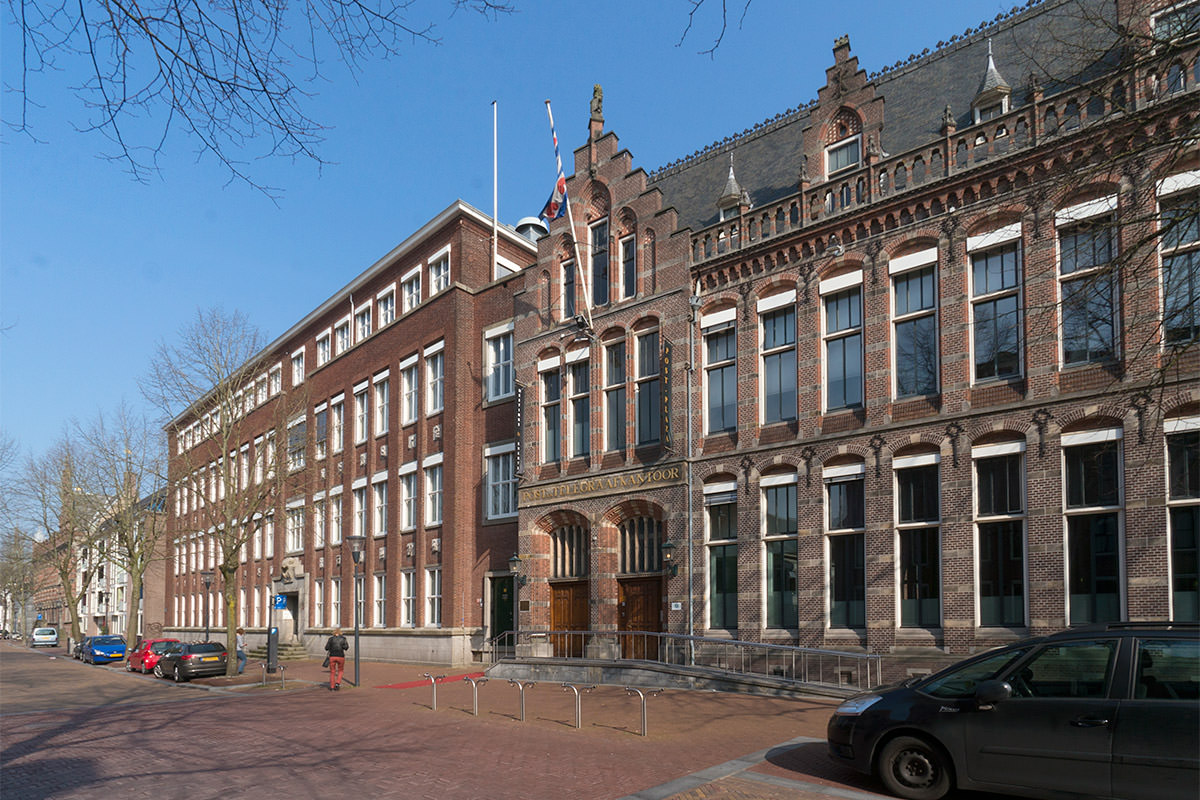 The weather was incredible, and we weren't the only ones taking advantage of it...
Our next stop was the church where both my great-great-great-great-great-great-grandfather Johannes and his son, my great-great-great-great-great-grandfather Frederik were married. It's now some kind of local performing arts center, but it still looks vaguely church-like. And it has some kick-ass door decorations...
From there it was onward to Oldehoofsterkerkhof, the church where my great-great-great-great-great-grandfather Frederik was interred. In what I can only describe as a "Leaning Tower of Pisa Moment," I finally realized that the reason the tower looks so strange is because it's falling over...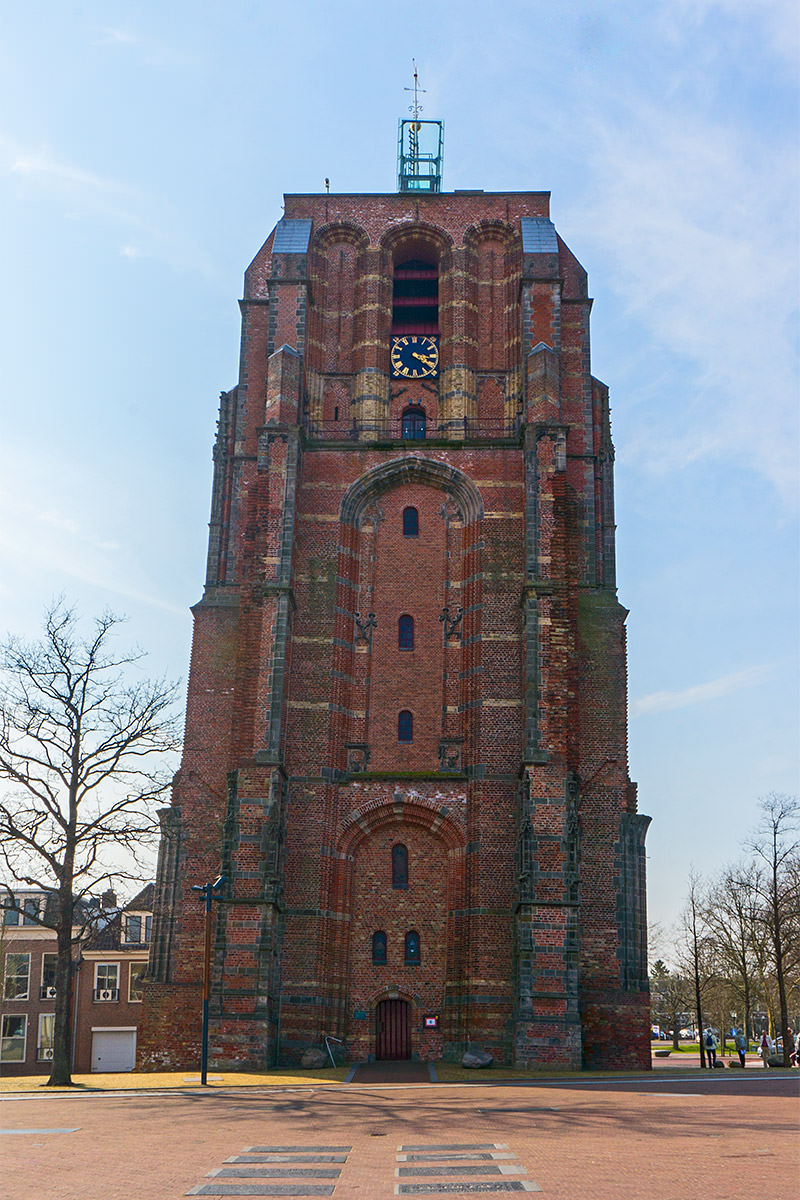 And the closer you get, the more fucked-up things become. There doesn't seem to be a single perpendicular line on this entire building except the windows and doors. I was getting a headache trying to photograph it because my brain kept trying to straighten things out and line stuff up...
Like Harlingen, Leeuwarden is a rather nice city with a pretty downtown area...
Which you walk through in order to get to the part of town where my great-great-great-great-grandparents Hendrik and Catharina lived... and where my great-great-great-grandfather Willem Frederik was born in 1817 (he moved to Harlingen with his wife Geertje in 1845). Though, I'm sure back then it wasn't quite the boarded-up, graffiti-strewn mess it is now...
Our last stop was Blokhuispoort, a former prison where The DutchBitch thought I would feel right at home because my great-great-great-great-great-great-grandfather Johannes was convicted of being drunk and insulting a widow named Dieuke Berents. Wrongly convicted, obviously, since the woman must have totally deserved it. I can only hope that grandpa Johannes gave her a nice bitch-slap for having the nerve to piss him off...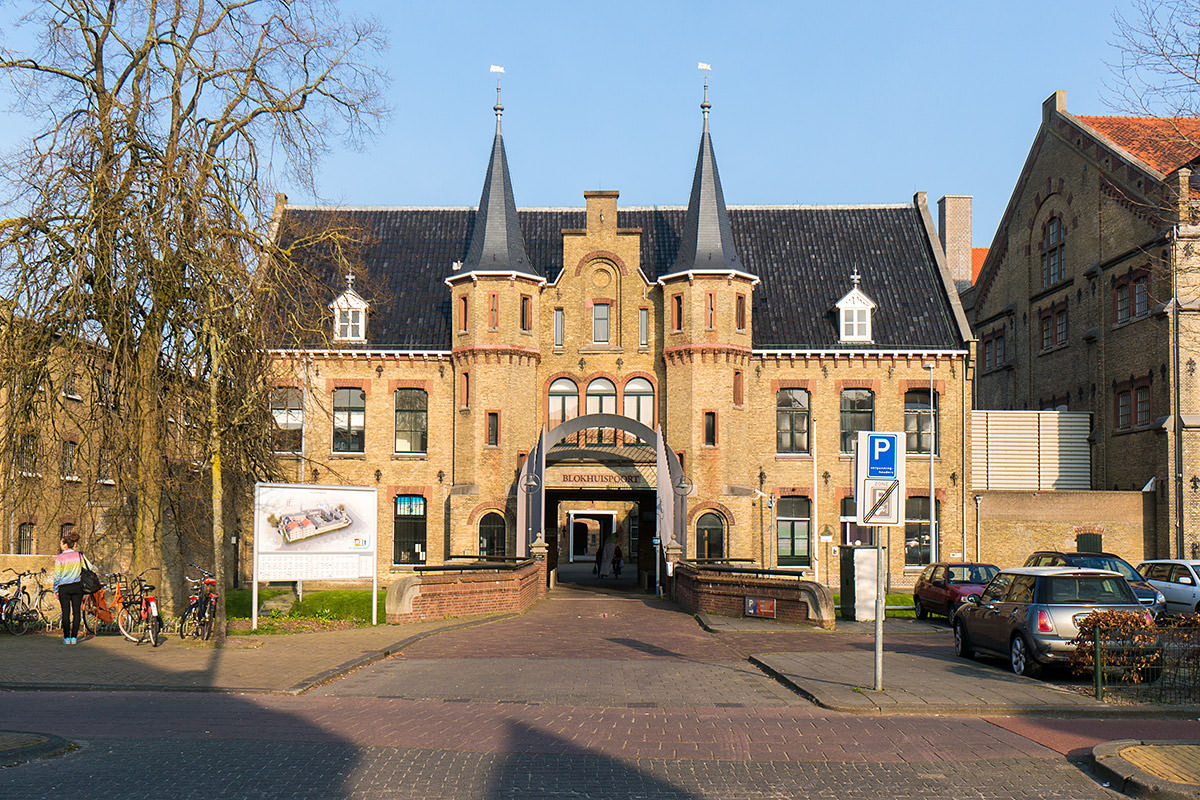 And thus ended my tour of the lands of my ancestors. Now it's time to dope up on pain-killers and see if I can get some sleep before tomorrow's adventure.
Boy, getting hit by a car is not all it's cracked up to be.