20min shuttle ride + 2hr waiting + 4hr 15min flight + 1hr 25min layover + 2hr 15min flight + 3hr time change = 13hr 15min of travel on no sleep.
I can't quite remember where, but somewhere along the way I lost my sanity. I'd be upset about that, but I'm just too tired to care anymore.
Anyway...
Remember when I used to love Earl of Sandwich?
When I would travel hundreds of miles out of my way to eat there?
When I would wax poetic over every sandwich consumed in my blog?
When I would visit the same Earl restaurant and get the same sandwich every day I was even remotely near one of their locations? Sometimes twice a day?
I used to describe their food as "orgasmic" and "my favorite sandwich on earth" and "so good it's worth risking your life to have one." Their "Earl Veggie" was a dream come true... packed with lettuce, tomato, onion, olives, feta cheese, and their amazing Mediterranean dressing (I skipped the roasted red peppers and cucumbers)... all served on bread so delicious that you couldn't help but make yummy noises while you ate it.
But then, for reasons I can't even guess, they discontinued the "Earl Veggie" and replaced it with a boring-ass Caprese sandwich.
Fuck.
For a while there, I was able to get back the "Earl Veggie" I loved by paying extra money to get an alteration with added ingredients... "I'll take a Caprese Sandwich. No mozzarella. No basil. No Vinaigrette. Add Feta Cheese, Lettuce, Red Onion, Kalamata Olives, & Mediterranean Dressing." — Sure it sucked that I was paying more for the same sandwich, but it was so delicious I didn't care... no harm, no foul.
But then they stopped making the Mediterranean Dressing.
And now they don't even have onions any more (unless they're grilled). Yes, you read that right, a sandwich shop with no onions.
So tonight when I went over the International Plaza's Bay Street, I made a pitiful attempt to get my sandwich back by ordering a Caprese with NOTHING on it... add lettuce, tomato, olives, feta cheese, and Italian Dressing. This grotesque mockery of a sandwich is what I ended up with...
Despite the staff being eager to please, it was pretty disgusting and barely edible. They forgot the feta, which is the entire point of the sandwich. And instead of a drizzle of Italian Dressing for flavor, they literally flooded my sandwich with the stuff. It soaked into the bread and was dripping out every time I tried to take a bite. There was barely any veggies inside either, with one pathetic leaf of lettuce, a few scattered olives, and three tomato slices.
Sad.
Inexplicably sad.
How the fuck do you go from having the greatest sandwich I've ever tasted in my life to having a barely edible monstrosity that I have to force myself to choke down? The best thing about my meal was the baked potato that came with my sandwich, and it wasn't even hot.
And it's not just the discontinuation of the greatest sandwich I had ever eaten that's the problem, just look how Earl of Sandwich sandwiches have degraded over time...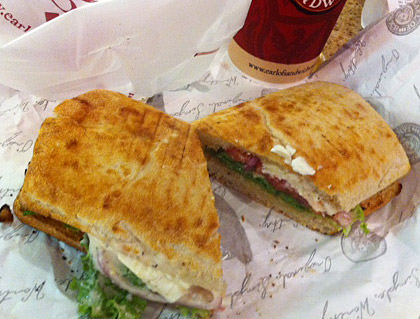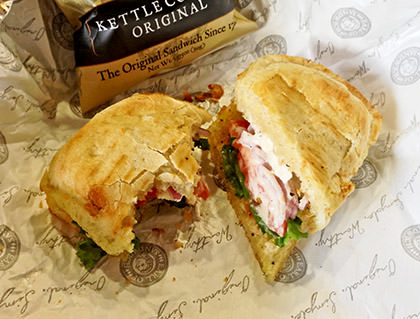 The bread, once buttery and wonderfully flaky, has become more like a typical crusty sandwich roll. It still tastes great, but it's not the magical experience it once was. And just look at the size! I was more than a little shocked when I opened my sandwich to see how much it has shrunk. I know the photos are all different scales... but compare the logo dots on the wrapper. I'm betting the current sandwich is a good inch shorter and half-inch slimmer than it used to be. Which makes it all the more disappointing that the amount of sandwich toppings has been so grossly reduced. The veggies used to be piled high. Now? There's barely anything to be found on the sandwich I got.
All I can say is that I hope the meat sandwiches are faring much better for the carnivores out there, because the vegetarian options fucking suck. And if you had told me two years ago that I would ever be saying something like that about Earl of Sandwich, I would have slapped you across the face and screamed "LIAR!!!"
I just don't get it. Really I don't.
But oh well. One less thing I have to worry about when I travel.
Dammit.