There's so much horror in the world today that we're pretty much conditioned to accept it as normal.
The problem being that it isn't normal, and I'm growing more and more despondent over the fact that people seem perfectly content to let it slide. We've become a society ruled by hatred and fear, and any joy we feel is tempered by the knowledge that somebody, somewhere hates us for what we think... for what we believe... for who we are. Even worse, we're constantly reminded of it. Keeping everybody in a perpetual state of fear is apparently the easiest way to control them.
This was made painfully clear to me earlier in the evening when I got a call from the National Rifle Association...
"I'M CALLING WITH A MESSAGE FROM THE PRESIDENT OF THE NRA WHO WANTS YOU TO LISTEN TO A SHORT ONE-MINUTE MESSAGE AND ANSWER A QUESTION ABOUT HOW CONGRESS IS TRYING TO STRIP US OF OUR SECOND AMENDMENT RIGHTS AND--
"I'm not interested."
"IT WILL ONLY TAKE A MINUTE OF YOUR TIME AND--"
"I support gun ownership, and am disgusted that you are trying to scare the crap out of people with absurd threats like this. Nobody is taking our guns away. So no thanks."
= click! =
Now, he could have called and said "I'm with the NRA, and I'm calling to ask for your support as we work to ensure Second Amendment rights are protected for all Americans." But oh no... the asshole had to call and say "THEY'RE COMING TO TAKE YOUR GUNS AND STRIP YOU OF YOUR RIGHTS! BOOGAH BOOGAH BOOGA!!!"
Well fuck that. And fuck the NRA for being such fear-mongering dicks. While the particulars surrounding gun ownership will always be debated, there's not going to be a repeal of the Second Amendment when the majority of Americans support it. And how do I know the majority of American's support it? Oh... IT'S ON THE NRA'S FUCKING WEBSITE!
I suppose now I'm going to get a call from the anti-gun lobby saying "THE NRA WANTS TO FORCE YOUR KIDS TO CARRY GUNS IN SCHOOL!" or some other fear-encrusted bullshit.
It never ends.
And here I thought somebody telling me my handwriting was "stupid" because I don't drop the descenders on my p's and g's and y's and q's was the worst thing that could happen today...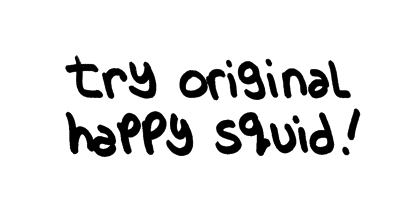 ... but instead I had to be reminded that the world sucks ass.
And that sucks ass.

P.S. My handwriting is terrible because I don't hand-write a lot. I mostly type on a computer. And when I do write, it's usually in all-caps. Sometimes I have to use lower-case letters, but I still like everything to fit between the lines on a paper so I move up all the letters that have descenders on them. Is that so wrong?