I've misplaced some photo negatives and have spent days trying to find them. All to no avail. They're gone, and I have no clue what happened to them. Needless to say, I'm not in the happiest of moods this Bullet Sunday.
• Translate! For a long, long time I've wanted to provide some kind of translation service on my blog for my non-English reading visitors. But all the options I've found have been kind of cheesy, and didn't work very well. Until now. The lovely people at Google have come up with a brilliant "overlay gadget" that can translate a page into dozens of languages easily. I've added it to my sidebar and it's pretty sweet. If you're interested in adding it to your own site, you can grab the code here.
• Obama! I am sharing a WTF?!? moment with people around the globe now that President Obama has won the Nobel Peace Prize. I think it's laughable considering that Obama hasn't really done anything to deserve it and, like many people, feel that it was awarded based not on deed but on intent. Or maybe it was awarded solely for entertainment value. The Nobel Council could have felt that giving Obama the prize would completely freak out Right-Wing America (it's just so easy now-a-days), and wanted a good laugh at their expense. Naturally, total dumbass douchebags like Rush Limbaugh are so fucking stupid that they took the bait hook, line, and sinker... but, much to my shock, one of the more radical Conservatives was smarter about it...
Now, I hate Bill O'Reilly with the fiery passion of a thousand suns... he is an opportunist douchebag who exaggerates, lies, and gleefully divides this nation (all while professing to love it) on a daily basis. He's inflammatory and destructive for no other reason but to keep people angry so he can make a lot of money. I find O'Reilly reprehensible in a way I find ALL political extremists reprehensible... on both the Right and the Left. But, for reasons I cannot fathom, O'Reilly took the high road this time and is basically saying "I don't agree that President Obama deserves this award, but having a US President honored with a peace prize is good for America."
Seriously, I couldn't have said it better myself.
Because I am tired of the Extreme Right's constant need for Obama to fail. They would rather see this country go down in flames than for Obama to gain even the smallest amount of political ground. Case in point: The Olympics. When Chicago lost it's bid to host the games, the Extreme Right was nearly orgasmic with joy because Obama had been promoting his home city. They saw it as a "major loss" for Obama, and were celebrating his "failure." Which is about the most astoundingly fucking stupid thing I've ever heard. Obama didn't lose anything... he's still the president. It's not like he got his salary cut because Brazil won the prize. It was Chicago that lost. Illinois lost. America lost. Jobs were lost. We all lost. But the Neocons don't care about any of that, they'd rather Chicago explode than for anything even remotely associated with President Obama to win anything.
To say I don't understand this kind of self-defeating schadenfreude thinking is putting it mildly. Even though I despised President Bush's policies, I never once wished for him to fail (well, except for his second-term election). When he invaded Iraq, it's not like I was thinking "I hope he fails in Iraq!" On the contrary, even though I vehemently disagreed with the war and felt it would be a total failure, I wished Bush nothing but success for the sake of our troops and our country. I felt the same way about Hurricane Katrina. It's not like I was happy Bush's administration was so pathetically incompetent in dealing with the situation... I was mortified. I would have been much, much happier had Bush's people handled the situation so well that the entire country was rallying to congratulate the President on a job well done. Regardless of who is in office, I want these United States of America to do well because I am an American and this is my country.
But, alas, this kind of rational thought here in the USA seems to be over. For eight long years I had hard-core Conservatives telling me that I should "love it or leave it" when I disagreed with President Bush. Now that the shoe is on the other foot, these same people can't take their own advice. Now they consider it "patriotic" not only to disagree with President Obama, but to hope and pray that he fails in everything he does (then laugh their asses off when they perceive even a hint failure on his part). "United we stand, divided we fall" is no longer a rallying cry to seek commonality amongst diversity... it's become a sad harbinger of the future of this nation. We are indeed falling, and I can only hope that we come to our senses before we hit bottom. Watching Bill O'Reilly have a moment of sanity gives me hope.
• Kitty! My adventures with Kitty Spangles Solitaire are well-documented. It's the best solitaire game for the Mac, which is why I was intrigued when Swoop Software announced Kitty Spangles Sudoku. I'm not much of a Sudoku fan, but have to admit they've done a pretty good job of making it work...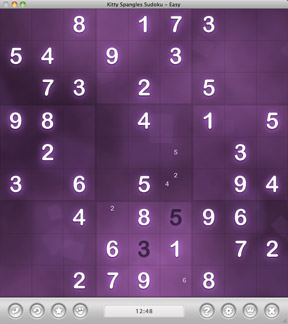 If you've got a Mac and like Sudoku, you can download a demo directly from Swoop!

Blargh. I should probably try and get some sleep tonight since I have a very long day tomorrow...