I am a long-time fan of Gumby. I had more than one Gumby doll when I was a kid, getting a new one when the old one had worn out from playing with him too much. I was equally a fan of Gumby's horse, Pokey. And even though I grew up, I never really outgrew the little green guy and his orange sidekick.
I have mini Gumby & Pokey dolls on my desk. I named the network printers at my office "Gumby" and "Pokey." I have a postcard of Gumby & Pokey stuck to my filing cabinet. I bought all the Bob Burden/Art adams Gumby comics. The icon for the hard disk on each of my Macs was traditionally Gumby (who moved from old computer to new computer, right up until I installed Mac OS X).
My love for all things Gumby will not die.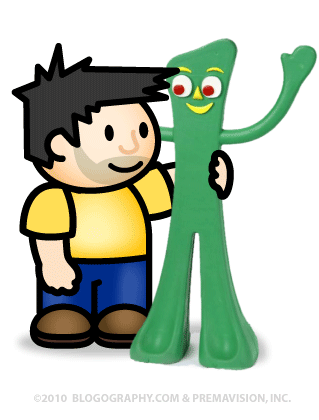 Which is why I was very sad to learn that Gumby's creator, Art Clokey, passed away yesterday.
For teaching me to use my imagination and giving me a lifetime of happy memories... rest in peace, Mr. Clokey.
If you're wanting to explore the freakishly bizarre world of Gumby, then you'll be happy to know that Hulu has a collection of cartoons available to watch for free! Prepare to get your mind blown (assuming you live in the USA, as Hulu doesn't seem to work elsewhere)...
Goodnight, Gumby!