I am starting to get annoyed at frozen food manufacturers who have no smarts when it comes to how people heat their food in the real world. Everybody knows that the ideal way of cooking something frozen is to use the MICROWAVE to mostly thaw the item... then switch to a CONVECTION OVEN to finish cooking the item because cooking it all the way in the microwave usually makes it taste like rubberized crap. So why do manufacturers ONLY give you cooking directions for microwave OR convection?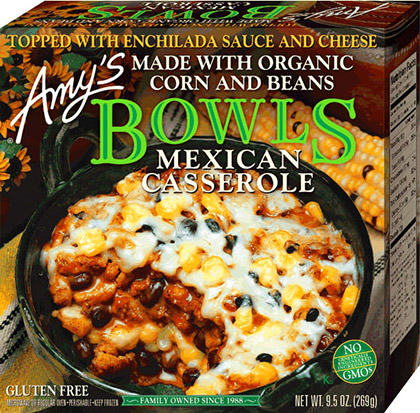 Fortunately, the answer for many items is to split the difference.
For example, Amy's amazing Mexican Bowls have instructions for 5 minutes in the microwave OR 40 minutes in the convection oven covered in foil followed by 10-15 minutes uncovered to crisp the top. But you can cut the cook time almost in half and still end up with optimal flavor by splitting the difference: 2½ minutes in the microwave followed by 20 minutes in the convection oven covered in foil followed by 10-15 minutes uncovered to crisp the top.
This is the strategy I use for cooking a lot of frozen foods... from veggie burgers to enchiladas. And I'm probably not alone. A lot of people are undoubtedly microwave-thawing then convection-cooking their freezer stuff to save time without ruining it.
Unfortunately, splitting the difference doesn't work for everything, and sometimes there are foods (like pizza, veggie corn dogs, and veggie breakfast sandwiches) which still get rubbery or end up under-cooked. So I end up having to spend a lot of time via trial-and-error attempting to find the right balance... usually cutting microwave time and/or increasing convection time until I get something fully-cooked but not rubberized.
But why should I have to figure all that out? Why aren't frozen food manufacturers doing the hard work for me? Isn't that their job? I can only hope that one of these days one of the big companies will pioneer an effort for providing Best Cooking Practices using BOTH microwaves (to thaw) and convection ovens (to cook) so the rest will follow. Until then... maybe I should start a website where people can post their cooking hacks for frozen food? Or maybe there already is one? With the internet, it's hard to tell sometimes.
And now I'm hungry. Way to go, internet.