The penultimate episode of Hawkeye was released at midnight last night and of course I had to stay up for it (I was working late anyway). It's incredible. And it pisses me off. This should have been Episode 04, not Episode 05... because this is where things are getting good, and you just know that the conclusion is going to be rushed if it's all crammed into a single episode. I can only guess that the story is going to be badly truncated or it's all just setup for other series. Which is definitely is. But it shouldn't be that in a way that short-changes Clint Barton, which is the guy we're all here to see...
The last thing I want to do is spoil the show for those who haven't seen it yet, but I do want to get into this episode. So... if you're not up to speed on Episode 05, here's your chance to bail before some serious spoilerage gets dropped on your head.
And if you're not watching Hawkeye? I can't recommend it highly enough. You may remember that I ranked all the Marvel television shows a few days back. Well, this series is now in my #1 spot by a wide margin. It is easily the best of the Marvel Studios shows, and worth getting a Disney+ subscription just for this (but there's a lot of good stuff on there, so it's a price I'm happy to pay for each month).
My spoiler-filled commentary is in an extended entry...

Alrighty then. Last chance to turn away.
The episode starts with Natasha Romanov's sister Yelena proceeding with her mission to free all the Black Widow spies from mind control (after the Black Widow movie). In the middle of one such mission, she ends up losing five years of her life because she was part of the 50% that got snapped out of existence by Thanos...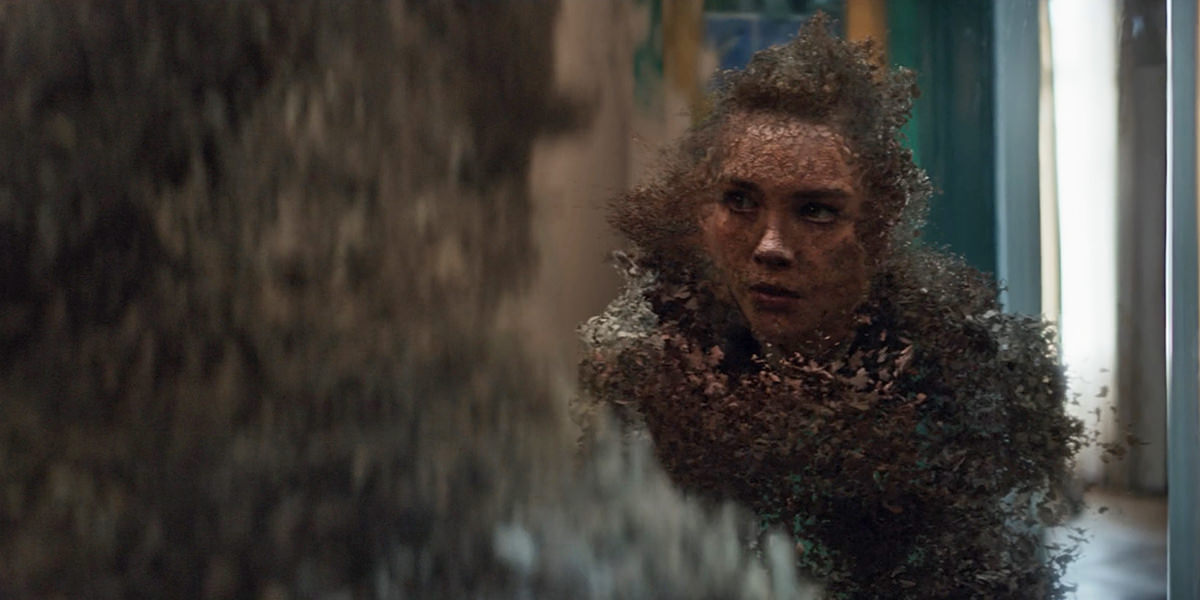 An interesting aside here, Anna (a fellow Black Widow) is shown to have adopted, which we know from Avengers: Age of Ultron is because Widows are sterilized "to make them more effective spies since they don't have to concern themselves with getting pregnant"...
We don't see much of what happens with Yelena after this... but we know she learns that her sister died. And we know that she visits her grave where she is told that Clint Barton is responsible for it by Contessa Valentina Allegra de Fontaine...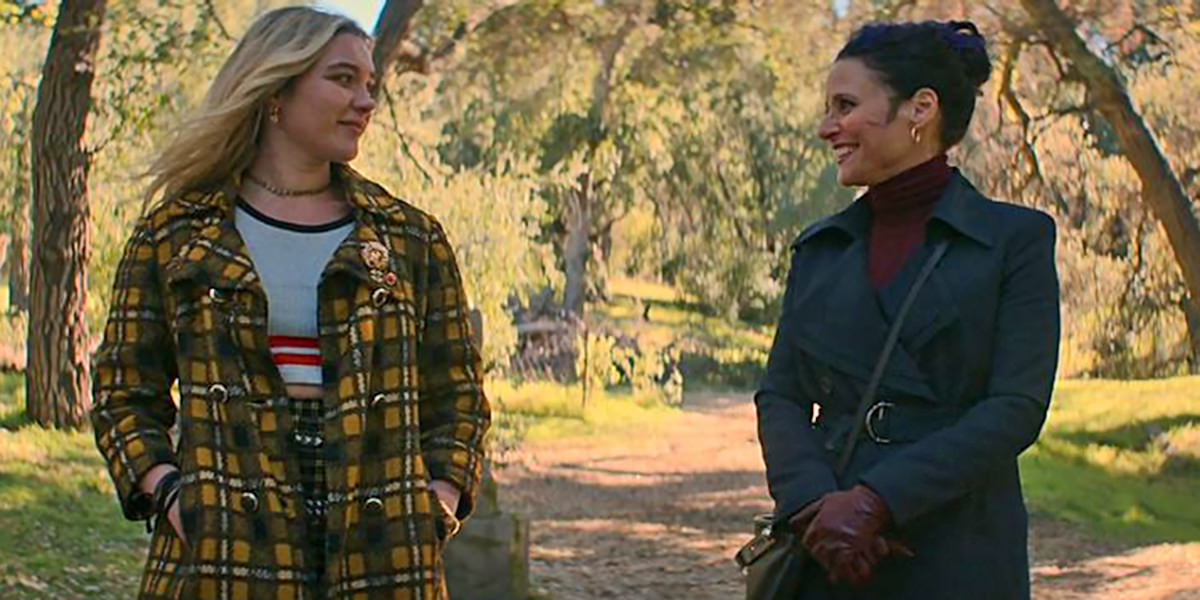 And here we are.
Kate is telling her mom about the incriminating evidence they found about her boyfriend, Jacques Duquesne, when it comes to the death of his uncle...
Of course, if you read Marvel comics, you know that Jacques is the identity of "The Swordsman," a criminal with a long history, which explains why there's swords everywhere in Kate's mom's house (you also know that Kate's mom ends up being a vampire(!), but that's for another story). Next we see Maya recovering from her fight in the previous episode. She's pretty banged up. But the pain doesn't hurt as much as when she lost her father, something they keep reminding you of with the "previously on" segments. This is to keep showing that bloody handprint on her face, which is a treat for the comic book fans of things to come...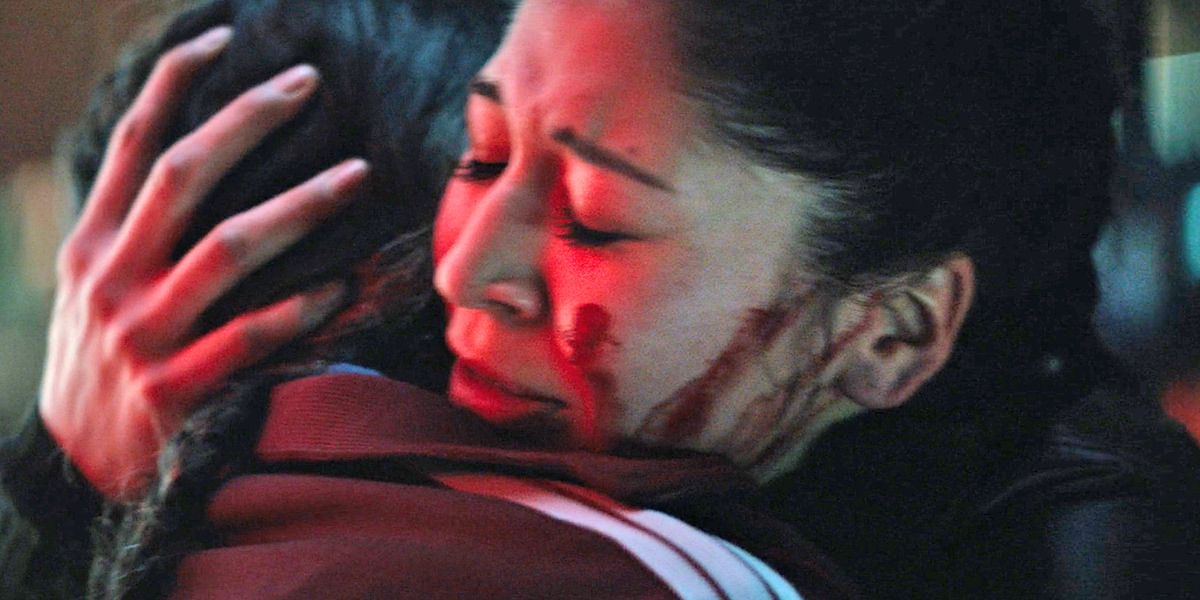 The important takeaway is that Maya is starting to realize that what's going on is bigger than she realized.
Next up? Kate Bishop has gone back to her burned out apartment where... "Hiiiii!" Yelena Belova is waiting for her...
And oh my gawd is Yelena a treat. I mean, it's the writing... but holy crap is Florence Pugh frickin' delightful playing the part. I rewound and rewatched this scene twice because I wanted to savor it while my brain was exploding. The ensuing conversation about the sights in New York, Rudolph the Super-Powered Reindeer, and how to cook a reindeer is priceless.
Clint is checking in on Pizza Dog, who is staying at the policeman LARPer's place. We almost get a look at the super-hero costumes that Kate had made for them. Which has me wondering... will we actually see them in the last episode? Or is this a teaser with no payoff?
Meanwhile back at Bishop Manor, Kate's mom has apparently checked up on Jacques and called the police because he's got some shady tax evasion going on. But we also know that things are likely not as they seemed, because Elanor Bishop is just as sketchy as he is...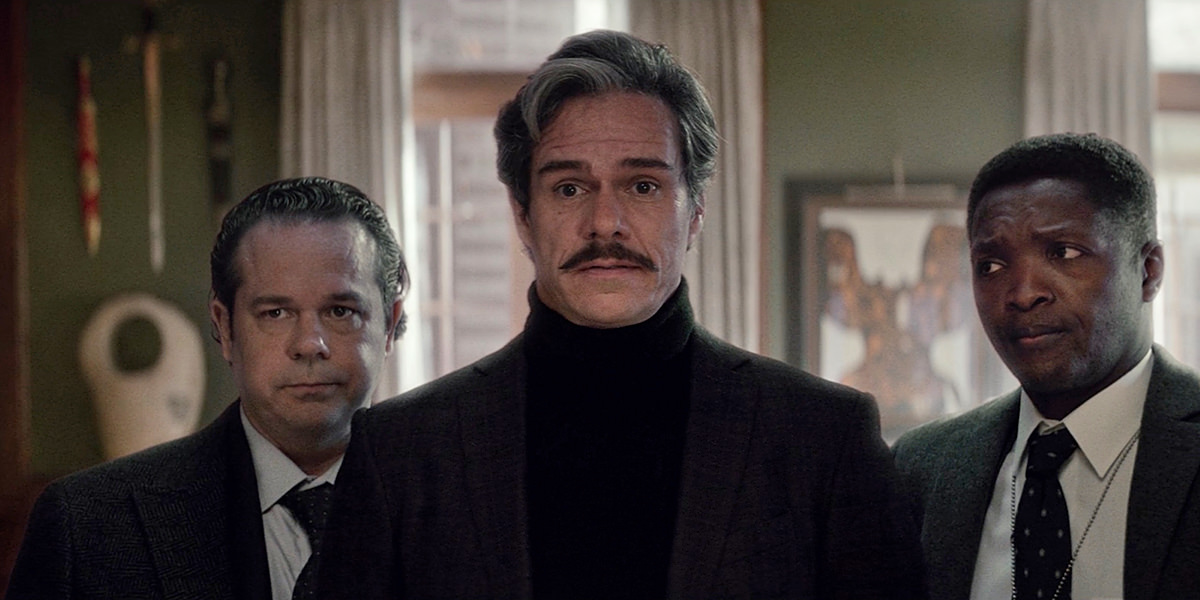 Clint has many sins to answer for but, oddly enough, the death of Natasha is not one of them. But, as he's a hero, he still feels reponsible... thinking that it should have been him who died. Only fitting that he visit the Battle of New York Memorial to talk to his departed friend...
In the Matt Fraction & David Aja Hawkeye series, "The Tracksuit Bros" are entertaining, but not terribly capable, bad guys. They are portrayed beautifully in this series and a real treat for a fan of that comic book run...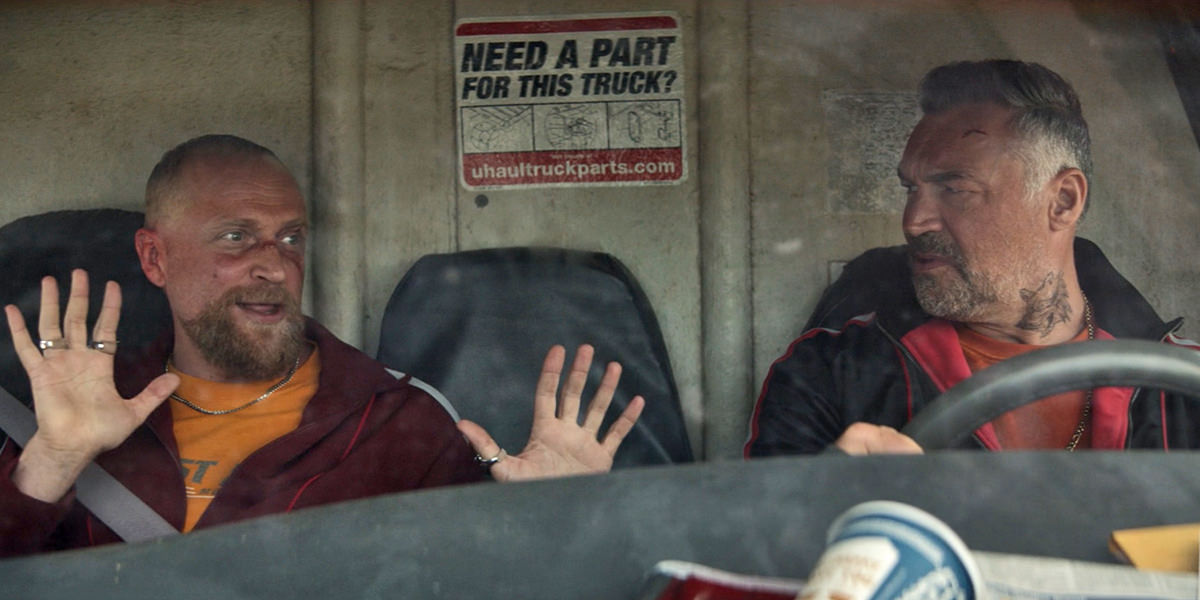 We're now about one-third of the way through the episode and here's where things start getting very interesting. Clint tells his wife, Laura, about things not going all that great in NYC. What's shocking here is just how much she knows about Clint's life of super-heroics. She is never surprised by anything he says, and just takes it in stride like the wife of a super-hero who's in-the-know would have to. It's scenes like this that have me dying to know more about her... how they met... and how she is so capable when helping him find information. It's stuff like this that make me wish that Hawkeye was a little more about Hawkeye. Hopefully we get a second season that's no so over-stuffed with characters and set-up for future MCU stuff that we can find out. Because something tells me there's a lot more to her than we can imagine. She's too smart... too accustomed to this life... to have not been involved in the game somehow. I'm sure it would make for a really interesting story, should Marvel Studios wish to tell it. But whatever. Clint brings up "The Big Guy" which has only been used in the MCU to describe The Hulk. But I think we all know he's not talking about The Hulk. Nope, he's talking about a different Big Guy. And as I sat watching this play out, my heart skipped a beat because of who it could be...
All this brings us to the end of the episode, which is a stand-off between Clint and Maya. Now, in the comic books, Maya (as "Echo") has super-powers. She has the same "photographic reflexes" that Taskmaster has (though this was modified a bit in Black Widow to be more of a "tech" thing than actual super-powers. From what I can tell, Maya is just a really good and skilled hand-to-hand fighter. She doesn't have photographic reflexes. Otherwise, Hawkeye (errr... Ronin) would be toast. But he's not toast and quickly gets the upper hand. Not to kill Maya, but to warn her. And to plant a seed of doubt in her head as to "her boss" actually being responsible for sending Ronin after her father...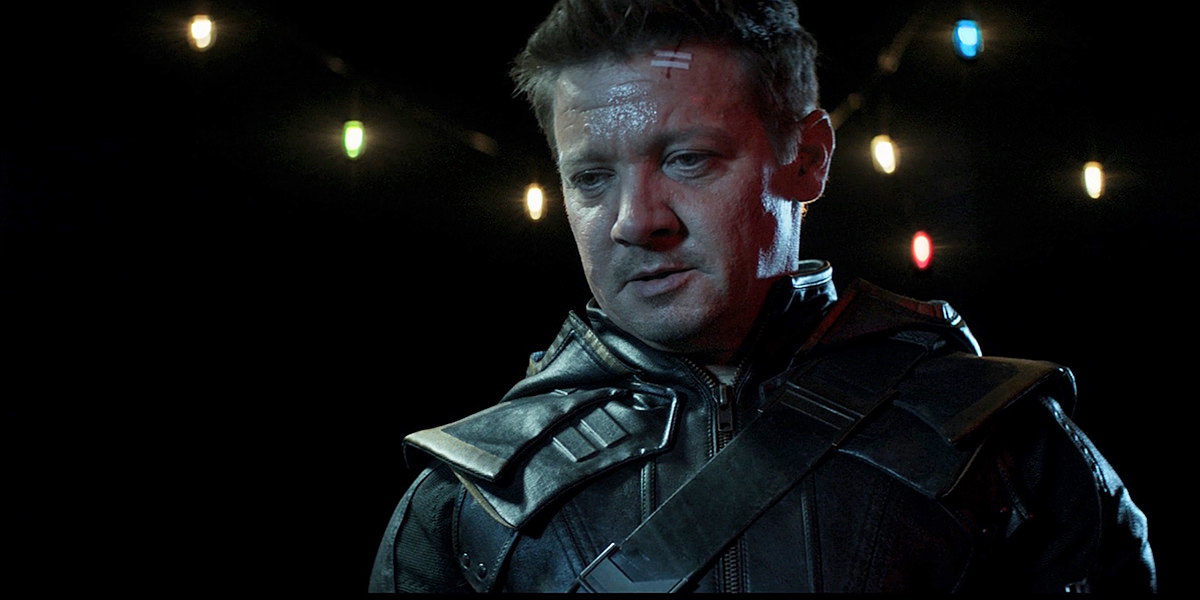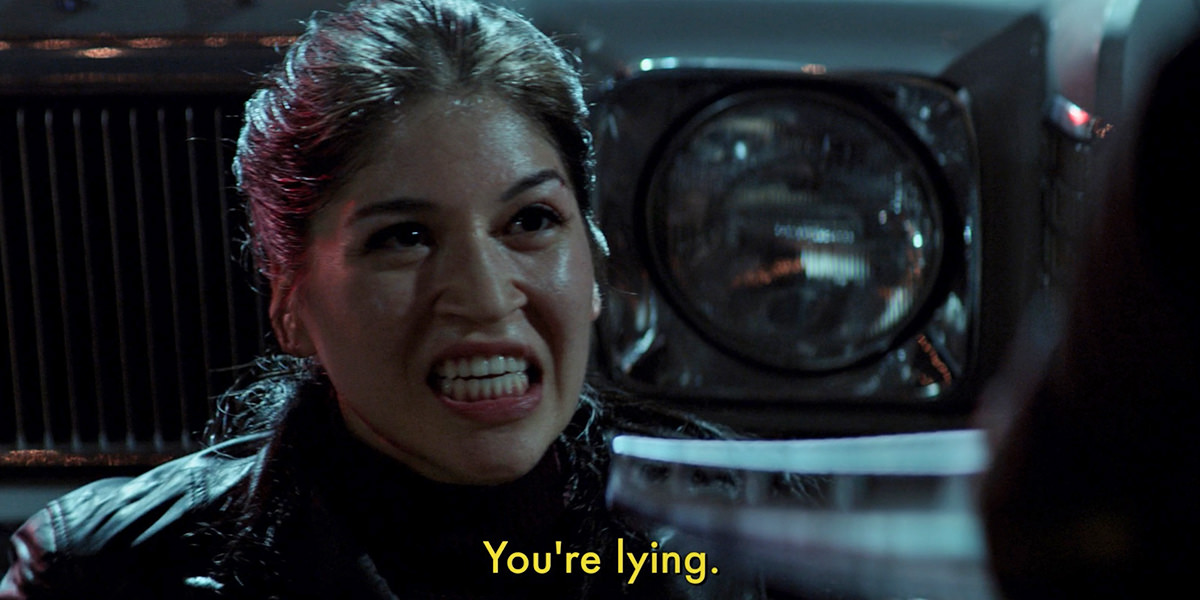 If you're familiar with the comics, this erases ALL doubt as to who "The Big Guy" is. OH YEAH! THEY'RE GOING THERE!
So when Clint Barton was asking Natasha to forgive him for what he was about to do... it wasn't killing Maya. It was turning her into a weapon against "The Big Guy" even though he knows she will probably die attempting to take him down. Just another body on the pile left in Ronin's wake.
Yelena, being driven into finding more about the person who hired her to kill Clint, decides to track that person down. SURPRISE! Kate's mom hired her! But that's not the actual surprise. We knew she was up to some sketchy shit. Actually? SURPRISE! Elenor Bishop is in league with The Kingpin!
AND OH SHIT! THAT'S VINCENT D'ONFRIO REPRISING THE ROLE FROM HIS CHARACTER IN THE NETFLIX DAREDEVIL SERIES!
The crowd goes wild.
And I mean really wild, because D'Onfrio was so. dang. good. in that role. Nobody could fill his shoes but him. And now we get to the implications here. Maybe the Netflix Marvel shows aren't considered "canon" in the Marvel Cinematic Universe, but we now know that it's possible the characters from those shows could be the same characters in the MCU. The mind boggles. Charlie Cox as Daredevil. Krysten Ritter as Jessica Jones. Mike Coulter as Luke Cage. Jon Bernthal as The Punisher. And even Finn Jones as Iron Fist (a role that didn't quite fit him, but I warmed to him at the end of the second season). I would 100% not be opposed to seeing Disney+ shows for all these characters (though I sure hope it doesn't kill chances for shows featuring M'Baku and Wong, who are at the very top of my list as the characters I want to see in their own series).
In the comics, Maya was adopted by The Kingpin after she lost her father. That's obviously still the case here, as her overreaction of "YOU'RE LYING!" makes perfect sense. Also making perfect sense? Why Elanor wanted so badly for Kate to stay away from Clint Barton. She was concerned her daughter might be caught in the crossfire.
And this is exactly why I stay up until midnight to watch new episodes... so I won't have them spoiled by social media. Unlike so many people, I at least put a spoiler warning up. (UPDATE: sure enough, social media was ablaze with spoilers and #Kingpin was trending early in the morning). I can only guess that he will escape, and hunting him down will fall to Maya in her Echo series. At which time I wouldn't be the least bit surprised to see Daredevil pop up, which would lead to his own Disney+ series.
To say that I'm excited for the finale next week is an understatement. So many good things coming to a head that I can't fathom how they'll manage to fit it in 40 minutes. Which, like I said at the beginning, they probably won't.
But a comic book nerd can dream.