I'm just going to get this out of the way... I am a fan of David Lynch's Dune movie. The novel itself is so vast, nuanced, and complicated that a film adaptation is a tough go of it... no matter who you are. So if you can't have a complete representation of the source material, you might as well hire a visionary director like David Lynch to put his unique take on the material. As a fan of David Lynch, I got exactly what I was expecting from the movie and have watched it dozens of times. If I have a critique, it's that Paul and Chani are too old. Part of what makes the story so good is that they start out as kids.
And here comes Denis Villeneuve with his take.
Talk about a visionary director.
What he did with Arrival and, even more spectacularly... Blade Runner 2049... is a take that I am very interested in seeing applied to Dune. And, to his credit, he's already got off on the right foot with his remarkable casting. Everybody is sublimely perfect, and the fact that Paul (Timothée Chalamet) and Chani (Zendaya) are kids is just icing on the cake.
My favorite bit of casting, however, is Stephen McKinley Henderson as Thufir Hawat. But we'll get to that in a minute. Because a new trailer just dropped for the movie (coming in October to theaters and HBO Max)...
Interesting to note that, once again, Thufir Hawat is almost entirely absent. The only noticeable look is from one shot where he's not even the focus...

He was barely noticeable in the first trailer either. All we got was this...
And when the Dune character posters were dropped last week? No Thufir... at first! Couldn't be found in any of the news stories I saw. Eventually I found his poster though, so that was a happy discovery...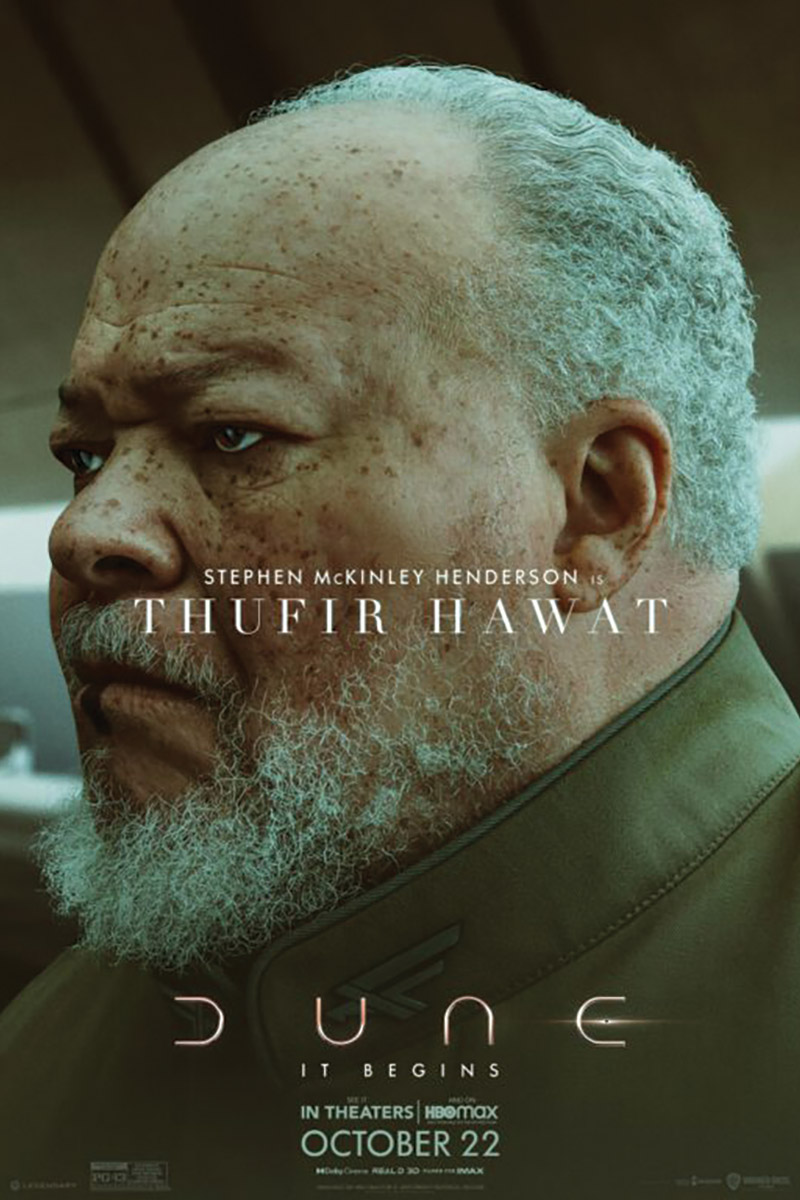 Now, in the books, Thufir Hawat is a major character. As Mentat to the House Atreides and one of Paul's teachers he's important. Then, later on, he ends up being critical... but not as a major character. Since Villeneuve has (wisely) split the first Dune novel into two parts, maybe he is trying to keep Thufir under wraps so he can be featured in the sequel movie? I guess that could be an explanation, though I'd argue that the first movie should be where he's most important.
My fear, of course, is that Thufir has been shoved to the background and doesn't have enough of a contribution to the film to be featured. Which would be a darn shame.
We don't even know if a sequel is going to happen. Dune is a tough sell to begin with... and with the pandemic and an uncertain future for theaters, expensive projects like this will be the first to get dropped. Unless something crazy happens and the movie explodes acorss the world.
But anyway... could not possibly be more excited for October. Denis Villeneuve will absolutely make the movie worth watching... good or bad... successful or unsuccessful... so I will absolutely be renewing my HBO subscription to see it.