Back when I was a kid, my family visited my grandmother in California. While there, I was reading the comics in the newspaper and saw that her paper had Garfield, which I thought was about the funniest thing ever. When I got home, my local paper didn't carry it, so my grandmother would cut them out of her paper and send them to me every couple weeks or so. It was a Big Deal.
Eventally, Garfield books were released. My grandma kept sending them.
Eventually, my local paper had Garfield. My grandma kept sending them.
Eventually, I had mostly outgrown Garfield. My grandma kept sending them.
By the time my grandma died, I had quite a stack of them piled up waiting to be read. One day I sat down and started reading them and realized that the real treasure was never the Garfield comics. Sometimes she would send other comic strips that struck her funny. Sometimes she would send a photo of her pets. Sometimes she would send newsclippings of things happening where she lived. And sometimes she would send a letter.
The letters were the most special because reading them made it feel like she was still alive.
That's when I had the idea to save the remaining letters so I could open one every year on her birthday. Which, as you could probably guess, is today. And when I went to the box with all my remotes where I keep them, I saw that there were only two left...
After shaking off the shock of what I had clearly forgotten last year, I started reading through them all...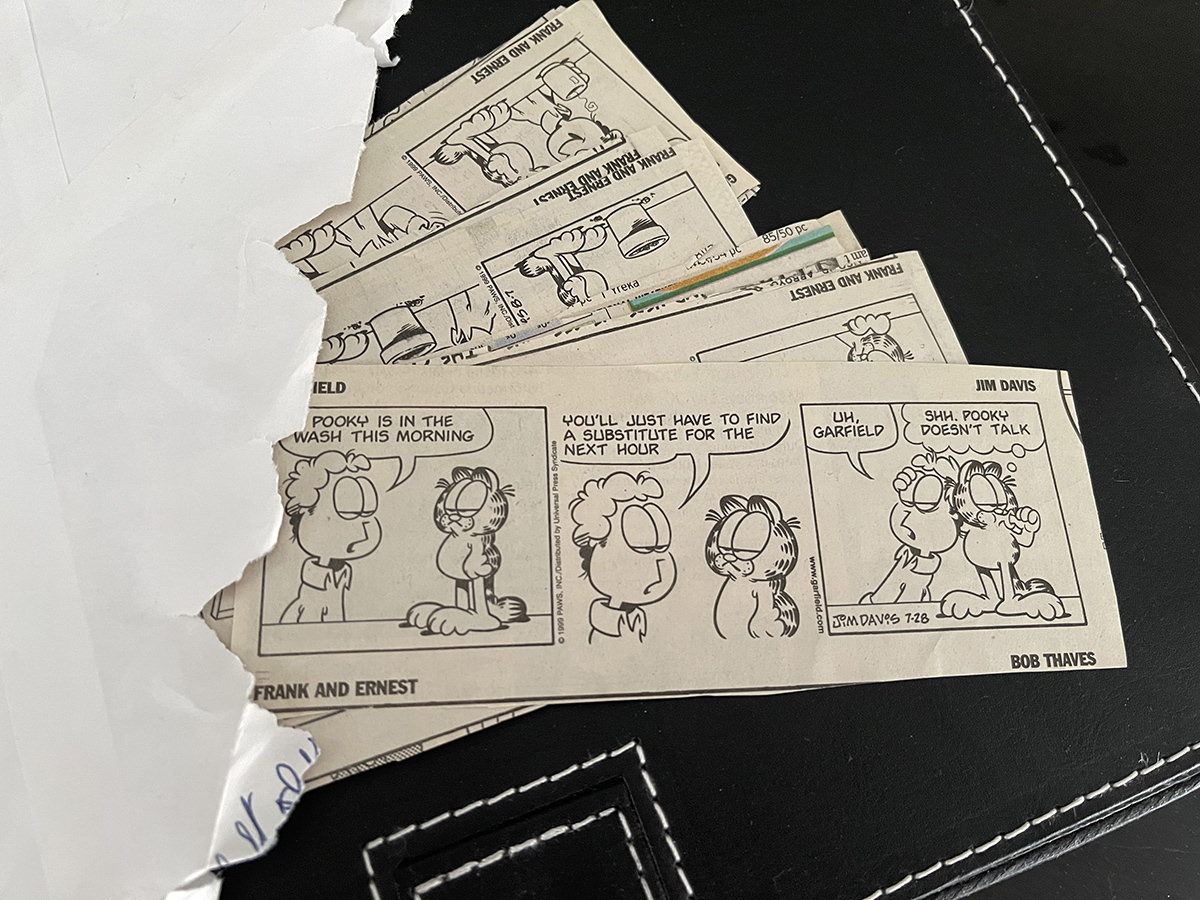 And now there's just one envelope remaining.
I have to wonder if I'll be opening it one year from now... or saving it for a time I really need it... or never opening it at all because I like the idea of holding onto it. And to her.
My grandmother called me her "Little Politician" because when I was little I used to talk more than any politician she ever heard. She loved animals, and I'm pretty sure that's where I inherited my love of animals from. She made the best enchiladas I've ever had. And she sent me Garfield strips because I liked to read them.
Happy birthday, grandma.