To say that I'm excited for the new Dune film is a massive understatement. The original Frank Herbert book is one of my favorite novels ever, I've read it at least a dozen times, and have been mesmerized with the entire "universe" that Herbert built since I first read it on summer break before my freshman year of high school.
There was a previous Dune film in 1984 by David Lynch that I very much enjoyed... despite it not being a very deep take on the material. This is not really Lynch's fault because the novel is essentially unfilmable. Much of what's going on is what's in people's heads and that's difficult to translate to screen. Even so, Lynch did an amazing job of translating the worlds and technologies to the big screen, and any subsequent readings of the book had his visuals in my head.
We don't talk about the 2000 Sci Fi Channel mini series adaptations.
The new Dune film by director Denis Villeneuve is apparently on track for release in theaters on December 18th, and I will likely risk COVID-19 to see it. His track record in cinema is exceptional... Prisoners, Sicario, Arrival, and Blade Runner 2049... so I'm guessing his take on Dune will be, if nothing else, interesting and visually stunning.
And that was my take before I saw the trailer, which was released today...
There's a lot to unpack here.
And since there are many, many geek websites doing exactly that, I'm going to restrain myself and just focus on a few things I saw which interest me.
SETS
What makes Dune so incredible is the "world-building" that Frank Herbert accomplished. The planets, the politics, the social structure, the technology... it's just all so solid. It's so deep that you feel it actually exists, and translating that to screen is not an insignificant challenge. I thought Lynch did a brilliant job at a time where practical effects were the norm. Now, of course, you can CGI whatever you can dream up, so of course the visuals have a better chance of mirroring what your imagination built from the books. Villeneuve's take on Blade Runner was about as perfect as you can get, so I have little doubt that his vision for Dune will be incredible. From what little I can see, it looks like he is trying for a muted, less ornate and fussy take on the sets, which is smart... I think? The Lynch film was so warm, lush, and gorgeously visualized, that you can't blame Villeneuve for striking out in a different direction. His take on Caladan feels much more Game of Thrones being more rough-hewn and utilitarian...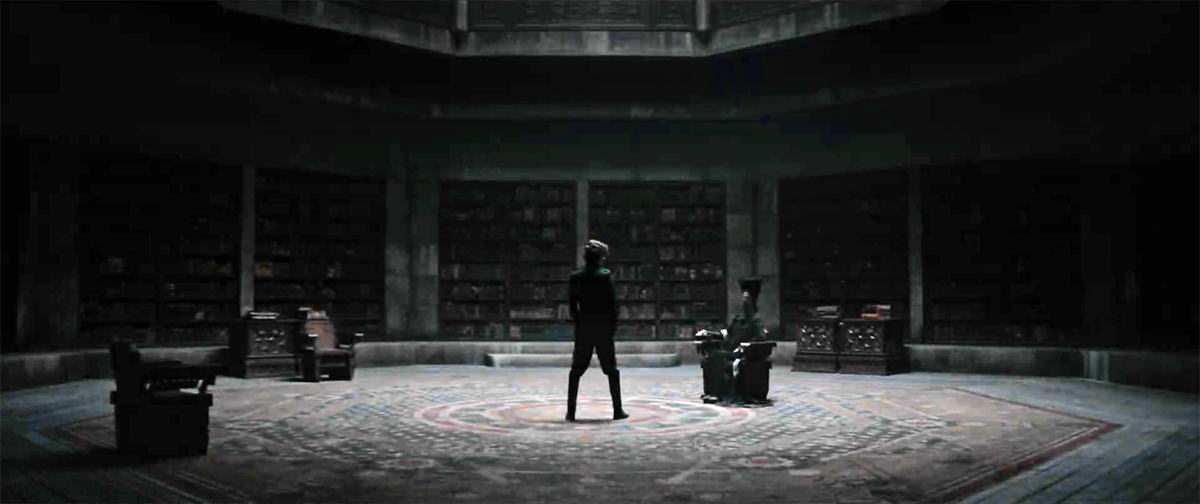 Contrasting with the deep shadows of Caladan is the blown-out sunlight of Arakis...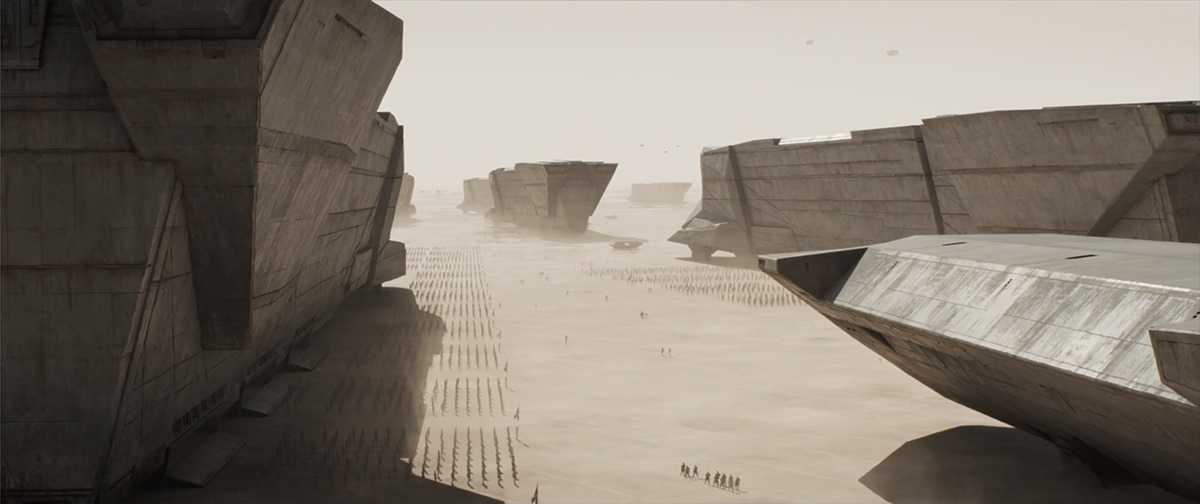 Interesting to see that the sand seems to permeate everywhere on a planet full of the stuff...
CASTING
PAUL: Timothée Chalamet as Paul Atreides seems a good fit. He's 24, but looks younger, which is what we need. In the book, Paul is like 15 or 16 or something, and that's an important point. He's a kid thrown into a situation beyond his years and his story is becoming a man under extraordinary circumnstances. I think Kyle MacLachlan was also 24 in the first Dune film, but looked older than Chalamet, which was a bit of a misstep, in my opinion...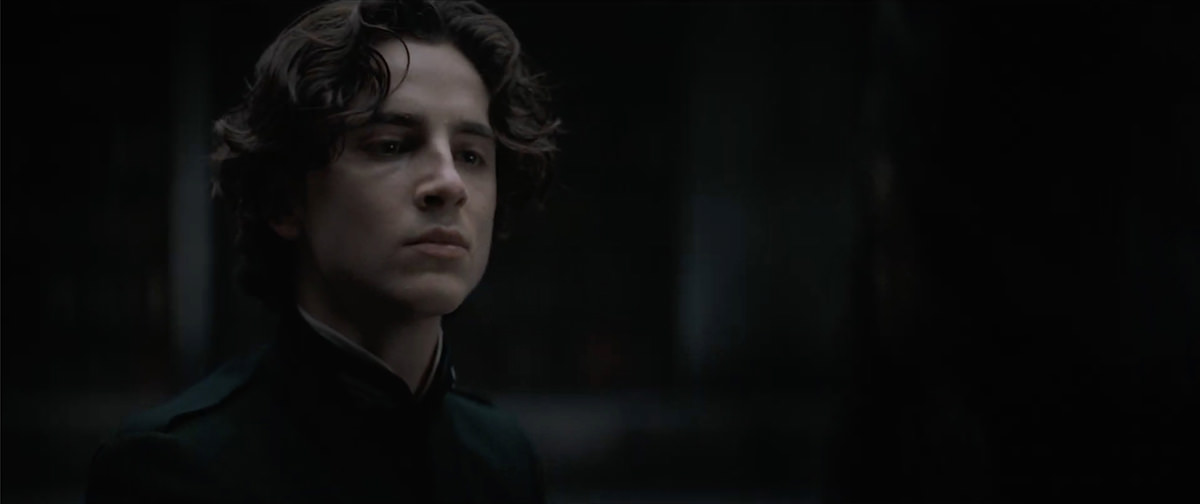 CHANI: Like Chalamet, Zendaya skews younger in this movie than Sean Young did in the previous Dune. In the books, if I remember correctly, she's older than Paul by a bit, but I like the idea of her also being a kid being thrown in a war spanning the known universe...
DUNCAN: Jason Momoa wouldn't have come to mind for Duncan Idaho, but it looks as though he's playing it a bit more "every man" in which case he's a good choice.
LETO: I admit that I know precious little about Oscar Isaac outside of his character on the final Star Wars movies, but he certainly looks the part of Duke Leto...
BARON: Villeneuve has said that he's wanting the Harkonnens to be more evil and menacing than we've seen, which certainly has my stamp of approval if he can pull it off! Stellan Skarsgård was an inspired choice, especially if you've seen him in The Girl with the Dragon Tattoo!
RABBAN: Dave Bautista is a delightfully versatile actor, and it will be very, very interesting to see his take on The Beast, especially if we're getting something truly villainous from the character...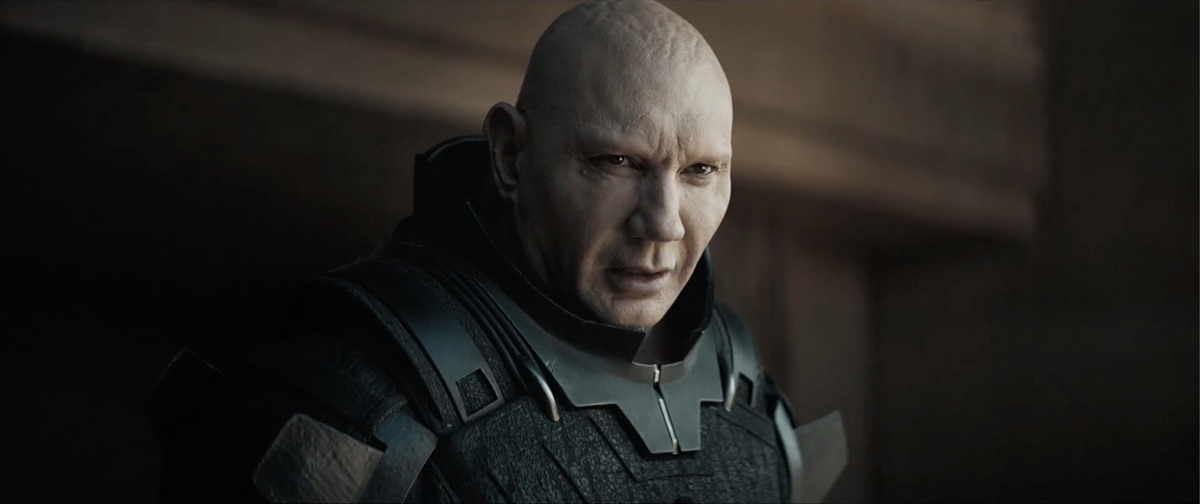 MOHIAM: If there was one area where I thought Lynch's film faltered, it was the weird shaved-head look given to the Bene Gesserit. It absolutely played into the cult-like elements from the sisterhood, but it was distracting. Going with these heavy veils seems a lot more interesting, and you couldn't ask for a more interesting choice as Charlotte Rampling for The Reverend Mother...
GURNEY: Okay, Josh Brolin is perfect for Gurney. No surprise at all he was cast, because it really is flawless. What surprised me is...
THUFIR: Holy cats, that's Stephen McKinley Henderson as Thufir Hawat beneath that parasol in back there! I loved him as Omar in the 2008 series New Amsterdam, and this is truly inspired and brilliant casting news. And boy did Villeneuve come up with a fantastic look for the Mentat Master of Assassins! Completely unexpected...
TECHNOLOGY
If you've read the Dune novels, you know that technology has a bit of a strange place in the story. Thanks to an uprising by "thinking machines," artificial intelligence has been banished and any advancements are strictly utilitarian. We don't get to see much in the trailer... but we do get a glimpse of the Emperor's Sardaukar troops dropping in with their battle armor...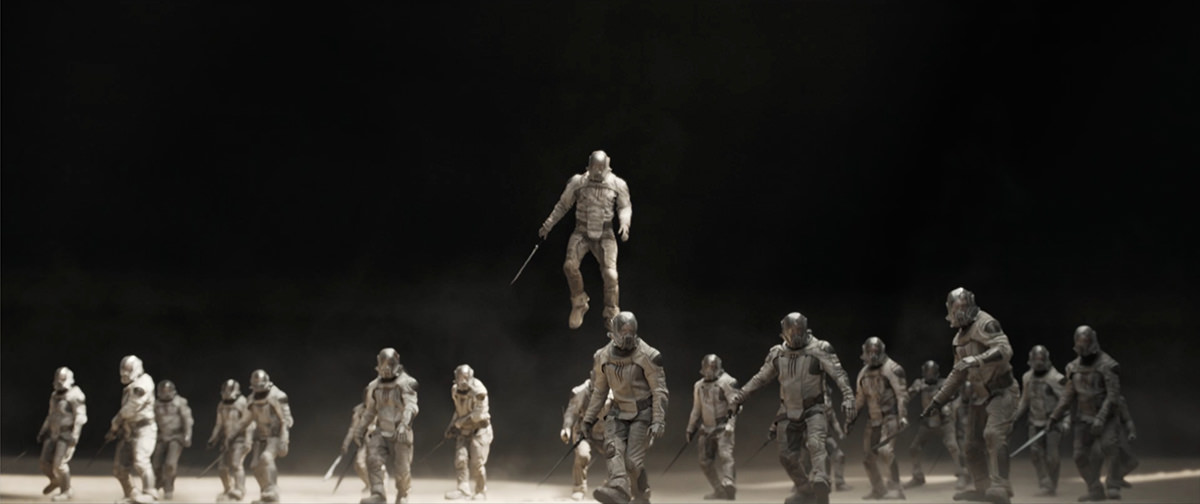 We do get a better look at the Holtzman personal shields in use. I have to admit that I think Lynch's take was a more visually interesting approach... and his having it centrally located on a belt seems a more logical place to have it instead of on some kind of hand-strap. That being said, Villeneuve did come up with a look that seems a heck of a lot more realistic...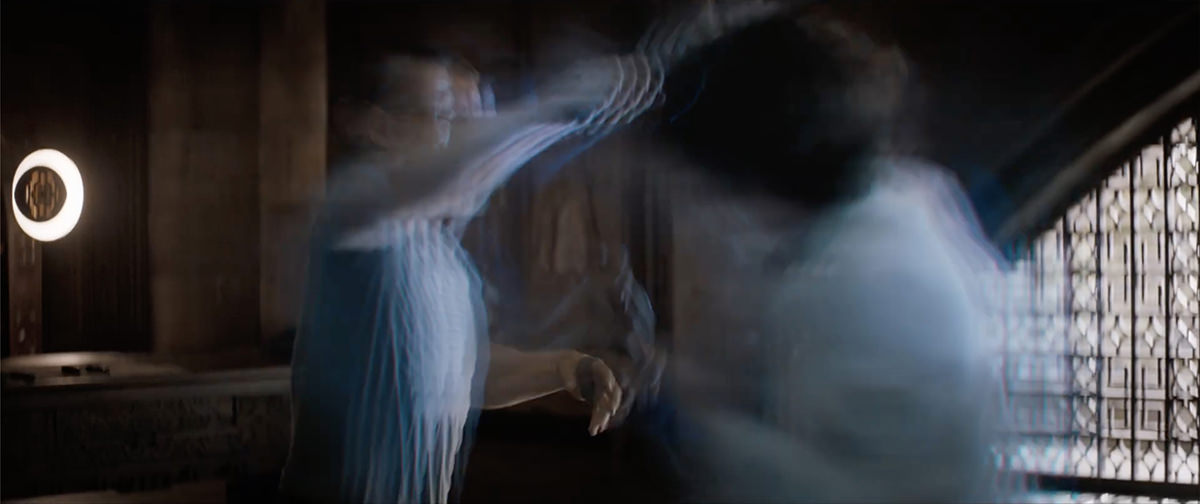 SANDWORMS
Now, as cool as giant worms may sound when you read about them in a book... it's an absolutely absurd visual when translated to the screen. Lynch did as best he could, but the effort ultimately looked silly. We were told they were terrifying instead of seeing they were terrifying. Welp... thanks to CGI, that's not a problem any more. Sandworms are like something out of a nightmare, exactly as they should be...
STORY
Dune is Dune. The political backstabbing and intrigues... the fight for power... the complex family interactions... the fascinating religion and customs of the peoples... it's all woven together into something far more amazing than the sum of its parts. Lynch's movie had to gloss over a lot of it out of necessity. There's only so much you can do in a two-hour movie. Villeneuve caught a bit of a break in that he was able to split the movie into two parts... plus he is getting a companion series on HBO Max. Whenever Dune: The Sisterhood airs, it will allow considerable more world-building than two films could accomplish on their own. This is truly exciting, because it will (hopefully) allow for many of the subtleties and complexities to play out in a way we've never seen. We get a tiny glimpse of this when Paul says "My father rules an entire planet." The Reverend Mother responds "He's losing it." Paul fires back with "He's getting a richer one." Reverend Mother nips that one at the bud with "He'll lose that one too." It's this kind of immense scope that you truly need if Dune is to have the proper weight to it.
With any luck, we're going to get a movie which Dune fans have been dying to see for over 50 years. And if it fails? Well, I guess I can always re-read the book for the hundredth time.