I am trying to figure out exactly how big of a moron you have to be to attempt any kind of home renovations during a pandemic. I'm guessing it has to be fairly huge.
I am, of course, speaking from experience.
With an uncertain future ahead, I decided to bite the bullet and finally get around to the kitchen remodel that I wanted to do when I first bought the place almost five years ago. That was always in the plan because my kitchen is heinous, but I ran out of money. It's always bothered me, but it's not like I should really care. However... if I end up having to sell my home, the value will definitely drop if I don't have a much nicer kitchen than I do now.
So here we are. I liquidated my vacation fund since I won't be going on vacation any time soon and started planning. I found a countertop material I liked then scheduled the installation. They are measuring things out tomorrow, then installing two weeks later.
Which means I will be without a kitchen for at least two weeks.
Step one was to rip out my old countertops. Originally I was hiring a contractor to do it in July. But when they had to reschedule I decided to just bag it and do the tear-out myself. Not only would this save me some money, but it would also help to limit the number of potentially infectious people coming into my home. How hard could it be? Demo-day always looks like a piece of cake on all those home renovation shows!
Turns out it's a total nightmare. Whomever installed my laminate-over-particle-board countertops went way, way overboard. They laid down a stupid amount of glue... then nailed AND screwed them to the cabinetry. It was absurd. In some places there was so much glue that the particle board could only be removed in chunks with a chisel. A process I thought would take a couple hours ended up taking almost my entire day.
But the countertops weren't even the worst part.
That would be removing the cast-iron kitchen sink. The fucker was well over 100-lbs. Maybe a good 150-lbs. And as macho as I like to think I am (ha!) there's just no way. Not with something this big and unwieldy.
Since my new countertop measurements are being taken tomorrow, I could either A) pray I could find somebody to help me last-minute... or B) attempt to use brain over braun and see what happens.
I'll take door number two, Monty.
Much as I'd love to replace my kitchen floor, that's a dollar amount I do not have, so they are staying. But since a 150-lb. sink dropped on the floor would likely smash the tiles, I had to come up with a plan.
First I laid down a thick slab of heavy-foam insulation. Then I put wood on top of that. Then I constructed a cardboard "cradle" to flop the sink upon. This was tricky, because it needed to be designed to crumple. Otherwise the sink might bounce off the cardboard and smash the tile. I need it to fall flat. Then, just to cover my bases in case the sink didn't land as planned, I rolled in my winter snow tires and put them around my cradle...
I managed to pull the sink up on the countertop ledge...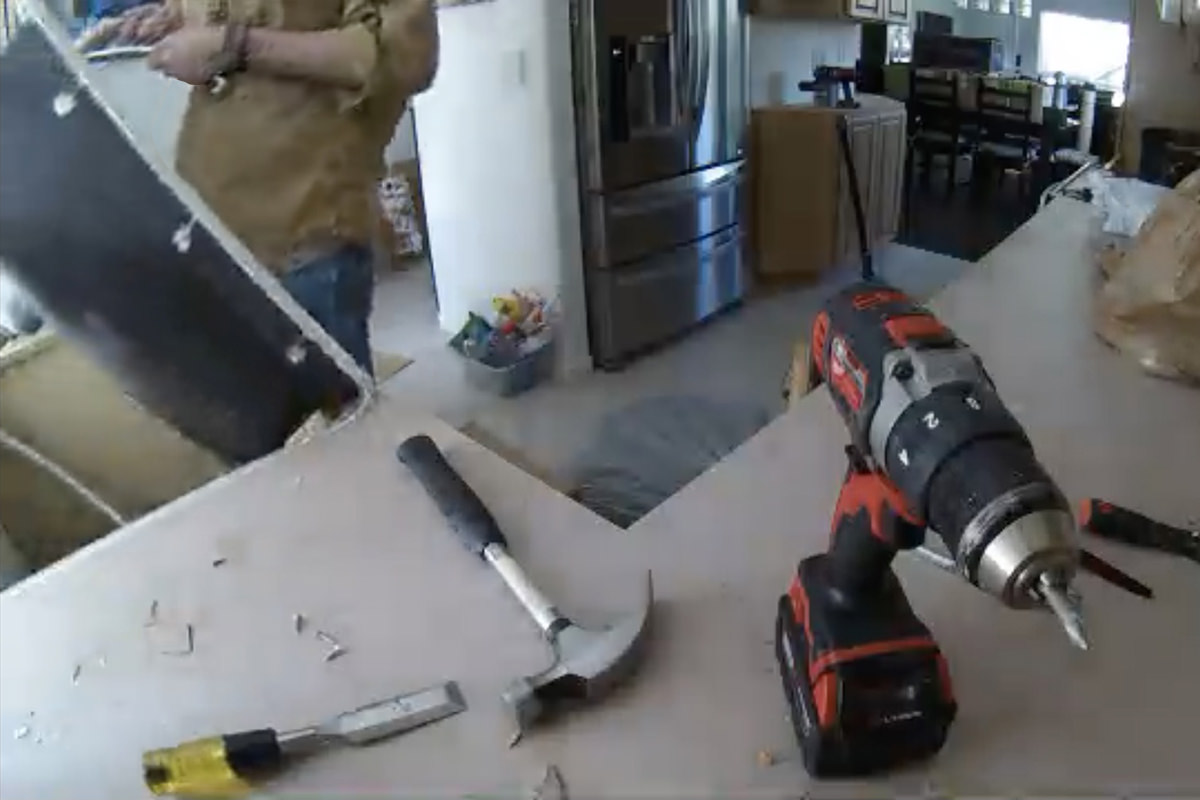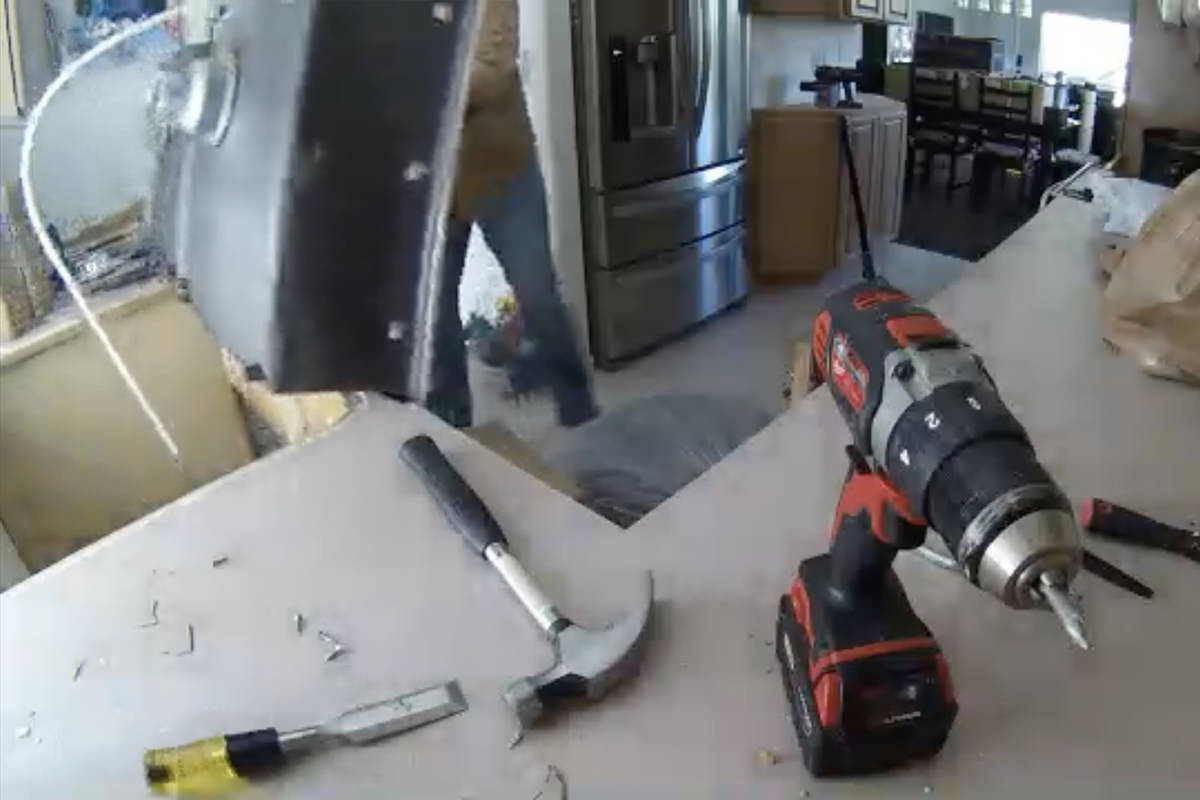 Then... bombs away...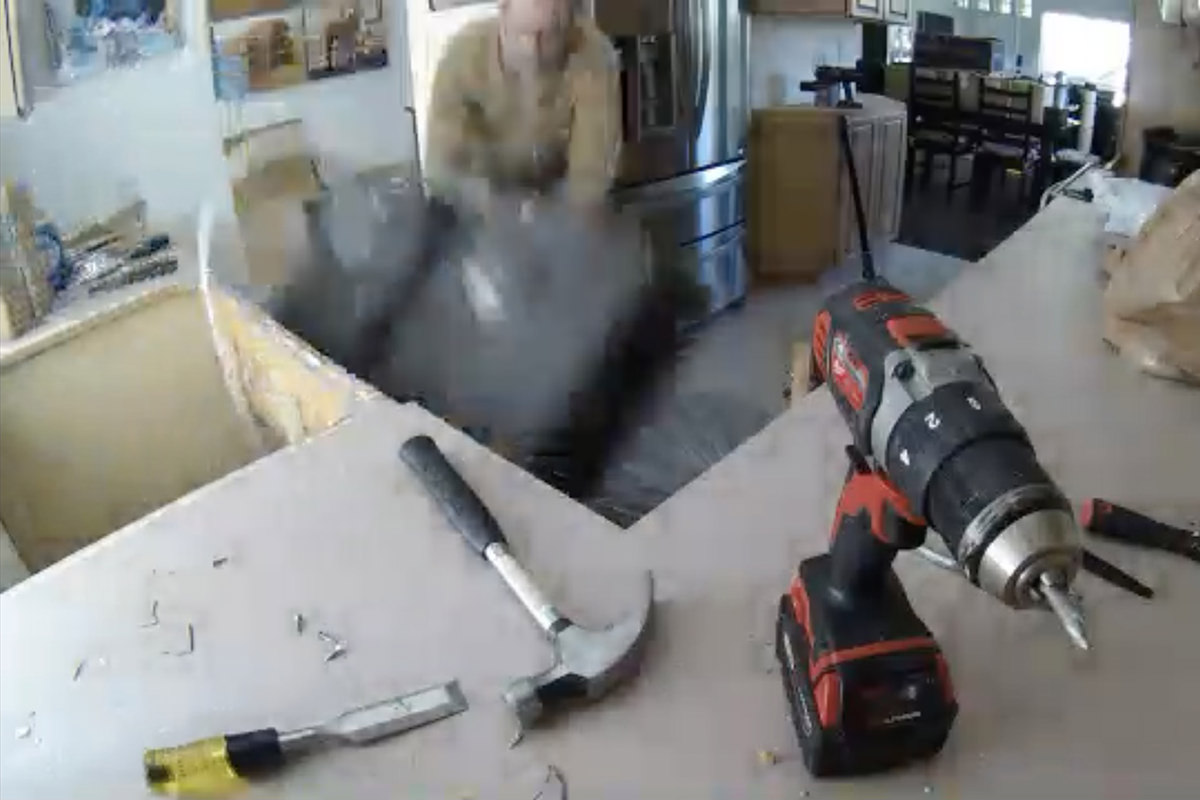 I left the faucet attached so I had something to grab onto, and that worked pretty well. My cardboard cradle slowed the fall then crumpled flat exactly as I designed it to do, so there was no bounce at all.
Then I had to wiggle a towel under my cradle so I could pull everything into my garage. Much like the way that aliens moved all those giant stone blocks when they built the pyramids.*
The rest of my night was spent chiseling glue. A futile gesture to be sure. I am going to have to use a belt sander to remove it and get down to the cabinets, which is crazy-stupid. I'm also going to have to repair a bunch of drywall, because whomever installed the backsplash used a warped piece of wood that they had to ANCHOR into the wall with steel flanges. Which means the only way to remove the backsplash was to literally rip it out of the wall. And that wasn't easy considering they used enough glue to repair the Titanic.
So... yay... I get to do drywall repair, which is like my most favorite thing in the world!
Not.
But I guess that's what you gotta do if you don't have money to throw at people to do the work for you. Unless you don't mind having big chunks torn out of your kitchen walls.

*Despite the fact that there are records showing exactly how the Egyptians built the pyramids, apparently it's easier for dumbasses to believe that aliens built them? Alrighty then.