I've tried a number of different "meal services"... some of them send a recipe with the ingredients you need... some of them send complete meals that you microwave. I prefer the stuff you assemble from ingredients by a wide, wide margin... things just taste better and fresher.
The problem with these meal services is that I'm vegetarian and most of them put mushrooms in everything vegetarian. Since mushrooms trigger a reaction which can cut off my air supply and kill me, I have to substitute something or just leave them out. Since these meal plans are expensive, I don't like the idea of paying for recipes that are incomplete, so I generally get frustrated and quit. There's rarely many vegetarian options so it's not like they give me much choice.
Then I found Martha Stewart & Marley Spoon and all that changed. Martha always has a good assortment of vegetarian selections and none of the stuff I've selected have had mushrooms in them. NONE! How refreshing!
But the best part? I really like the stuff I've been sent!
Ingredients are (mostly) fresh and good quality. Recipes are good. Some are very good. None of them are overly-complicated or difficult to prepare, though Marley Spoon's recipes are a bit more involved than others I've tried.
Like all of these services, each "meal" is supposed to be two servings for two people. Since I'm alone, and like big dinners, I'm usually just eating both portions. Any leftovers get tossed in the fridge for lunch the following day.
There are a few downsides, however.
First of all, you have to actually cook. I'm more of a take-something-out-of-the-freezer-and-microwave-it kinda guy. Second of all, since the recipes are a bit involved, there are a number of steps which make a lot of dirty dishes...
Thirdly, and this is a big one, the meals are expensive, yo. Each week you get two meals which are, in Marley Spoon's opinion, four servings. The cost is $41.00 plus $9.00 shipping. So... FIFTY DOLLARS for two dinners and two leftover lunches (most times). Now, $20 dinners and $5 lunches may not seem like an extravagant amount of money if you eat out all the time. But I don't because I have other places my money needs to go and $25 a day is outside my budget. That being said, I do consider the Martha Stewart meals to be a fairly good value (and a great value if you eat the meals with meat in them). Especially when you consider that I get to keep the recipes and will absolutely be making some of these meals again. After my "promotional discount ends" I will likely be skipping most weeks since I can't afford them, but I will still buy an occasional box that sounds too good to pass up when I can afford it so I can get new recipes.
And, lastly, because I'm in a rural area, my boxes are hit-or-miss as to whether they arrive on time. It's running about 50/50. This wouldn't be terrible, except the vegetables start to age so they can end up yucky and need replacing. Another bummer? They do not seal the boxes very well. A single piece of thin tape, and it sometimes comes open during shipment. Since this is food, they should really be using WIDE security-printed tape so you know if your box has been tampered with.
And now for the recipes I've tried so far...

01. Tortelloni & Butternut Squash with Harissa Butter & Roasted Almonds
My very first meal was my favorite. And it's so simple that I can easily make it myself. Essentially you cube up a bunch of butternut squash, chop up an onion, then sauté with harissa spice until soft. Mix that with cooked cheese tortelloni, butter, and top with chopped almonds. Done. I had never heard of "harissa spice" before and immediately fell in love with the stuff. It wasn't at my local market and we don't have a Middle-Eastern market, so I ordered from Amazon. Fantastic stuff. Odds of me making this again? 500%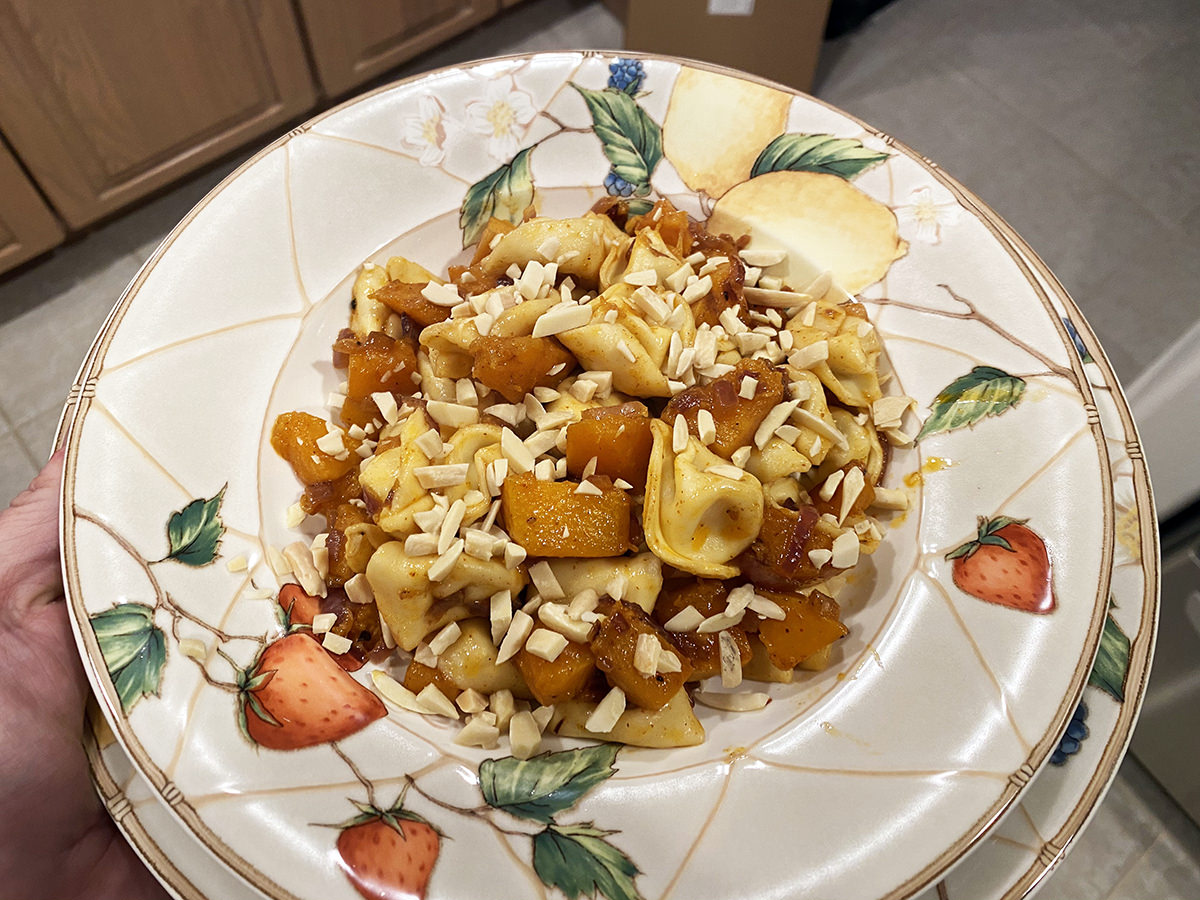 02. Cheesy Black Bean Chili with Warm Tortillas & Quick Salsa
The beans were canned, but everything else was fresh and had to be prepared (which involved a lot of chopping). I've never made chili from scratch before and was surprised at how easy it was. And how much better it tastes than canned. The only hiccup was with the tortillas, which they ask you to brush with oil and heat on a flame. Well, my oven is electric not gas, so I'm guessing they wanted me to light my kitchen on fire or something. Instead I broiled them. Not the same, but good enough. Odds of me making this again? 100%

03. Southwestern Veggie Flatbread with Pico de Gallo & Crema
This was my first problem with ingredients I received. My poblano was starting to turn brown, so I had to lose a chunk of it. There was still enough left to make the recipe though, so I guess it's all good. The flatbreads are crisped, topped with sautéed onion and poblano, then baked with sharp cheddar cheese and garlic. You top that with crema and cilantro and serve with a salad made from halved cherry tomatoes, onion, garlic, fesh-squeezed lime juice, and cilantro. This salad would have been much better with some feta, so that's how I'll make it when I do it. Odds of me making this again? 75%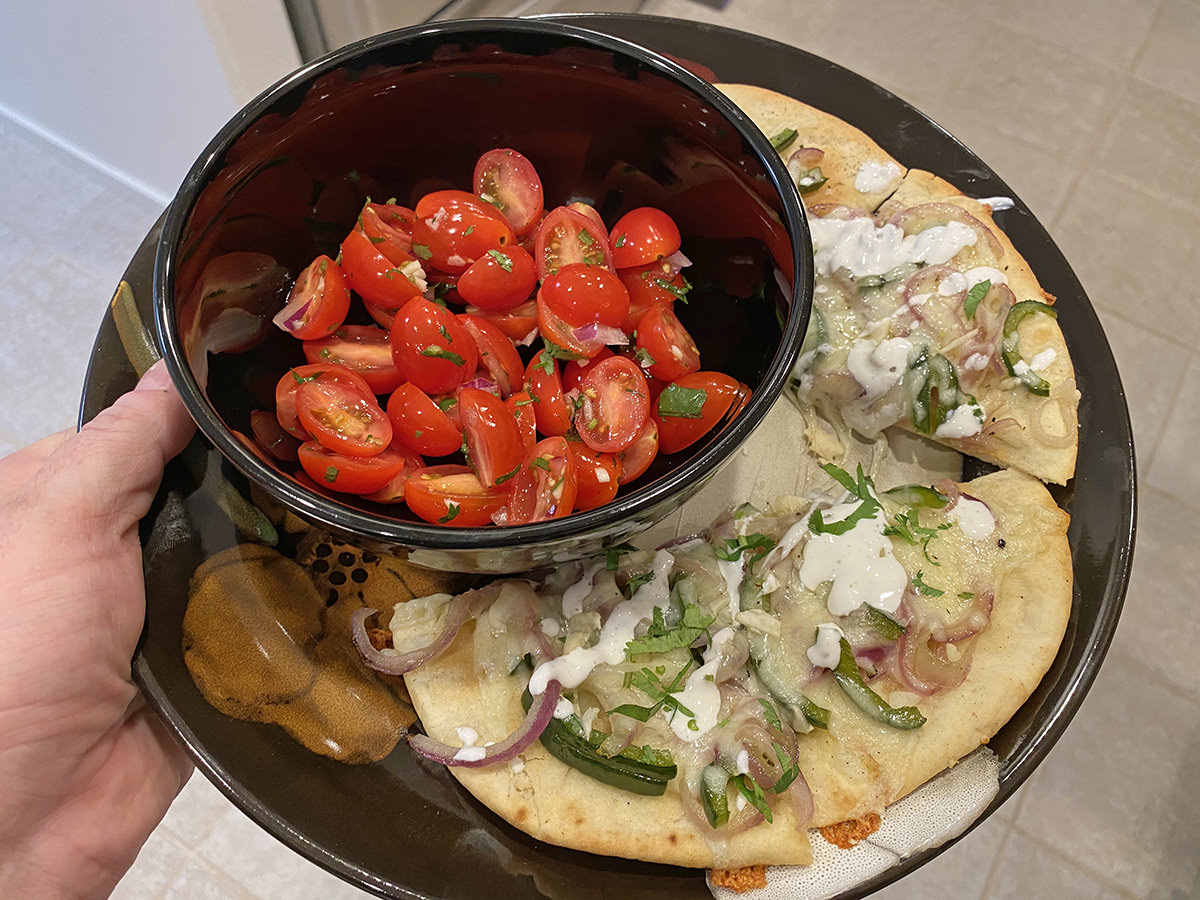 04. Veggie Bolognese Alla Norma with Eggplant & Pappardelle
Roasted eggplant, carrots, onion, and celery mixed with chopped tomatoes, basil, and garlic and dumped over pasta sheets that's been cut into 1-inch strips. While this wasn't bad, I could make a superior pasta dish on my own... and it wouldn't include celery, which is a water-logged waste. This was the first dish that I found boring and cheap. Not nearly as imaginative and delicious as the previous three dinners. I made toast and added garlic butter. Odds of me making this again? 0%

05. Fresh Pappardelle with Walnut Cream Sauce & Arugula Salad
Martha Stewart... my queen... my goddess... my master of culinary delights... you slayed it with the pasta in my dinner tonight! I LICKED THE BOWL! — MY CAT LICKED THE BOWL! — And it was everything I could do not to eat the remainder for dessert because it's supposed to be my lunch tomorrow. Amazing! 1-inch strips of pasta are cooked with mascarpone, shallots, crushed walnuts, butter, and parmesan with a bit of pumpkin spice. The salad was a bit meh though. I am not a fan of arugula. To me it tastes like bitterness and sadness. But it was made edible thanks to the dried sweet cherries, so I guess that's something. Odds of me making this again? 1000%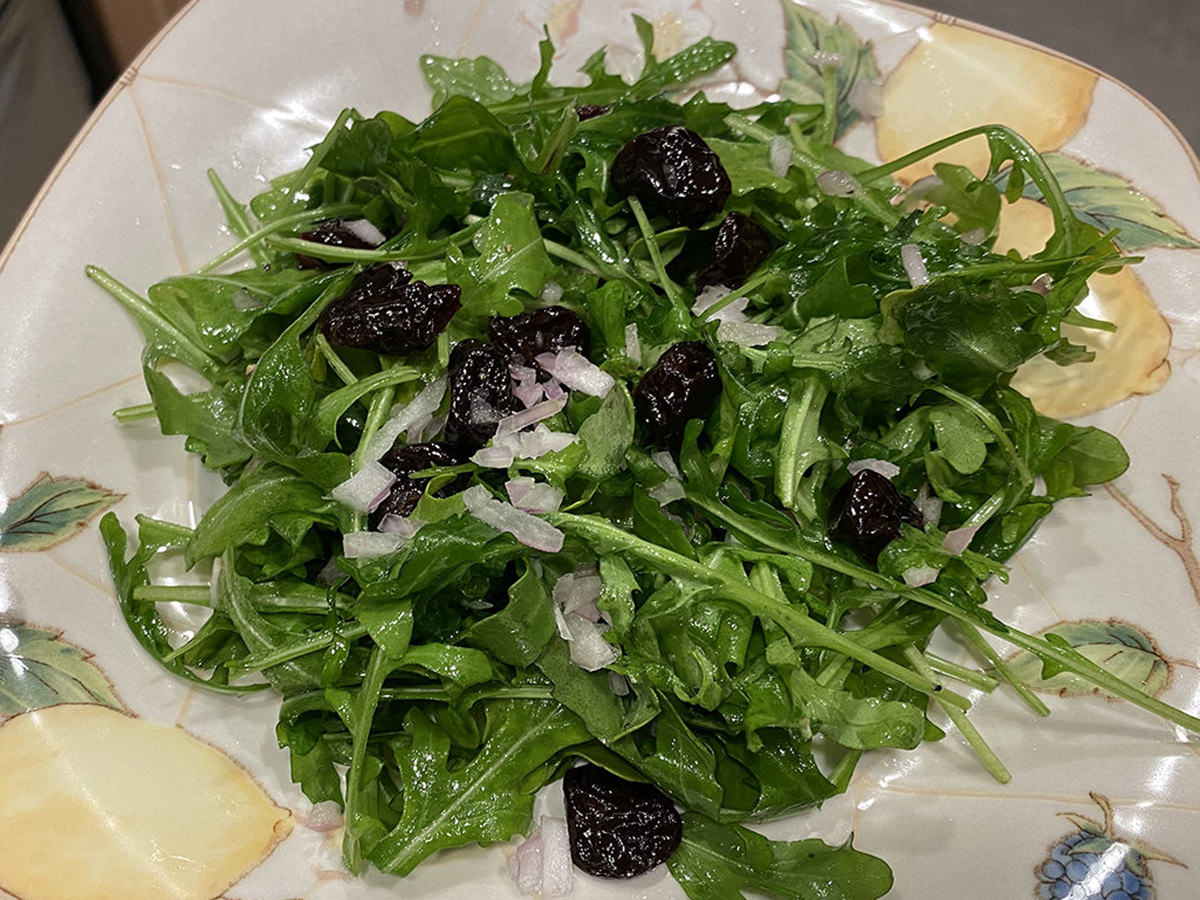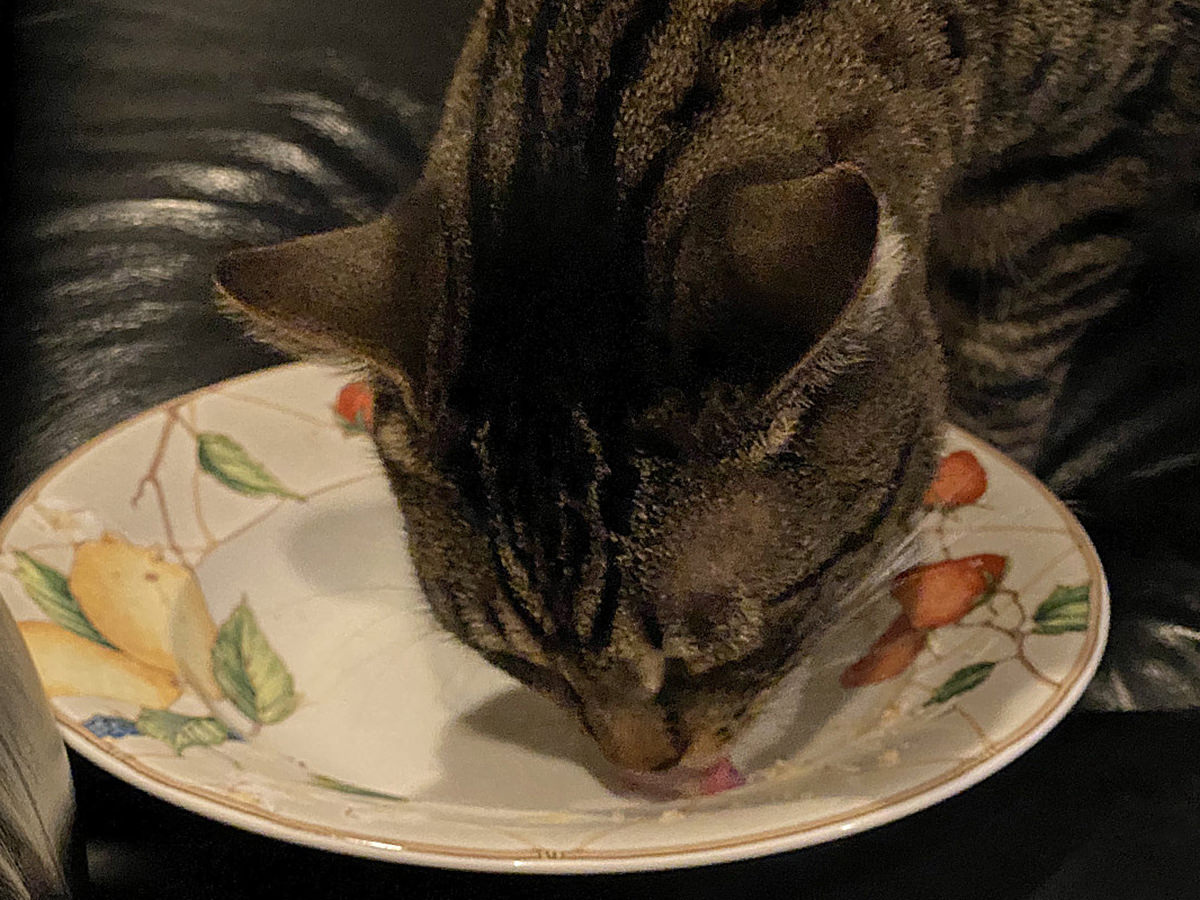 06. Chickpea & Carrot Falafel with Tzatziki & Spinach Salad
I was really looking forward to this one (I love falafel), so imagine my surprise when I open my VEGETARIAN ingredients bag and find BEEF JUICE and WORCESTERSHIRE SAUCE in it! So gross. My recipe doesn't mention any of this, so I go back to the bag and see that I was sent ingredients for MEATLOAF...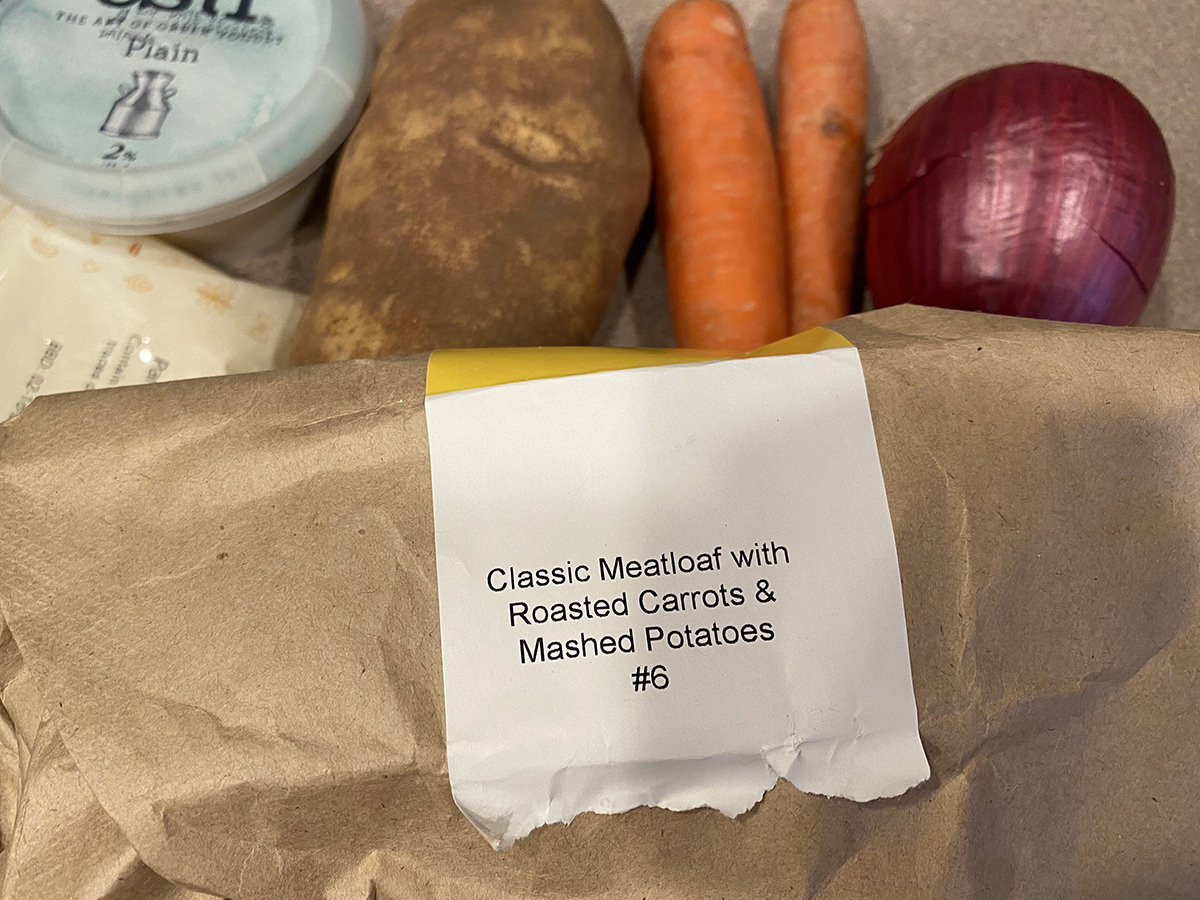 BOOOOOO!

07. Oven-Fried Veggie Chimichangas with Avocado Crema & Salsa
When you're reducing the can of black beans they tell you to bring to a boil and cook until most of the liquid has evaporated... 3 minutes. That's crazy. Try 13 minutes minimum. Another issue was that they give you four tortillas and you're to divide the filling and cheese between them. If you do that, they are so full that it's tough to get them rolled. There really should have been 5 or 6 tortillas. Also? The filling cooks down quite a bit, so even though I rolled them so tight they were about to split apart, they were still kinda hollow. Which means Martha HAD to have spooned in more filling when she took the recipe card photo. I like the sour cream and guacamole sauce, but the "salsa" was just greasy vinegar tomatoes. Hysterically enough, they toss the tomatoes in a sack with the can of beans which means my tomatoes were beat to hell. That's just sloppy. Odds of me making this again? 75% (without greasy tomato salsa)

08. Cheese Ravioli & Brown Butter Sauce with Roasted Squash & Toasted Walnuts
This is a rehash of my all-time favorite Martha dish (and the first one I tried: Tortelloni & Butternut Squash with Harissa Butter & Roasted Almonds)... except the pasta is ravioli and it's walnuts not almonds. Instead of harissa spice they rely on fresh thyme for flavor and, though I prefer the hairssa by a wide margin, this was a nice change. Where the recipe fails is that they have you dump in a bunch of arugula and the bitter flavor obliterates the subtle thyme and brown butter notes. When I make this again I will leave out the arugula completely. Still... yummy stuff. Odds of me making this again? 100%

09. Coconut-Peanut Rice Noodles with Blistered Zucchini & Green Beans
Phenomenal. Most of the time I take a pass on the Asian cuisine selections because it has mushrooms (which I can't eat) or broccoli (which I loathe). This time the Asian selection had neither. If I change anything when I make this again (AND I WILL ABSOLUTELY MAKE IT AGAIN!) I will halve the amount of Sriracha. It wasn't too hot... I like the heat... but I love love love love charred vegetables, and much of the char flavor was obliterated by the spice. Even so... I can't wait for my leftovers lunch tomorrow! Odds of me making this again? 100%

10. Brown Butter & Sage Gnocchi with Sweet Potatoes & Pecans
I nearly passed on this one because I detest kale and they have a kale salad as a side. And yet... I love toasted sage and the mix of gnocchi and sweet potato sounded fantastic. And, shocker, it totally was. I ended up adding a dash of my beloved harissa spice. Not enough to overwhelm the sage, but enough to add a little extra flavor... and it was even better. Odds of me making this again? 100%
Jake wandered over and licked the bowl clean, so I guess he liked the sauce too...
The kale salad with greasy green apple dressing wasn't great... but at least it wasn't arugula. I HATE HATE HATE HATE HATE HATE HATE ARUGULA! IT'S JUST BITTER AND SAD! STOP TRYING TO MAKE ARUGULA HAPPEN, MARTHA!!!

And there you have it.. my first ten meals with Martha & Marley Spoon.
I dearly wish I could afford to get these meals every week. They so rarely disappoint. On the contrary, most of the time they are amazing, awesome, and delicious in every way. I am discovering wonderful foods and great cooking methods that will last far longer than any one meal. But, alas, I have reduced my Martha with Marley Spoon meals to every-other-week (or less, if the recipes are not different from what I've already tried). It's still more money than I should be spending, but I can't give it up. I make the recipes again and again, so the value is far beyond the cost of the food. It's like getting food PLUS creating a recipe book with only the most incredible meals I've found. Who wouldn't pay top dollar for that?
And now, not to end this on a sour note, but I really have to...
In my last shipment, Marley Spoon announced that they will no longer be including recipe cards. You have to view them online or download them and print them yourself...
We wanted to tell you about an important change to your upcoming Martha & Marley Spoon deliveries. In an effort to reduce our product's environmental footprint in 2020, we are replacing the paper recipe cards in your box with downloadable recipe cards on our app and website. We believe that every green step we take is important. We hope you agree.
They are not including recipe cards to save the environment? Horse shit. They just don't want to spend the money. So I do NOT agree. People having to print the recipe cards instead of Marley Spoon printing them is not saving the environment. And you really need to print them because who wants to get their computer all greasy and covered in food while cooking? You could literally ruin your computer doing that. So much for convenience! Furthermore, most people are going to save the cards so they can make the recipes again, so it's not a waste. I know I sure do.
But the biggest reason I call bullshit on this?
If Marley Spoon was truly interested in "saving the environment" they would shut down. Because the carbon footprint to deliver their boxes... not to mention all the packaging they use which just gets tossed in a landfill... is far, FAR more damaging than a couple recipe cards. I mean just LOOK at this crap... TWO ICE PACKS AND A GIANT FOAM-LINED PLASTIC BAG TO SHIP TWO TINY, TINY PIECES OF CHEESE!
"Saving the environment" my ass. I may love the meals I get from Martha & Marley Spoon, but this is about as lame an excuse as it gets.
But setting that aside... still so happy I discovered Martha's meal service. Some of the best food I've ever cooked. Which isn't saying much considering I usually microwave frozen meals... but still... good stuff.