UPDATE: "Hallmark is, and always has been, committed to diversity and inclusion – both in our workplace as well as the products and experiences we create. It is never Hallmark's intention to be divisive or generate controversy. We are an inclusive company and have a track record to prove it. We have LGBTQ greeting cards and feature LGBTQ couples in commercials. We have been recognized as one of the Human Rights Campaigns Best Places to Work, and as one of Forbes America's Best Employers for Diversity. We have been a progressive pioneer on television for decades – telling wide ranging stories that elevate the human spirit such as August Wilson's The Piano Lesson and Colm Tóibín's The Blackwater Lightship, both of which highlight the importance of tolerance and understanding. Hallmark will be working with GLAAD to better represent the LGBTQ community across our portfolio of brands. The Hallmark Channel will be reaching out to Zola to reestablish our partnership and reinstate the commercials."
The full statement and story is here.
I don't know about being a "progressive pioneer"... as I mention below, they barely... and I mean barely... acknowledge that LGBTQ persons even exist in the movies which play on Hallmark Movie Channel. Perhaps now that they will be working with GLAAD, that will change.
All I do know is that I am overjoyed at the thought that bigoted heads are exploding over at One Dozen Moms. The piece of shit bigoted fucking assholes. And here is my original post...

And so... I guess I'm done with Hallmark.
As has been widely reported on the news, Hallmark Channel stopped airing a commercial featuring a same-sex couple getting married once the hate organization "One Million Moms" decided to stage a boycott. Never mind that "One Million" is more likely just a dozen hateful fucking dumbass bigoted pieces of shit with a Facebook group and a website... this was just wrong on Hallmark's part. In their complaint, One Dozen Moms said that Hallmark Channel is "usually safe for family viewing. But unfortunately, that is not the case anymore." Because two people are kissing... something that happens all the fucking time in Hallmark movies... is somehow "not family-friendly" when it's between two women...
Well fuck that. You accepted the commercial for airing. To backtrack now is cowardly and shows the entire world that you buckle to hate organizations.
It's insane shit like this that creates a toxicity which causes LGBTQ youth to kill themselves.
And I will not be a part of that.
As you might have guessed from the section of Blogography devoted to my obsession with Hallmark movies, there's no bigger fan of trashy Hallmark movies than I am. Even so...
I am canceling my subscription to Hallmark Movies Now.
After the final five movies I have set to record to finish out the year, I will no longer be patronizing any of the Hallmark Channels or watching any of their programming.
Since Crown Media Holdings, the studio behind Hallmark Channel and Hallmark Movies & Mysteries is completely owned by Hallmark Cards, I will no longer purchase a single thing made or sold by Hallmark.
Needless to say, I will not be purchasing any Hallmark content digitally or on DVD or Blu-Ray or any other medium.
Seriously. Fuck Hallmark and their culture of bigotry and support of hate organizations.
It's one thing to not feature LGBTQ characters in your fictional movies and programming... it's another thing entirely to say that LGBTQ persons in Real Life are "not family-friendly."
What hurts the most here is not that I won't have Hallmark movies as background noise while I work any more... they're all the same story, so who really gives a shit... it's that there are numerous LGBTQ persons in front of the camera and behind the scenes at Hallmark that deserve better than this. Peter Porte, one of my favorite Hallmark actors (who is in one of my all-time Hallmark movies, Love at the Shore), is gay. He was married to his husband last year...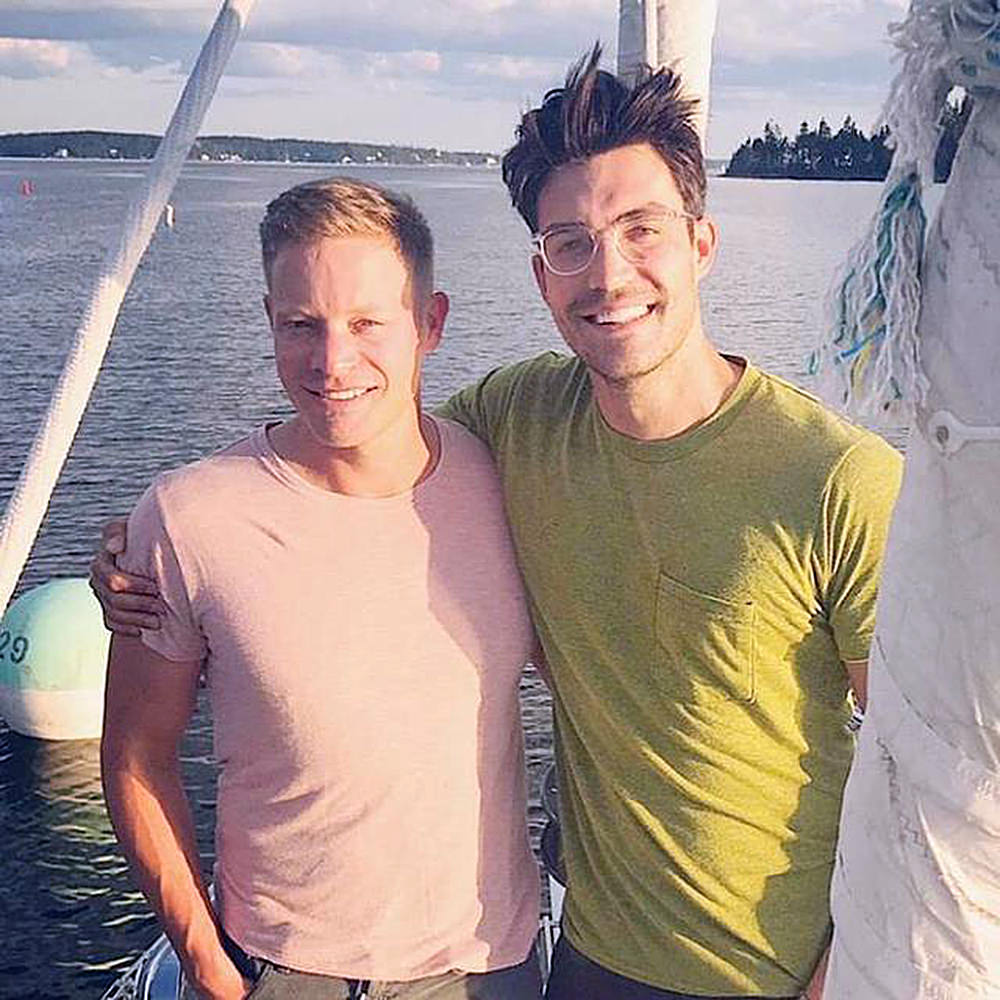 But now his employer is essentially saying "Your marriage and relationship is not family-friendly."
This kind of bigotry and discrimination is fucked up and disgusting. Same-sex marriage... or MARRIAGE, as I call it... is legal and recognized in this country. But even if it wasn't, it's still pretty fucked up that you would treat the people in your employ, people who are responsible for your success, with this kind of hate.
In all honesty, I thought that Hallmark might be changing. That they had a secret agenda to redefine their antiquated idea of "normal" and slowly... oh so slowly... change the perceptions of their viewer base.
In Road to Christmas, Jessy Schram is trying to assemble the adopted sons of her boss for a television show. One of Chad Michael Murray's brothers is "David" who co-owns a pet shelter with his partner. It is not explicitly stated that they are a gay couple. But you know. In this year's Valentine in the Vineyard, Rachael Leigh Cook and Brendan Penny are at a couple's relationship-building workshop... and one of the couples at their table were two guys. It was such a tiny acknowledgement, but it was an important step for Hallmark. My hope was that eventually LGBTQ representation would gradually creep into more and more movies until we finally got a LGBTQ couple as leads. But having Hallmark cave to a hate group like they have puts any of that in serious doubt.
Fortunately there are other networks producing trashy romance movies I can watch. Netflix has no problem at all acknowledging that LBGTQ persons exist, so that's where I'll get my background noise now.
Because until Hallmark leaves bigotry behind and stops contributing to the toxicity which is responsible for our LGBTQ youth killing themselves... which is responsible for the inequality of LGBTQ relationships... which is responsible for our fellow LGBTQ humans being persecuted and treated like second-class citizens... I won't be supporting them and the hate they support.
Hallmark claims to be "The Heart of TV."
But they've just proven that's not the case at all.