And so begins the season when I have houseguests coming and going. Since I spend most of my time here alone, I rather enjoy the company. Jake and Jenny, on the other hand? Not so much.
Despite trying and trying and trying to get them accustomed to other people, they are having none of it. They hide in the storage closet attached to my bedroom and don't come out until the coast is clear. This becomes a problem when I have overnight guests, because they gotta eat, drink, pee, and poop.
I've kinda solved the problem by moving their food, water, and upstairs Liter-Robot into my bedroom and closing the door. It's not a perfect solution, because if there's any noise at all going on in the house, they won't come out to use them, but at least they know they are there when things settle down.
And it's better now than they used to be. Instead of continuing to hide when everybody is asleep, my cats will roam the house until people wake up. Instead of taking days or hours to recover and come out of hiding, they are out reclaiming the house within minutes of my guests leaving.
Even so, I'm thinking of doing some work in the storage closet to make things more cat-friendly. Maybe rethinking things so that they have more comfortable places to hide? Add some ramps and scratching posts to make it more fun?
I feel bad about them feeling they need to hide, so the least I can do is try to make it easier on them.
And speaking of feeling bad...
This time I had people with cat allergies coming over. This is, technically, not a huge problem... thanks to my air purifier, Carl the RoboVac, and a good deep cleaning... but there is one thing that makes a real deep cleaning impossible... the ratty old cat tree that Jake and Jenny love. Thanks to the cheap, ugly fuzzy fabric which covers the thing, it's impossible to keep clean. It's so gross, but I dare not get rid of it. Instead I temporarily moved it to the catio.
Jake was livid. Boy was he mad. He was squawking at me while I was moving it.
Jenny just sat there staring at me like WTF, dude?
So they've been out in the catio all over the thing... still angry at me for having moved it...
The top of the cat tree is Jake's favorite place to sleep so he's out there all the time, bless his little heart...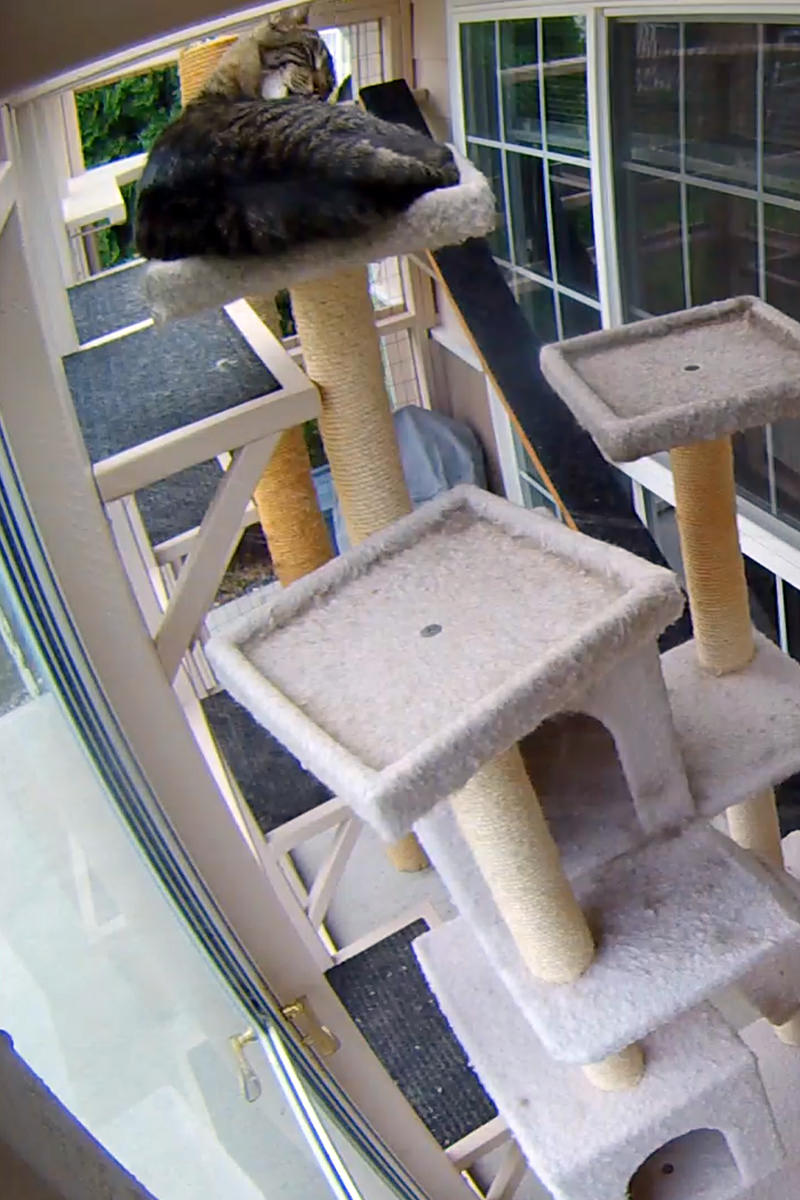 Just look at how disgusting the thing is! And this is after I vacuumed it! I honestly don't want that filthy thing back in my house, so I made a decision. Well, two decisions, actually. First I ordered a replacement cat tree of the exact same model. Once it arrives on Wednesday, I'll put it together and hope that they will transition to it. Then, come Spring, I'll take the old cat tree, strip it apart, then rebuild it from better materials that I can actually keep clean. Should be a fun project. I hope.
In the meanwhile? Here's to my cats not hating me too much.