Last night I read and article on ScreenRant which declared that Star Trek: Discover became the most popular streaming show in the world.
When the show first debuted in 2017, I was mesmerized. Here, at long last, was the Star Trek I had been longing for since I first saw the original. I have never cared for any of the Next Generation /slash/ Deep Space Nine /slash/ Voyager /slash/ Enterprise shows. Sure they have their moments, but they weren't Star Trek to me. MY Star Trek has always been Kirk, Spock, McCoy, and the gang. Everything that followed was a pale imitation.
But Disco changed all that.
This Star Trek was raw... it was different... it was exceptionally well-cast... it was pushing new ideas, just like The Original Series. And that crazy twist! Holy cats! It wasn't just good Star Trek, it was good television!
A lot of people loved it (obviously) but there were oh so many detractors that hated it. "IT'S NOT STAR TREK!" they cried. Except it so totally was. It's just that it wasn't a continuation of the janky NextGen Star Trek... it went back to when Star Trek was good! Both figuratively and literally! Sure I had some gripes (why reinvent the Klingons yet again?) but, for the most part it was everything I could want in a show... PLUS MICHELLE YEOH!
I was definitely ready for more of that. Then cam Season Two...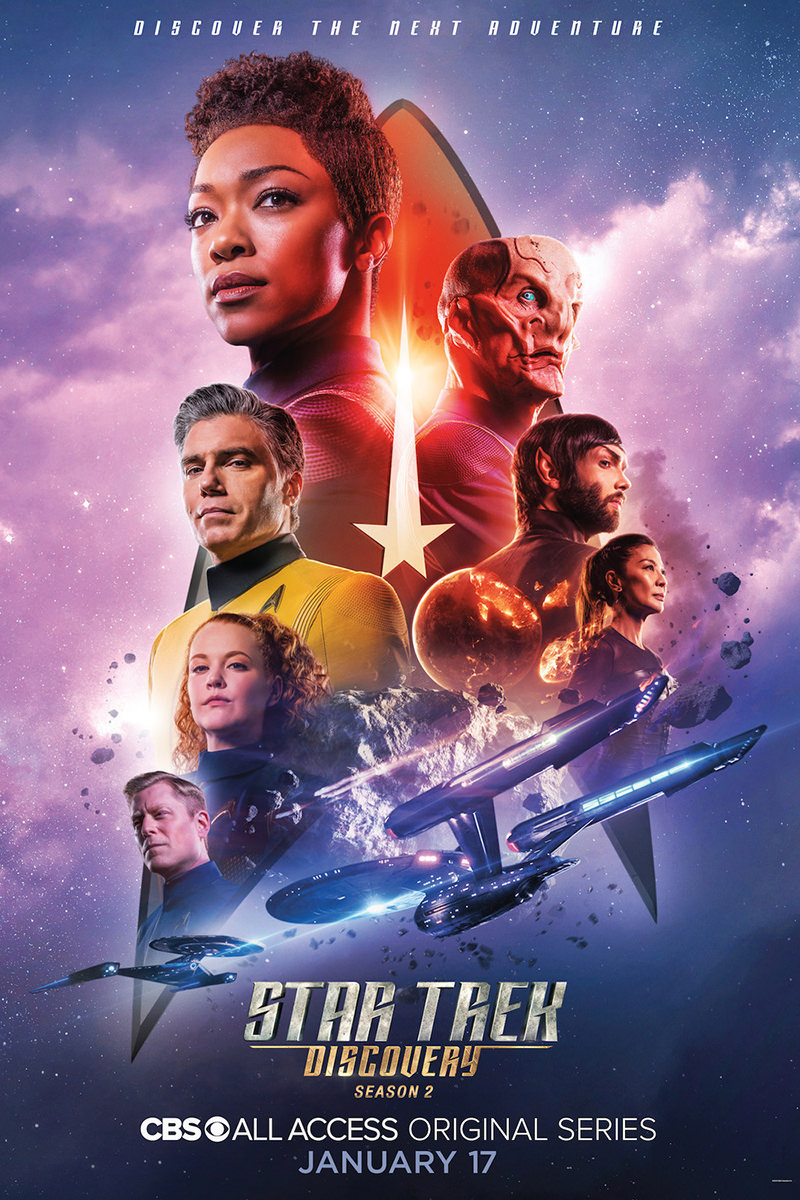 Captain Pike? The Enterprise? SPOCK?!???
JUST TAKE MY MONEY, CBS PRIME STREAMING!
While I didn't love it as much as the first season, I did thoroughly enjoy it. And the fact that it (kinda) brought back THE Star Trek was a bonus.

And now for some thoughts on Season 2 of Star Trek: Discovery (SPOILERS, obviously)...
As I said, I love Discovery, far more than any of the series that followed the original. The first season was phenomenal, having characters and a story concept that was deliciously epic and fun. That being said, Season 2 story has been a mess that I've found mostly boring. It wandered off in way too many distracting directions that were snooze-inducing, and no attempt to justify this in the finale made it worthwhile.
The frustrating thing about being a Disco fan is that the characters are so fantastic, even when the story they occupy is shit. Even the new version of established characters like Captain Pike, Spock, Number One, Vina, etc. The sole exception for me is Tilly, who is so fucking annoying that I want her dead every minute she's on screen. I loathe Tilly, but keep hoping that they will make her work because I love the idea of including somebody on the autism spectrum on the show.
In fact, Pike, Spock, and Co. were so great that having another show featuring their time on Enterprise is something I'm dying to see.
And Michelle Yeoh's spin-off show cannot come fast enough. Her every moment on screen is absolute magic.
Speaking of characters... what a shame that Airiam, one of the most interesting characters to ever appear on the show had to die before they gave her screen time. I wonder if that will be the case for other interesting "background" characters like Owosekun, Detmer, Bryce, and Rhys. I should certainly hope not. At least we got some Saru time this season.
That being said... Is Airiam the start of The Borg? Many people think so! I would be thrilled to find out that Airiam is still around in the future and to explore what her connection to The Borg might be.
One last note on characters... I purposely left out Tig Notaro's "Jet Reno" because she has to be singled out as one of my favorite Trek characters of all time. Given how little she was on the show, that's really saying something.
I remain amazed that the special effects are so incredibly well-done. In some ways, that's a shame though, because it tends to eclipse the mind-bogglingly good job done by other aspects of production. The set design is incredible. The costuming is beyond great. Everything about Discovery screams quality, and they should be very proud of their accomplishments. Particularly the reimagining of the Enterprise. The ship had to be updated lest it ends up looking comical by today's standards, and the result is amazing. The tweaks on the uniforms make them hands-down my favorite of any Trek series ever.
The explanation as to why Discovery, the spore drive, and Spock's sister have never been mentioned was kinda a cop-out, but at least they addressed it so the continuity fanboys can shut the fuck up.
The time-travel wrap-up was a big-ol' mess, but I'd be lying if I said that I wasn't excited about the possibility of Disco being flung into the Star Trek universe future. I mean, what's Starfleet even going to be like then? What alliances will have changed? Is the spore-drive commonplace now? What new species will have been found? The possibilities are truly limitless now that they are not tied to pre-continuity.
I hope that we get some fantastic villains in the new season. Granted, following Jason Isaacs and Michelle Yeoh was going to be almost impossible. But the whole "Command" AI computer angle was lame as shit. It got a little interesting when it possessed Leland, but that was too little, way too late.
Michael Burnham is almost too good to be true. She is complex, layered, strong, capable, and everything you need to lead a show. Partly thanks to her being written with such purpose, but mostly because Sonequa Martin-Green is just that incredible. For Season 3, I dearly hope that they keep moving her forward. Even when Season 2 was at its most boring, she was still compelling.
I hope that they give the captain's chair to Saru. He is such a fantastic character (thank you, Doug Jones!) and I love the idea of a non-Terran finally getting a spotlight on a show.
Please, for the love of all things holy, let Tilly be Tilly in Season 3, but stop making her such a scattered disaster. As seen when she was portraying her Mirror Universe counterpart, Tilly is perfectly capable of holding it together and bringing the annoying down to manageable levels. So why the fuck doesn't she? As I said, I love the idea of somebody on the spectrum having representation... but to make her this annoying all the damn time is exhausting. It's a disservice to the character to have her always on the verge of falling apart. Can't she be capable, on the spectrum, AND have a little confidence

sometimes?

See: The Good Doctor.
Speaking of representation and all things annoying... having a gay couple on the show is what Star Trek was made for. But the Stamets/Culber drama after Hugh "came back from the dead" was forced and awful. It made me loathe two characters that I would otherwise like. They wrapped that situation up in a too-pat neat little bow, and I hope it stays that way. Can't there be a couple that is stable and happy for once? They would be so much more interesting if they were.
Here's hoping Ash Tyler is a part of the Michelle Yeoh spin-off show, because this is an interesting character that's begging to be explored more. Him becoming head of Section 31 was a great place to leave him.
And that's Star Trek: Discovery Season Two.
I will probably re-watch it in advance of Season Three premiering, but I'm almost positive I'll be re-watching Season One long before that!
Here's to interesting times in Season Three!
AND GIVE US THE PIKE AND SPOCK ENTERPRISE SHOW WE'RE ALL DYING FOR! This is a big part of why Season 2 became the most popular streaming show in the world!