My favorite cuisine by a wide margin is Italian. So many vegetarian dishes, and almost all of them are amazing. From pasta to pizza, I could eat Italian day after day and never grow tired of it.
Until I actually eat Italian day after day and grow tired of it.
Several months ago I became obsessed with developing the perfect Cacio e Pepe recipe. Italian for "Cheese and Pepper," this is the Official Pasta Dish of The City of Rome and I've been hooked on it since I first had it there back in 2000. It's a deceptively simple dish because it has only three ingredients... pasta, Pecorino Romano cheese, and freshly ground pepper. But, in reality, it's tough to get it right.
The first mistake I made was following recipes from popular cooking sites that added all kinds of extra ingredients like butter, cream, or cheeses other than Pecorino Romano. I'd try recipe after recipe and get frustrated because it tasted nothing like what I had experienced in Rome. Eventually I found out why... just like with "Americanized" Fettuccine Alfredo, we fuck it up by adding extra shit that ruins the intended taste.
The second mistake I made was using spaghetti noodles. This is actually not terrible... I've eaten it in Rome made with spaghetti noodles. But, unlike an Italian chef, I cannot get consistent results. What you want are tonnarelli noodles, which are essentially "spaghetti alla chimaera" or "square spaghetti." Since tonnarelli doesn't have the edges rounded off, the noodle has more heft and doesn't cool quite as quickly. This pasta can be difficult to find in smaller markets, which is why I almost always end up using linguine (No. 7) noodles, and they work perfectly.
The third mistake I made was not using fine enough grate on my cheese. You must use the finest grate you have... the cheese should be almost a powder, not shreds.
The fourth mistake I made was not so much a mistake as it was a lesson. I was using plain old peppercorns right from the jar. Ideally you want the larger sized peppercorns (called tellichery) that you toast fresh before grinding. The larger peppercorns are less spicy, but more aromatic, and giving them a toasting before use helps bring out the flavor.
Once all that is handled correctly, you've pretty much won the battle.
After dropping my pasta into water which has come to a full-boil (a little salt is fine, but no oil) I blend the finely grated Pecorino Romano with a little bit of ice water to form a paste.
When the pasta is almost done being cooked to al dente (7 minutes for me), you take some of the hot, hot, boiling-hot pasta water and mix it with the above paste until you get a creamy sauce. The starch from the pasta water along with the heat has weird emulsive properties and you absolutely DO NOT need to add cream.
From there I wait for the pasta to finish cooking properly (an additional 2 minutes or 9 minutes total for me), then quickly drain, toss with the cheese sauce, add freshly-ground pepper (a bit coarse is better), then top with shredded cheese (shredded on top is fine... inside you want it almost powdered).
Amazing.
I like a lot of cheese on my pasta. Like, a lot of cheese. Pecorino Romano has more of a punch to it than Parmigiano-Reggiano, so using a lot of it can be a bit overwhelming. In recent years I've taken to making the same recipe as above, but substituting the Parmigiano-Reggiano so I can use extra and maintain the flavor profile I'm looking for. I also like my Cacio e Pepe to be a bit on the dry-side (too wet and it doesn't stick as easily to the noodles) so I use less pasta water than what is authentic.
After finally getting the perfect recipe, I found that I had been eating so much of it that I was sick of the stuff. Then last night I was suddenly craving it again, and this was the result...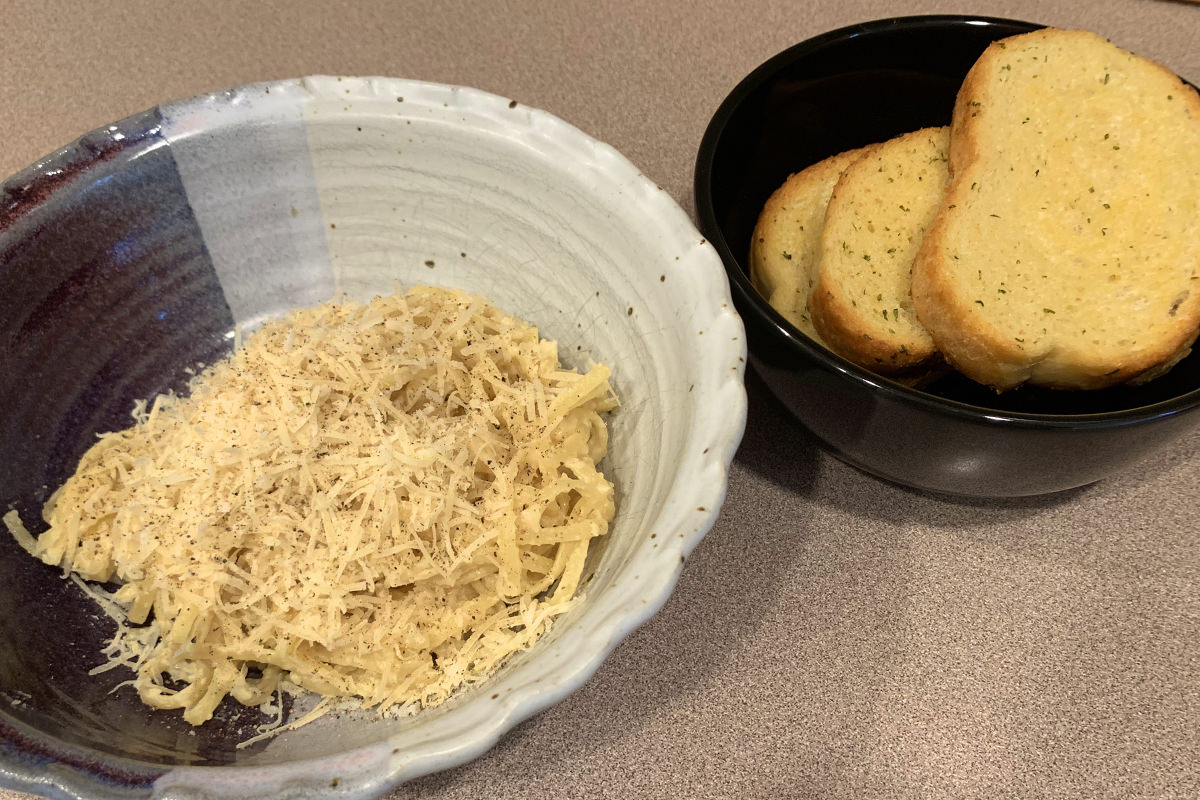 Delicious. Except... there's at least 150 fat calories and 50g of carbs right there.
This is not a healthy dish.But it is tasty. My all-time favorite pasta, as a matter of fact (a close second is Fettuccine Alfredo, which can be constructed similarly to the above, except you use thinly-shaved egg noodles instead of tonnarelli and butter instead of pasta water).
Boy... it's going to take a lot of will-power to not have this for dinner again tonight.