I've always tried to be conscious of my environmental impact. I recycle whatever I can. I reuse as much as possible. I repair instead of replace. But after reading stories about whales dying from ingesting massive amounts of plastic (among other plastic horrors), I've redoubled my efforts to use as little of it as possible.
Problem is? Trying to cut the amount of plastic we use is pretty much impossible. The junk is everywhere. Even if you stop buying stuff that's made from plastic, you can't seem to avoid buying stuff packaged in plastic. But the story gets worse. Now we're quickly getting to the point that you won't be able to recycle plastics any more.
So what to do?
Well... people are going to have to change how they buy stuff. Companies are going to have to change how they make stuff and package stuff. Everything is going to have to change.
The other day I was at the grocery store when I noticed that the dishwashing detergent I like best, Cascade Complete, was on sale. I was running out but knew I had a full container in the garage, so I was going to pass. But the price was so good. Too good to pass up. Since I have storage space for it, I decided to buy two of them.
When I got home, something funny happened though.
I lifted up the older detergent container to put the new containers under it (gotta rotate your inventory!). That's when I noticed that the old one weighed considerably less. I flip over the bucket and I see why. The new ones are lighter because there's less in them...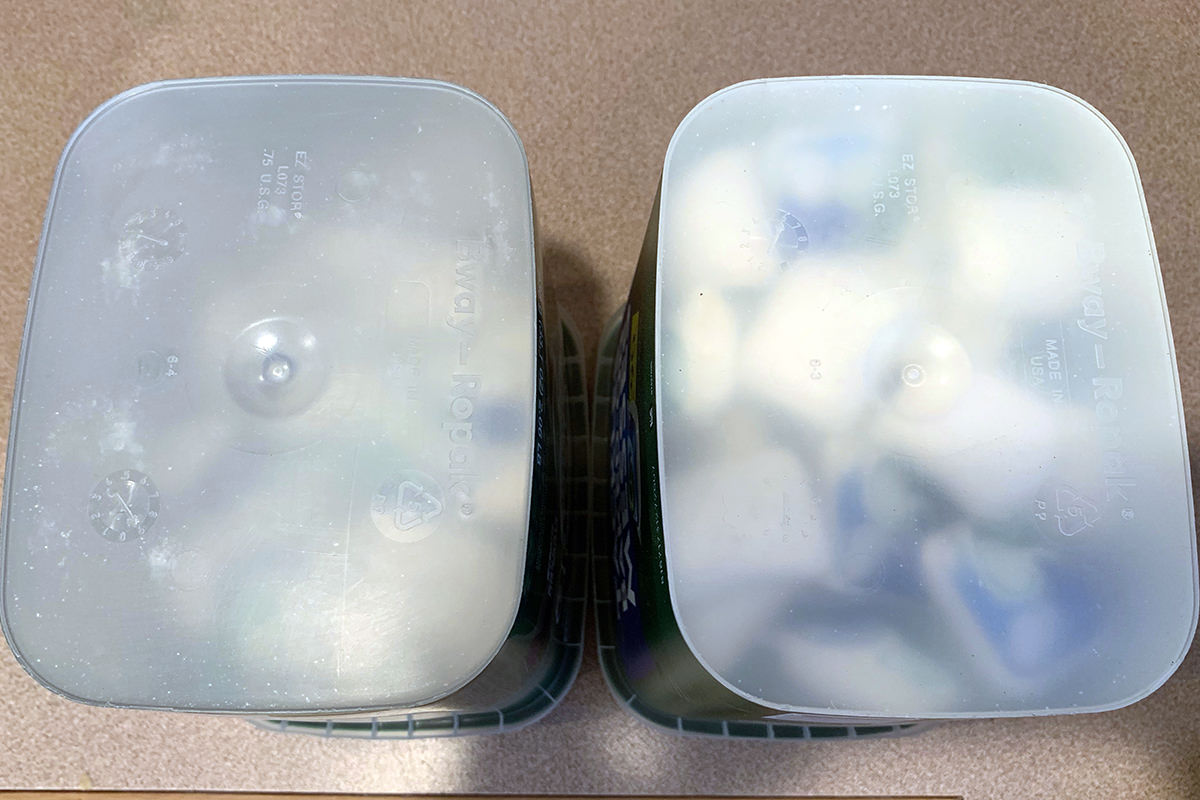 Was there a mistake at the factory? Did the machine that fills the buckets malfunction? Because just look at this crap...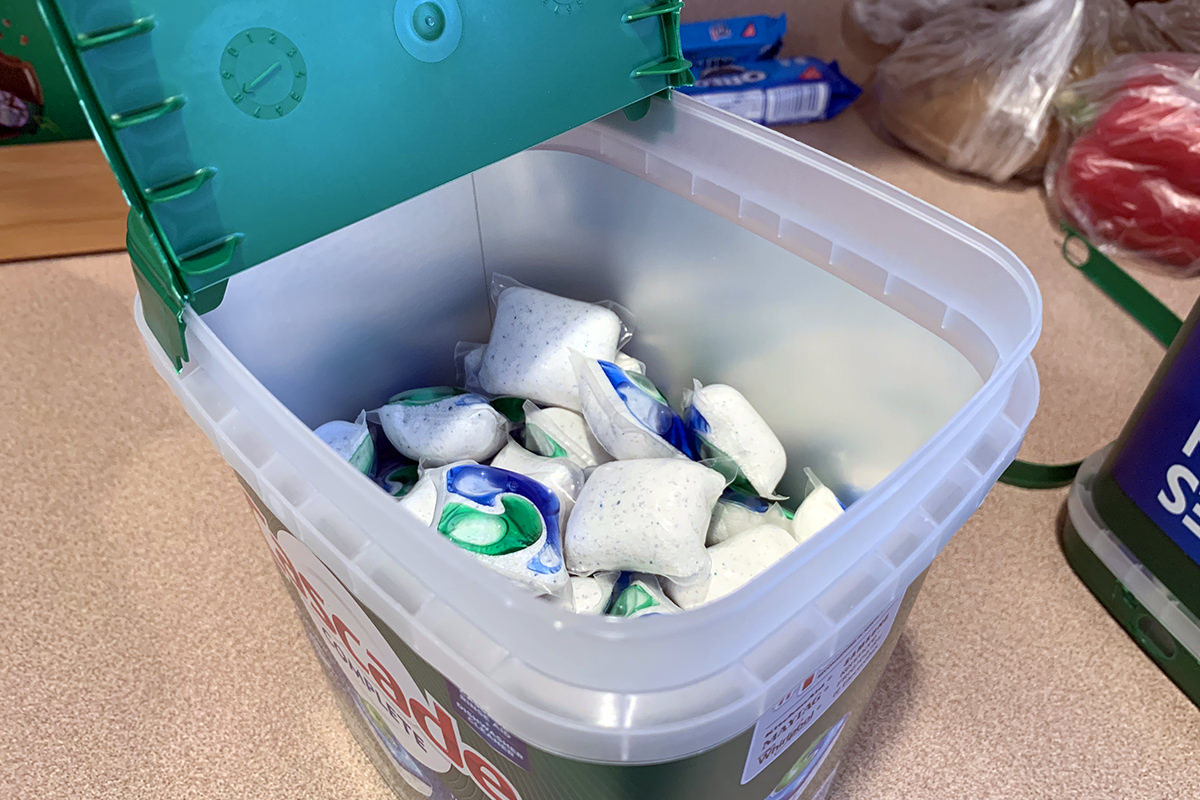 One-third of the container looks empty! I look at the package and see that the reason it looks one-third empty is because there's a third less product in it!
Old container: 90 pods. New Container: 63 pods.
At least now I know why it was so damn cheap compared to last time I bought the shit. What's weird is that the container for less product actually looks bigger, doesn't it?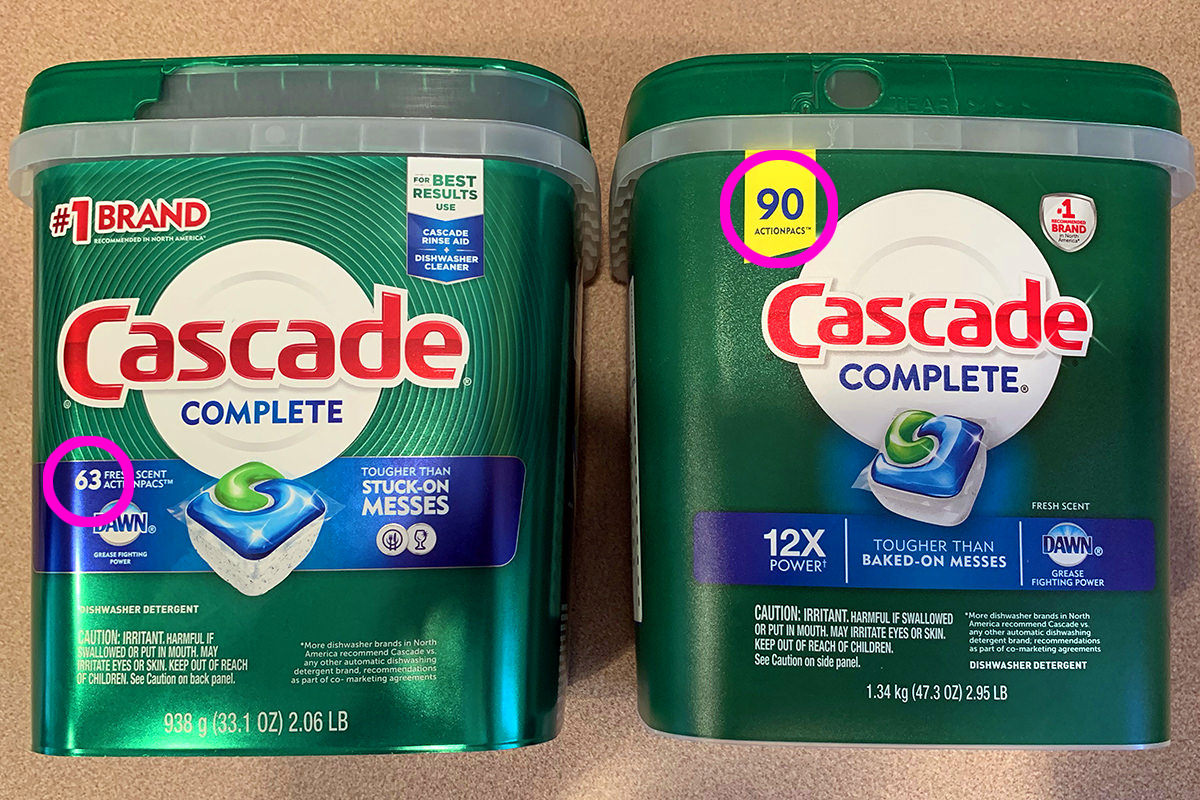 I go to Amazon to see what the "regular" price is for Cascade Complete. But when I get there, I find the story gets even stranger. The same size container has 78 pods in it...
What the actual hell?
Apparently Cascade fills the container based on the price a retailer wants to sell. Safeway wants to have a huge sale at a tiny price-point? Put 63 pods in there. Amazon with their tiny margins wants to have a price-per-unit value price? Put 78 pods in there. Target wants to have a higher dollar-ring? Put 90 pods in there.
Now, I'm not ripping exclusively on Cascade here. All companies do this. If you want to sell at a retailer, you make them the product they want to sell. But most companies don't use the same massive package for 63 pieces vs. 78 pieces vs. 63 pieces... do they?
I feel grossly misled here. I thought I was buying the same "Cascade Complete" that I had purchased before... not a container which had one-third less product! Guess that when something is too good to be true, it's really too good to be true.
States like California have packaging laws that punish companies who use excess packaging. But it's not a fair law. Massive companies want the bigger shelf facing to get their product noticed. Because they have money, they just pay the fine. Smaller companies can't afford to pay the fine, so they have to put a similar product in smaller packaging which makes it look like you get less product. Or... big companies can afford to have two packages... one for California which is smaller, and another for other states which is larger. That's even more unfair, because smaller companies can't afford to produce two different-sized packages.
And so it goes.
Cascade ain't going to change the way they do business until they are forced to change.
The only thing that is going to force them to change is their bottom line.
Because they don't give a crap about the environment, they care about profits.
I love Cascade Complete. It works better than any other dishwashing detergent I've tried... and it rinses away cleaner so there's no residue or smell clinging to my dishes. I am happy to pay a little more for it because it's worth the money. But is it worth polluting the planet with one-third more plastic than it needs to? Oh hell no. And so I won't buy the stuff ever again unless the number of pods in the container are filling the container.
Or maybe I need to see if they sell Cascade Complete in a box that you pour out... which would be cardboard instead of plastic? Do they even make that any more? I suppose I'll be looking into it.
That seems the very least I can do, doesn't it?
Or maybe I wash my dishes by hand? Except "green" dishwashers like mine use less water than washing by hand, so maybe that's a step too far. Especially since liquid soap comes in heavy plastic containers.
How are scientists coming along with that plastic-eating bacteria?