"Perhaps it's good for one to suffer. Can an artist do anything if he's happy? Would he ever want to do anything? What is art, after all, but a protest against the horrible inclemency of life?" —Aldous Huxley
A lot of artists are of the belief that their art is born out of suffering and in order to create good art you have to suffer for it. If that's the case, I'm a pretty shitty artist because I don't think I have ever "suffered" for my art. Though, to be honest, referring to myself as an "artist" is kind of laughable because that's a gross overstatement as to where my talents lay. I'm a very good designer. I'm a pretty good photographer. I'm a decent craftsman. I'm an amazing burrito-maker. But true "art" has always eluded me.
Probably because I'm just not suffering enough to create it.
Although I did come close to suffering in creating my "art" for the latest issue of Thrice Fiction Magazine, which you can get for FREE over at our website...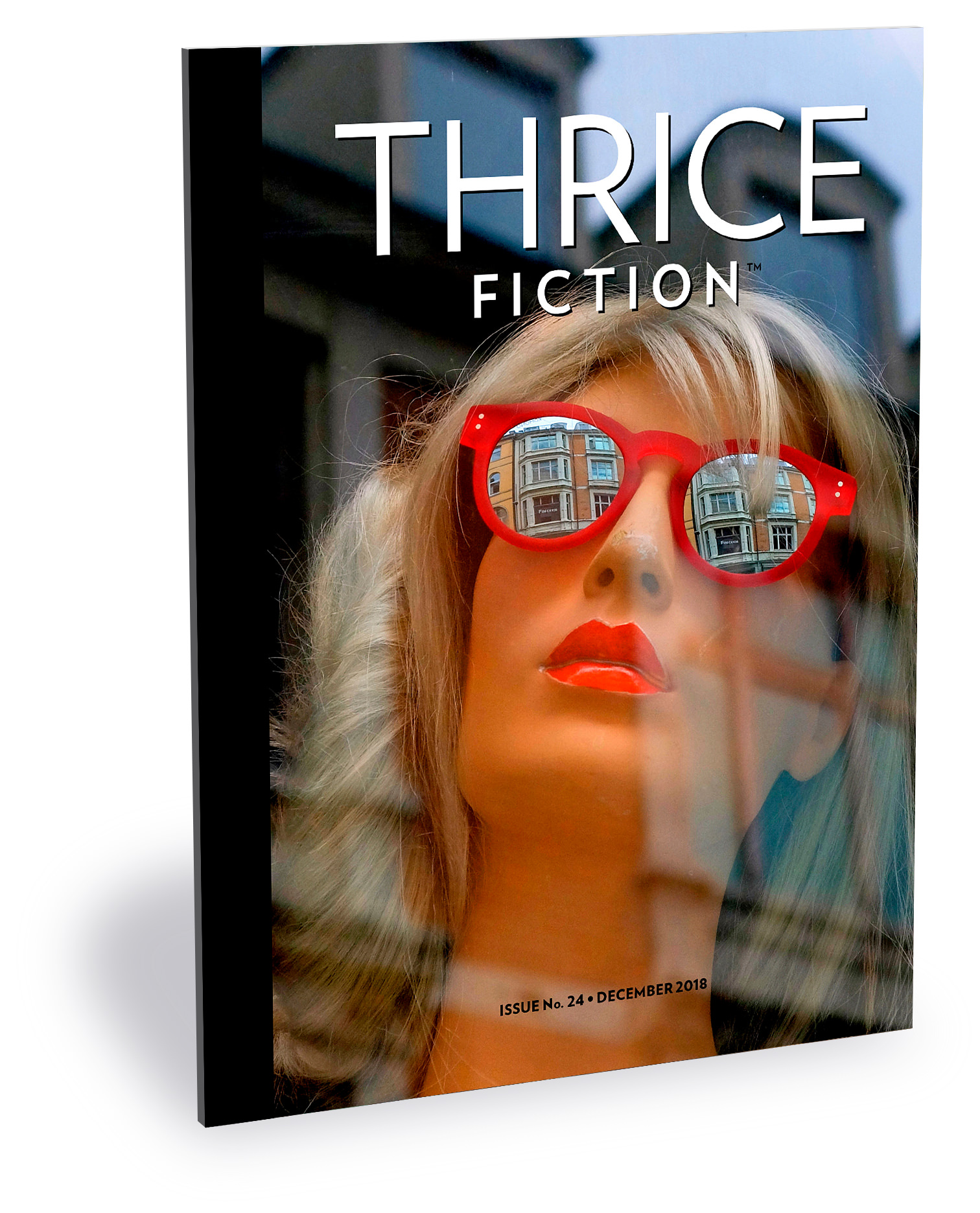 Delicious cover by SEIGAR, an actual artist.

Originally I had art for three stories assigned to myself. Eventually I ended up with a lot more because the holidays wrecked havoc with people's schedules and they had to drop out.
One of those original stories I had was titled The Woman Thinking of Nothing by Beth Shirley. I liked it a lot, and had an idea what I wanted to do for the image after reading the first two sentences of the second paragraph...
She ordered a vodka martini, very dry with two olives. She ordered a basket of fries after the first drink and ate nearly half of them slowly while she drank a second martini.
I absolutely loved the imagery of ordering a high-class drink like a martini with two olives and pairing it with something as low-rent as a basket of fries. When I read that, I was... I dunno... "tickled" at the thought of it, I guess you'd say.
But I worried that since the art needed to be a full page that I'd make a mess of it, so I handed the story to another artist. But when they had to bow out, I took the story back for myself. Because you don't defy The Universe when they give you a second chance.
I decided to go to a bar, order a martini and a basket of fries, take a photo, and call it a day.
Except...
After trying on four separate occasions over a period of eight days to be served what I was envisioning in my head, I came up empty. Either the bar... A) Didn't serve their martinis in a martini glass, or B) Had classy fries that looked too upscale for what I wanted, or C) Didn't serve their fries in a basket.
Which lead to a lot of suffering because... A) DO YOU KNOW HOW MUCH A MARTINI COSTS?!? HOLY CRAP!, B) I am not a martini drinker at all, and C) I went to these bars for a late lunch because I didn't want there to be a lot of people watching me take photos, which meant I was drinking at 1:00 on a work day.
After spending $75 on martini lunches to no avail, I decided to stage my own photo in a studio. So I borrowed a martini glass. I found a piece of wood that looked like it could be a bar top. I had some liquor bottles I could place out-of-focus in the background. All there was left to do was go buy some fries and find a basket to put them in.
The basket, which I thought would be an easy get, was impossible to find. I wanted one of those cheap-looking plastic flat baskets like you used to find in diners all the time. You know, the ones they hand you when you play pull tabs to put your losing tickets into. Looked everywhere. Couldn't find one. The closest I could find was a blue plastic basket at The Dollar Store. And then there were the fries...
I wanted crinkle-cut. I really wanted crinkle-cut. But time was pressing and the only bar that served them would have taken too long so I went to Wendy's. I prefer Wendy's because every once in a while I like to treat myself to a tiny 89¢ Jr. Frosty, and everywhere else you go you have to buy a giant cup. Can you guess what happened on the drive back? Yep. I forgot why I bought the fries and ate them all along with my tiny Frosty on the way home!
Don't get old, folks. No good can come of it.
Frustrated that it was going on three weeks for a photo that I thought would take fifteen minutes, I grabbed my little blue Dollar Store basket, went back to the bar which had both martini glasses and crinkle-cut fries, then staged my photo.

The wall of bottles was too far away, so the background ended up being boring and I removed it...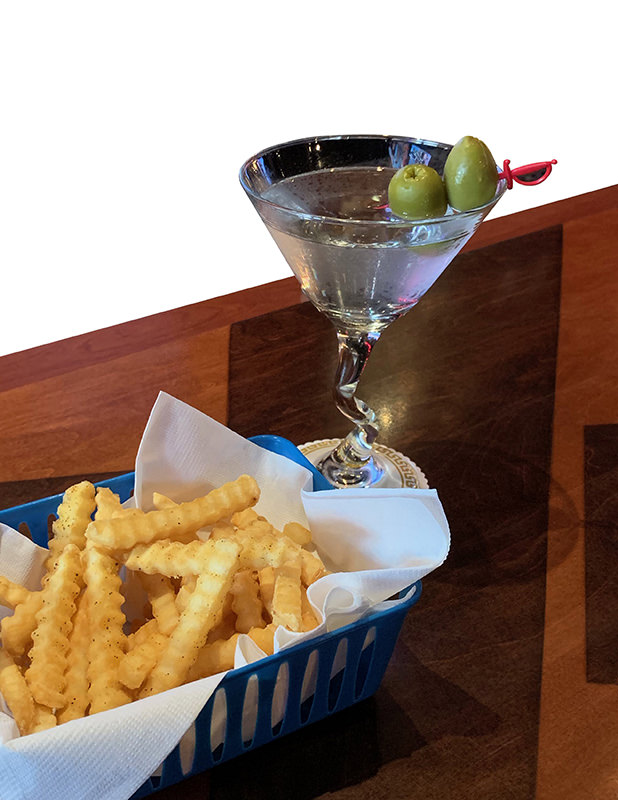 I took a second photo for the background like so...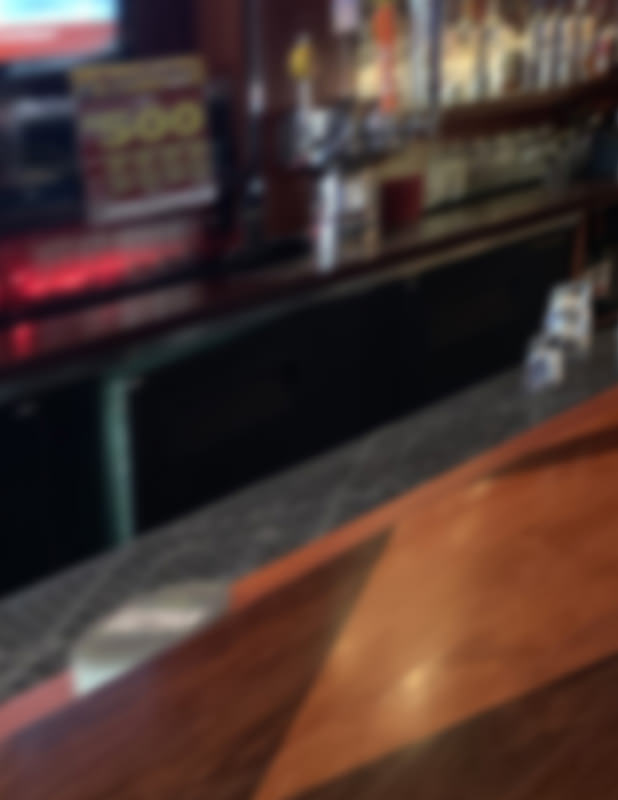 Compositing them and straightening out the foreground elements resulted in this...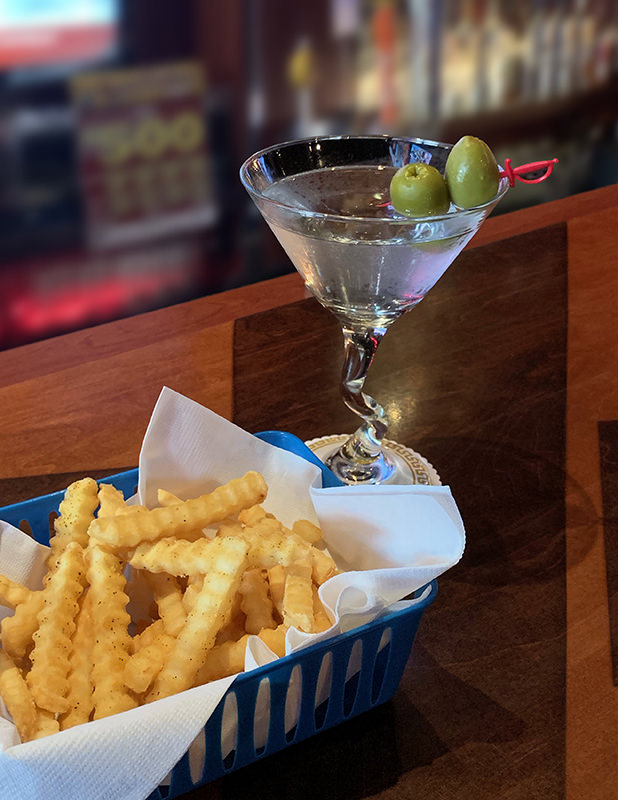 With the exception of the basket not being what I originally had in mind, this was pretty darn close to what I was going for. But when I went to drop it into the story, it looked... odd. So I decided to paint over it and run the image through some Photoshop filters to make it look a little more interesting. And there you have it...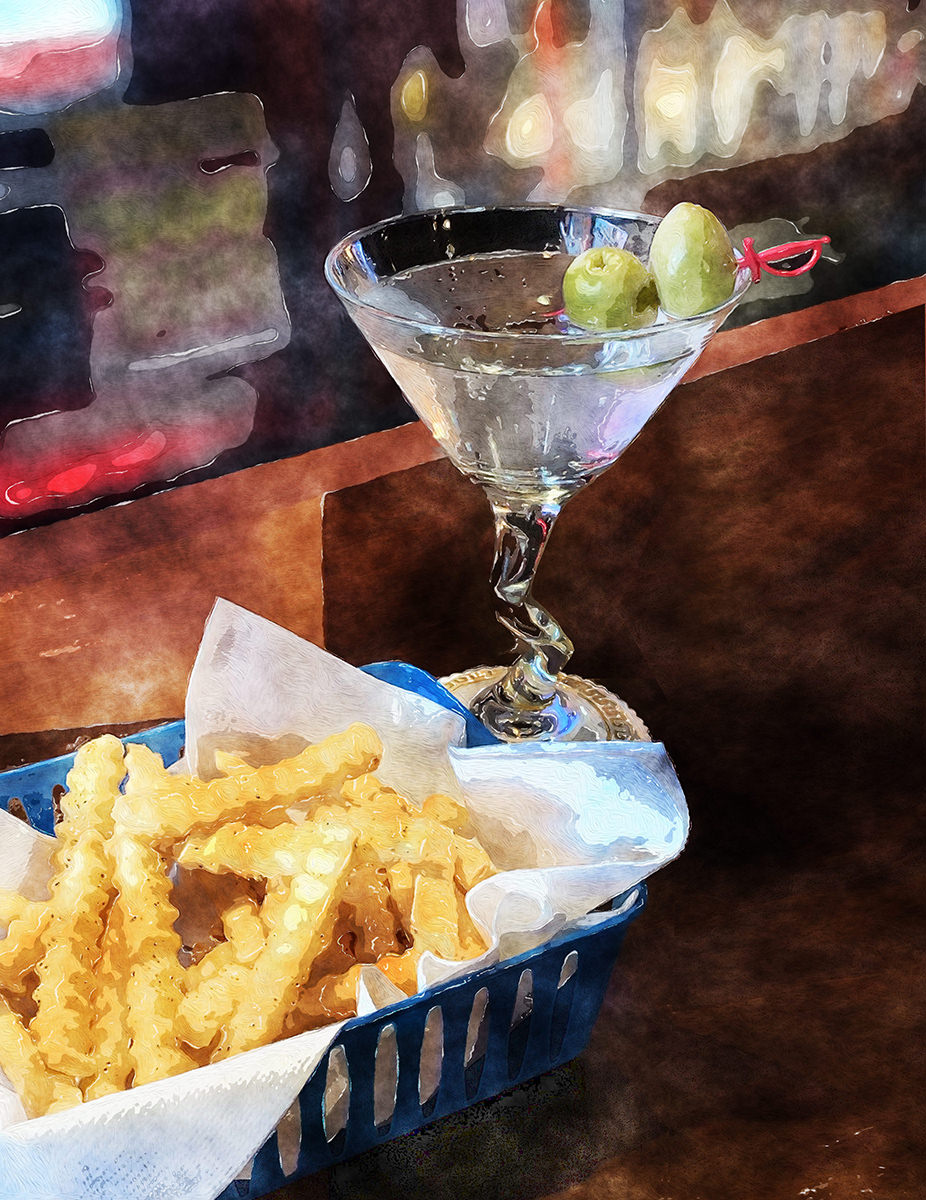 I toyed with at least changing the basket color to red, but the blue stood out better so I left it.
And if all that wasn't "suffering for my art" then what is?
All things considered, I'm fairly happy with it. I guess. Probably should have just drawn it from the start, but I really wanted a photo for this one.
I did a few more pieces for the issue. To understand why I decided on what I did, you might want to read the stories first. Otherwise I'm not sure how much sense this will all make.

For a pair of stories by the always-amazing Howie Good called Prayer Vigil and The Rain Side of the Rain-Snow Line, I wanted a drowning cross and a bird/person mashup. Again constructed from stock photos then Photoshopped...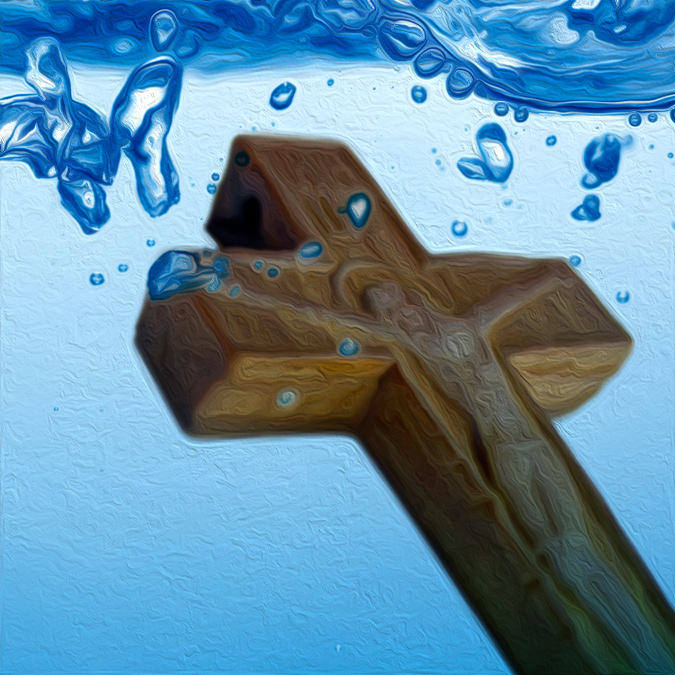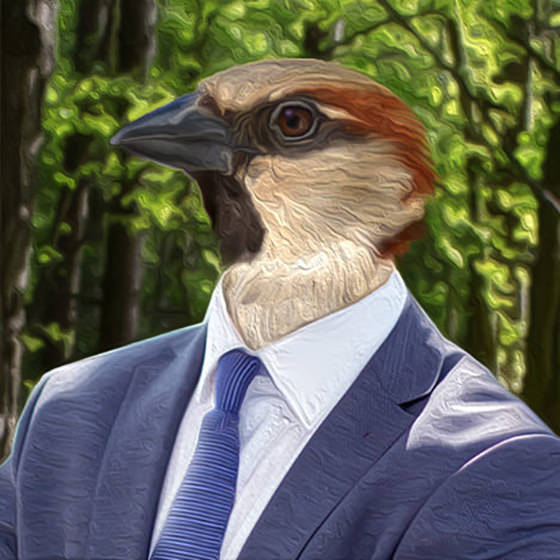 For loneliness for taste, a story by dN eQ, I had wanted to do something which had to do with a barber shop. Like a pair of scissors and a comb or something. But that wasn't what the story was saying to me. I rethought things and decided I wanted to somehow illustrate life moving forward in ways that were both mundane and interesting. This is what I came up with...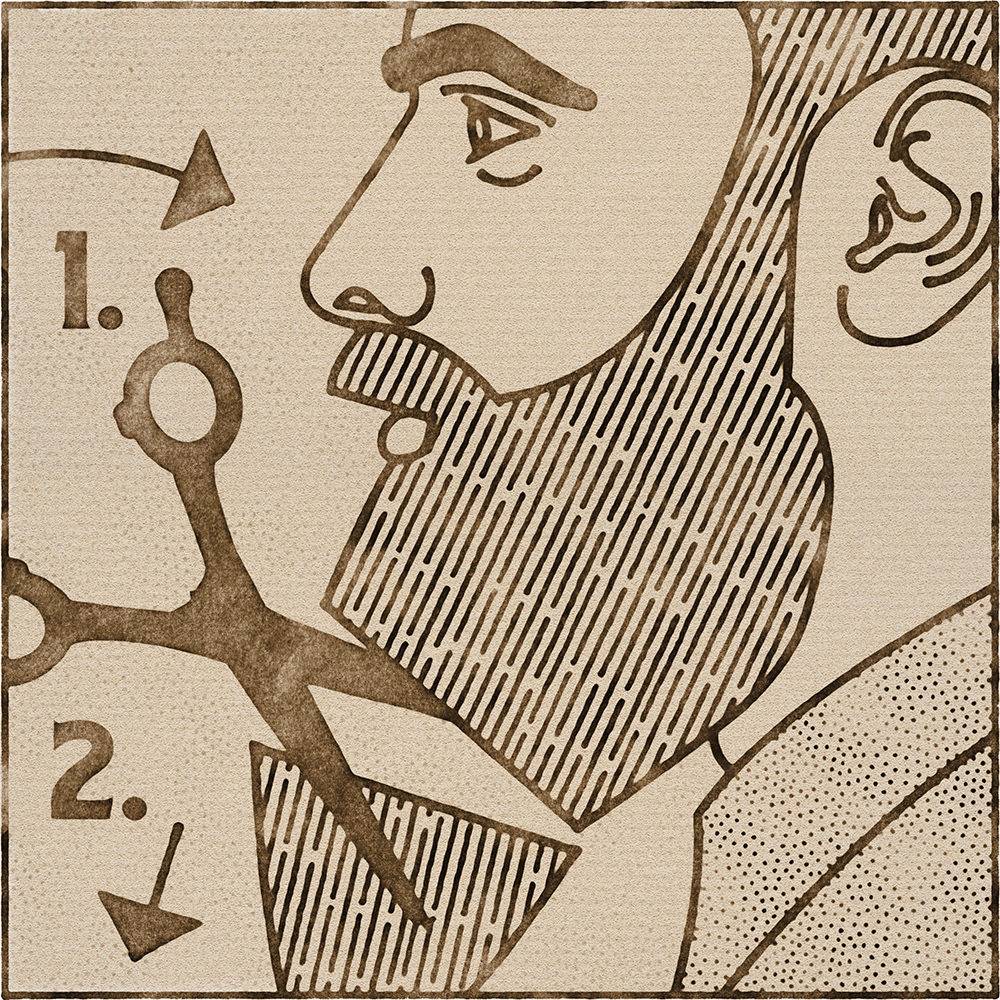 For Mountain High Pizza Pie, a story by the always-interesting Matthew Dexter, I kept coming back to the way he'd echo pizza toppings and a fetus. I put the two together and... voilà...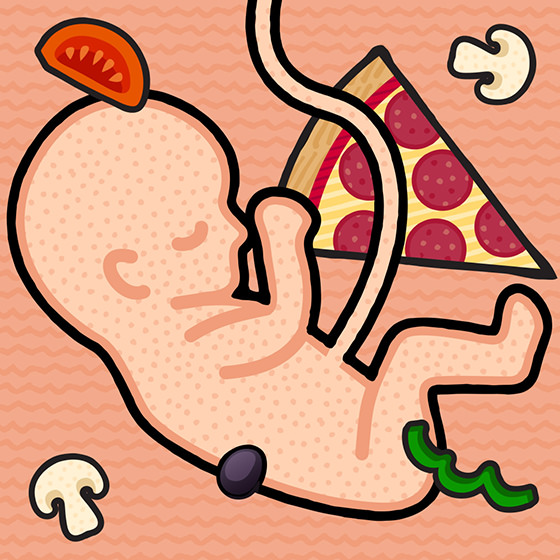 Whenever I have a spread of two stories, like Her Love by Megan Gordon and Call Me Kumiktuq (Scratch) by Tom Sheehan, I try to find a commonality which I can illustrate that will tie them together. For Megan's story, I really wanted to find a way of showing lemons and lavender flower. I had no idea what to do for Tom Sheehan's story. Eventually I liked his line about snowflakes and lightbulbs and decided I could have the lemon play off the lightbulb, then use lavender and snowflakes in the backgrounds...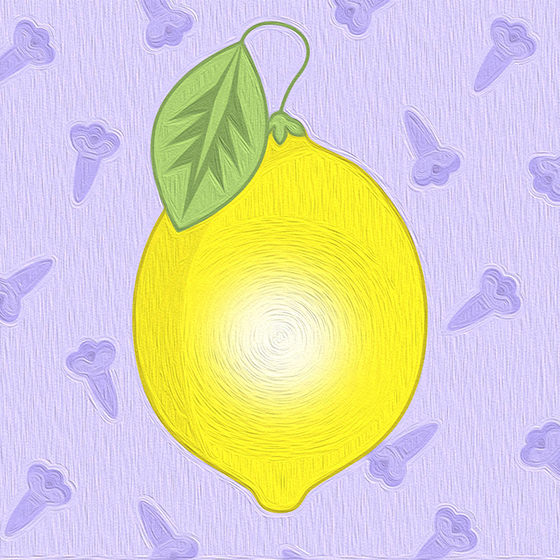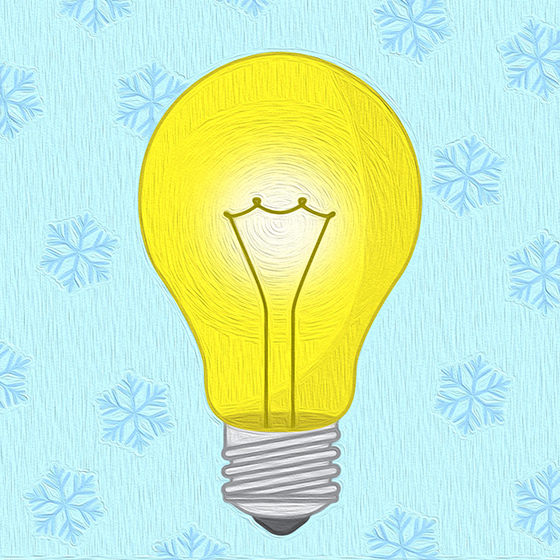 For the story Children of Survivors by Miriam Sagan I wanted quite badly to come up with something that would compel you to read the story... but without giving anything away as to what the actual story was about. So I zeroed in on a bit of conjecture by one of the characters which had somebody being killed over half an apple. This was taking place in an internment camp, so I had to be careful about showing the apple being too red and too tasty because, I figured, that if they were given apples at all they would undoubtedly be shriveled and older...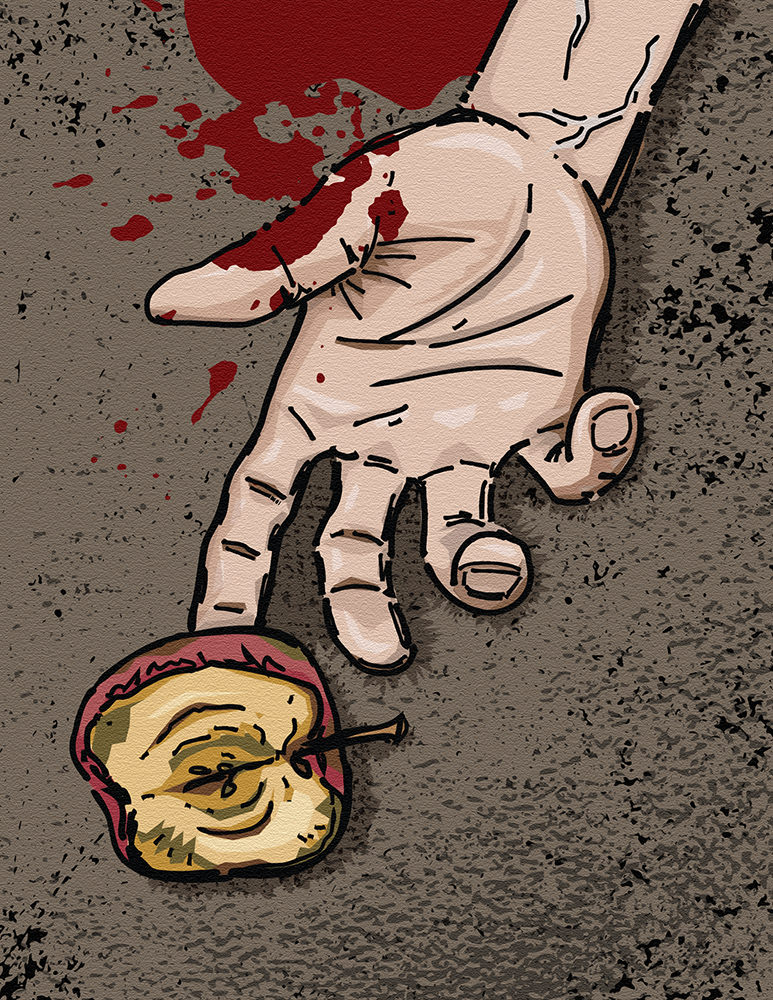 For a brutal story called Honeymoon (by Beate Sigriddaughter), I wanted a lit candle being strangled by vines. Originally I just drew it, but didn't like what I came up with, so I composited four stock photos and ran it through some Photoshop filters. On the page opposite is a vivid story called Clown Town by Couri Johnson where I wanted to composite stock balloons over a bright blue sky. This looked strange next to my drab candle, so I changed out the drab candle I used to a bright purple one. This ended up being kismet, because it actually fit the story better. The hope being that the character's brightness and light won't be completely crushed out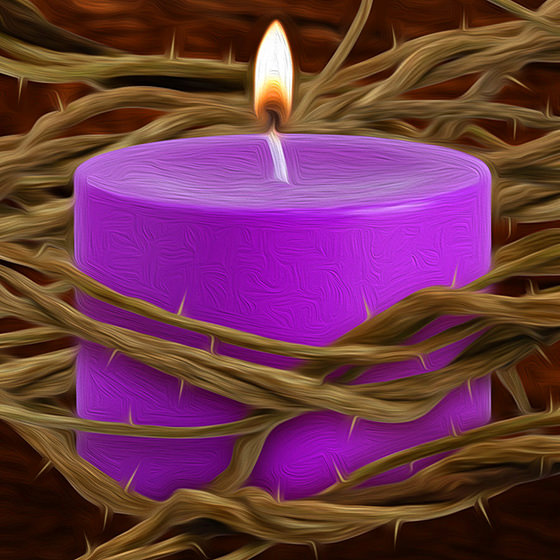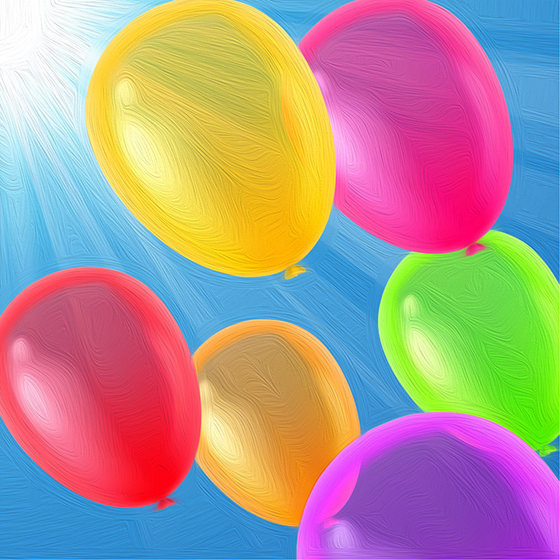 And that's the end of my contributions to Thrice Fiction Magazine No. 24! If you'd like to take a look at the issue (and see some real artists creating actual art)... head over to our website where you can take a look for FREE!