And now is that special entry where I wrap up MY FAVORITE TV SHOWS OF 2018!
Like the past couple years, it's not as easy as it used to be to keep track of "television." Everything is so scattered that I feel I'm missing most of it. New series and old favorites appear without my ever knowing they existed. Some shows I am aware of, but never had time to see. This list is made from those I actually saw...

THE TWELVE BEST...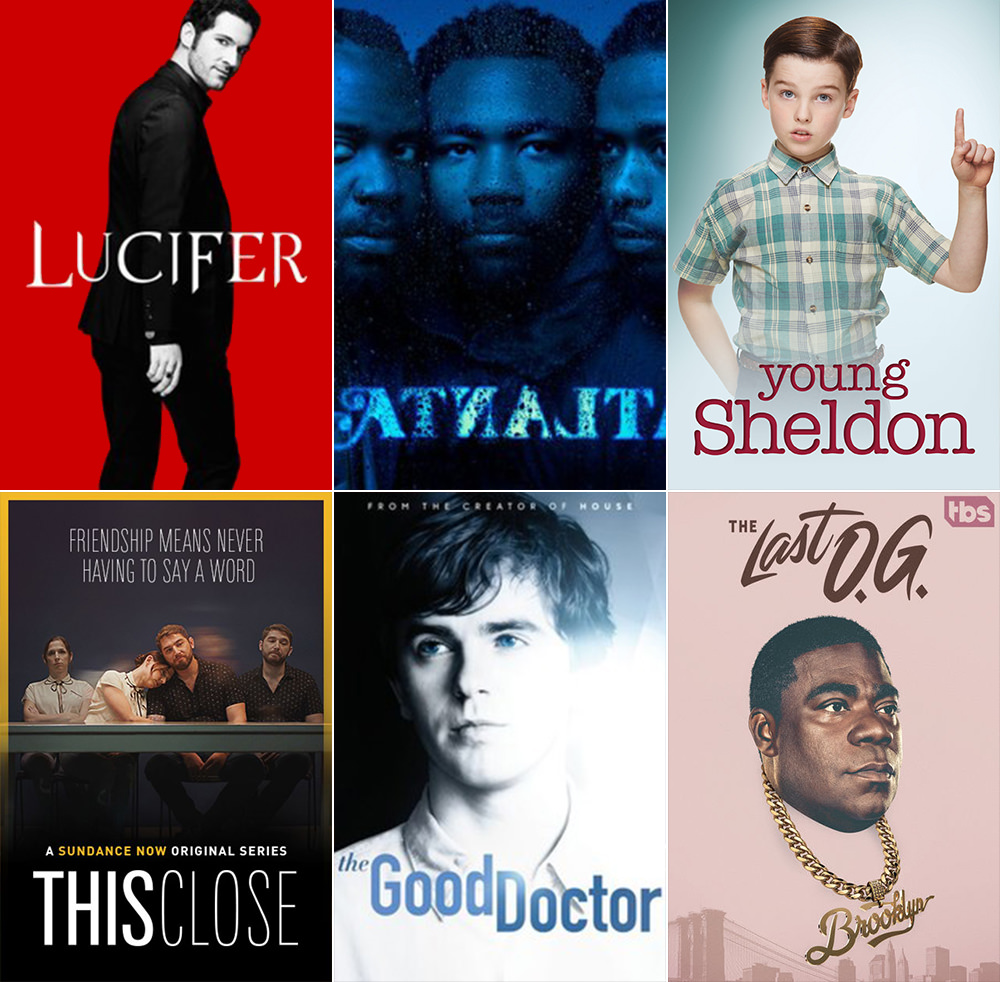 #1 Lucifer
Consistently one of the best shows on television, it was just so fitting that the third and best season of the show would be its last. Fox cancelled it with stories still in progress. I was furious, but it's something I've gotten used to. Then... a miracle. Netflix stepped in and saved the show. Whether that's a good thing or a bad thing remains to be seen, but I will absolutely be tuning in to find out. Lucifer is a devil of a show... about the actual Devil. Or a fictional equivalence thereof.
#2 Atlanta
The first season of Donald Glover's turn at television was remarkable. The second season went next-level by pushing the envelope even further. My favorite thing about Atlanta is that it is constantly moving from one show to the next. Comedy? Drama? Caper? Horror? There's just no telling what you're tuning into. The only thing that's assured is that it will entertain you.
#3 Young Sheldon
I keep telling myself that the party has to end sometime. They're going to run out of stories. They're going to run the concept into the ground. They're going to run into a dead end. Something's gotta happen to bring Young Sheldon to a screeching halt. But it ain't happened yet. If anything, the characters are just getting more charming and the scripts getting more entertaining. At this point, I'm beginning to think that the only thing that can sink the show is puberty.
#4 This Close
I wasn't exactly sure where this show should fit into my list. I really enjoyed the series... I felt like I was being given a wonderful insight into the deaf community... but it was also so problematic. Kate works at a PR firm and has just gotten engaged to her boyfriend. Michael is an artist who met great success with his first graphic novel, but is struggling to find a follow-up. They are deaf and best friends. But where Kate has her life pretty much together, Michael's life is a non-stop parade of drug and alcohol abuse, random sex hookups, and an ex-boyfriend that he can't get over. It's a fascinating dynamic, but it never feels like Michael is moving forward as a character and it gets tiring. I hear the show has been renewed, so hopefully they will let Michael get his shit together at least part of the time. Though after what happened in the finale, that may not be possible.
#5 The Good Doctor
When the show focuses on Freddie Highmore playing autistic surgeon Shaun Murphy, it's fantastic. Unfortunately, we are constantly getting sidetracked by Toby Ziegler (or whatever his character's name is) being only slightly less annoying than he was on The West Wing. And I'm not entirely thrilled when we have to spend time with the other characters' lives outside of the hospital either.
#6 The Last O.G.
Tracy Morgan is hit or miss with me. Most of the time I love what he does... other times it feels like his humor is a poor fit for the project. When it comes to The Last O.G., Morgan is flawlessly cast and at the top of his game. I loved this show. It's hysterically funny while being totally charming and touching at the same time. The story revolves around Tray, an ex-con who was just been released from prison after 15 years. He returns home to find that not only has Brooklyn changed, his ex-girlfriend and his kids are living new lives as well. Hilarity ensues. And so does a second season, thank heavens.

#7 Magnum, P.I.
When the series began, I was most definitely not impressed. The new Magnum has none of the charm as the original. Rick and TC kept getting shoved aside. And Higgins went from a fussy major domo male character to a bitchy borderline-abusive female character. And then... everything started to settle. Still not as much Rick and TC as I'd like... but Higgins quickly became my favorite part of the show. She's capable, brilliant, and is often accompanying Magnum on his exploits. Plus... Hawaii.
#8 The Rookie
I tuned in because Nathan Fillion always brings his A-game, and I was interested in seeing what would follow Firefly and Castle. A series about a guy who decides to change his wrecked life by becoming a police officer sounded a bit tired. But making him an older guy added another dimension to the whole "police show" concept, so I was onboard. Then the stories started getting really good and I was completely invested. The only thing I hate is that all the rookies are forever being referred to as "boot" and it is fucking insane. Please, for the love of all things holy, let that end if the show gets picked up for a second season.
#9 Wrecked
The hilarious insanity of this show makes it good. The writers' willingness to completely change things up from season to season and episode to episode is what makes it great. A lesser show about plane wreck survivors would have just strung out the status quo until everything became a horrible mess (ala Lost). But not Wrecked. It just gets funnier and fresher with each new outing. And the characters aren't standing still either. They are growing and changing as well. All I can do is hope that TBS gives us another season, because I'm dying to see where they go next.
#10 Trial & Error: Lady Killer (R.I.P.)
In many ways, trying to follow the first season of one of the most wonderfully wacky shows to ever appear on television was folly. How could they possibly make it better? How could they make it funnier? The answer was to not get hung up on that and just make the best show they could. This time with Kristin Chenoweth taking over from John Lithgow, which is about the most brilliant decision they could have made. Her effortless hilarity coupled with some really smart writing allowed the show to hold its own. Unfortunately NBC decided to cancel the show before we had a chance to see who would be the next defendant.
#11 Doctor Who
While I'm not quite "there" with the current incarnation of The Doctor, I am loving everything that Jodie Whittaker is bringing to the part. She's got a fantastic energy and sensibility about her which has done wonders to revitalize the franchise. I was completely open to the idea of a female Doctor, but dreading what that could mean. Were they going to make the entire show revolve around the fact that the Doctor is a woman? Or would they build a fantastic show around a Doctor who just happened to be a woman? Thankfully it was the latter and we ended up with something entertaining and watchable. What I'm hoping for now is a new season where she gets more entrenched into the mythology that makes Doctor Who be Doctor Who. Fingers crossed.
#12 The Good Place
Everybody else seemed to love the third season as much as they ever have. I just cannot seem to get into it. Everything feels disjointed and confused... like they had no idea what to do when they picked up from the sublime second season. Even so, there are incredible moments that keep the show from dropping completely off my list. Most notably? D'Arcy Carden brought her character "Janet" to new heights, culminating with Janet(s) which had her playing the other characters brilliantly. I am hopeful that they can do something interesting to wrap up the season, but I'm not overly confident.

THE BEST SHOW YOU'RE NOT WATCHING...
Schitt's Creek. Such a great show. I always have to watch it late because I didn't get the channel, so I'm always "off" when it comes to my list because I'm watching on Netflix. Season 5 is January 16th, I think? I'll be rewatching seasons 1-4 to prepare myself, then buying a season pass on iTunes so I don't have to wait this time.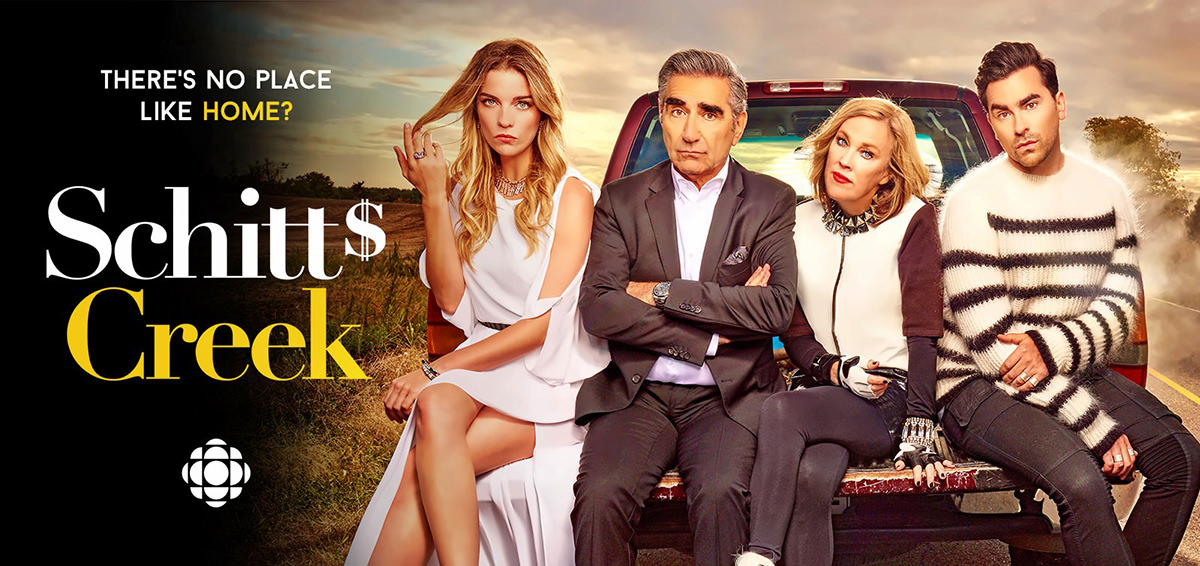 HONORABLE MENTION...
The Americans (R.I.P.). A brilliant end to a brilliant series.
Barry. Actually lives up to the hype. Bill Hader finally working to his potential, which rarely happened on SNL.
Better Call Saul. As we get closer to Breaking Bad I find myself liking the show more and more.
Black Mirror. While there are some clunkers in the mix, as a whole the series is fascinating television.
Bodyguard. Surprisingly good British show that went in unexpected directions.
Brooklyn Nine-Nine. Canceled then rescued. And still funny enough to be worth a second shot.
Champions (R.I.P.). It wasn't genius comedy by any means, but was entertaining enough.
Cloak & Dagger. Started with a whimper but built to a bang. I hope season two doesn't go backwards.
The Conners. Not the same, of course. But rebounded nicely after Rosanne was canned.
Daredevil (R.I.P.). While it was tiring to keep breaking down Matt Murdock only to build him up again, they always made it interesting.
Dark Tourist. Even if you're not a travel fan, there's a lot to love about this fascinating series. David Farrier is nuts, and I am hopeful we get a second season to see what he gets up to next. Bonus: The best opening credits of any show ever made. If my list went to 13, this would be number 13...






Dear White People. Liked the first season. Loved the second.
Elementary. The show continues to be wholly entertaining and the mysteries excellent. It was supposed to be over (hence the last episode was a series finale) but now they've been given a seventh season. I have no idea how they plan on resolving THAT mystery.
Forever. Proving that Maya Rudolph should really be in everything.
GLOW. Hasn't grown tired yet. Plus... Alison Brie.
The Good Fight. Got a little too crazy for me, but still entertaining.
Homecoming. Julia Roberts got herself a great story.
It's Always Sunny in Philadelphia. Somehow managed to brilliantly transcended what I thought the show was capable of.
The Alec Baldwin Show. Baldwin himself may be a hot mess, but boy does he know how to give a good interview. I never miss an episode.
Jack Ryan. Better than expected in some ways... but mostly lacked momentum. With the right writers for season two, there's some amazing potential for the show.
Killing Eve. Could have so easily been a top-twelve show if only they hadn't sabotaged Eve too many times. It's not necessary to make her incompetent and ridiculous to make her interesting.
LA to Vegas (R.I.P.). I truly enjoyed this series and was upset they canceled it.
Mom. The writers realized that the show was getting a bit tired, so they wrote in Kristen Johnston to shake things up. It was partly successful. But there were times she was squeezed into places where she was more distracting than anything else.
One Day at a Time. Remains a fantastic reboot that reimagines the show in a modern, wholly relevant way that still entertains.
The Orville. This carbon copy of latter Star Trek shows continued to entertain through the end of the first season, which has me hopeful that we'll get something more for the next.
Patriot Act. Hasan Minaj in his element doing exactly what he's best at.
Queer Eye. Continues to be entertaining and heartwarming with each new episode.
Rest in Power: The Trayvon Martin Story. Served to strengthen my belief that George Zimmerman is a lying psychopath who got away with murder. Heartbreaking and infuriating in equal measure.
Sacred Games. This remarkable series from India did not disappoint. Thank you, Netflix, for not being afraid to air something truly different and wonderfully complex. I sure hope people are tuning in.
Salt Fat Acid Heat. A foodie dreamscape that has the production values needed to make it worthwhile.
Sharp Objects. While I'm not sure I like this show as much as the critics, I was impressed and entertained. Actually may have to rewatch this to see what I missed the first time around.
Star Trek: Discovery. Season one ended with a bit of a misfire, but everything up to that point was genius. Cannot wait for the next season.
Survivor. Year after year, CBS keeps finding ways of keeping the show interesting. The past three seasons have been the best in a very long time.
Superstore. I keep watching even though I find the central romance to be more hinderance than entertainment for the stories.
Westworld. Overall a strong second season, but had some real clunkers scattered amongst the storylines. I have no clue how they plan on finding new stories for a third season, but I'll be watching to find out.
Will & Grace. The revival started very strong. Then kinda faded out. Still fun to watch, though the whole romance with David Schwimmer for Grace was a huge dud.

ANIMATION WORTH WATCHING...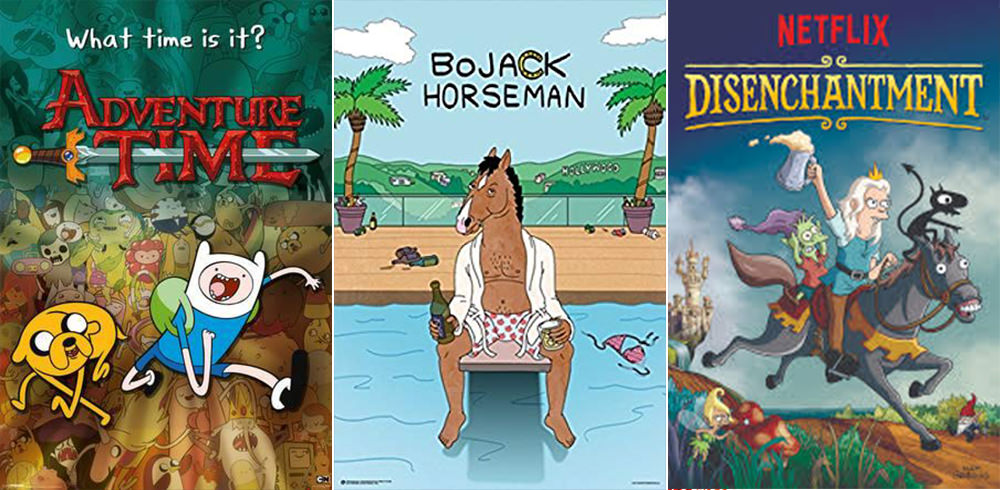 Adventure Time
The imagination that permeates every episode is more than you get from a lot of animated fare now-a-days, which is why I was so sad to see the show go. But they did give us a worthy send-off, which made the entire series worthwhile.
BoJack Horseman
If there's one thing to say about BoJack, it's that the show is consistent. Consistently brilliant, real, depressing, enlightening, and always moving forward. I'm not always in the mood for it, but I can count on the show being good for an uncomfortable laugh when I need one.
Disenchantment
I was hoping for Dungeons & Dragons meets Futurama with Matt Groening's latest, but ended up with something... not that. It's more of a slow burn through comedic storylines in a medieval setting than a series of quick laughs. It's also gorgeously animated and has some of the most beautiful backgrounds you're likely to see in non-feature animation. I enjoyed it quite a bit... especially Luci, the demonic imp whose only job is to lead Princess Bean into temptation.
Big Mouth
Yeah. You're on your own here.

NEEDS WORK...
Murphy Brown
I honestly can't decide if I like the show... or loathe it. I detest the new "Murphy in the Morning" concept. It's just so damn lazy, and doesn't allow for the political bite that the original series did. So now all the political rants are completely out of context, making them kinda stupid. What's so lame is that the writers realize this and are constantly trying to inject heavy politics into a morning show? It makes no sense. But the characters are good and some of the stories are well-done, so I keep watching.
God Friended Me
I have really been enjoying this show. The cast is phenomenal and the stories are really well done. But there are a few things that have been driving me batshit insane. First is the podcast stuff. It makes no sense that people would tune into this inane bullshit and it always serves to interrupt and distract than to enlighten. Have him talk this stuff out WITH OTHER CHARACTERS instead of a faceless audience, because it's just bad television. Second is the number of times we hear the words "God Account" in a single episode. Holy crap... can your writers stop being so damn lazy on this? And lastly... FOR FUCK'S SAKE, STOP WITH ALL THE IMPLAUSIBLE HACKER BULLSHIT! I can't believe that Facebook is happy with the fact that they are REGULARLY PORTRAYED AS BEING HACKED so that the "team" can have access to IP addresses and other private information. Just stop. Again, this is lazy. You shouldn't need to do impossible shit to make your stories work! With some fixing, this could be an amazing show.
I Feel Bad
The casting for this show is amazing. I love everybody involved and was excited to see where they would go with it. But the stories! Holy crap! The writers are so trapped by the whole concept of building a show around something the mother feels "bad" about each episode, that we end up with toothless, meandering mess. It was a foolish plot device from the start, and the fact that things just keep getting worse and worse as they continue to enslave themselves to a doomed plot device makes the show virtually unwatchable. If they get a second season, they need to cut this dead weight plot device and let the stories breathe so the actors can shine.
The Blacklist
FOR GOD'S SAKE... YOU HAVE ONE OF THE BEST ACTORS ON TELEVISION ON YOUR SHOW! JAMES SPADER IS AN ABSOLUTE GENIUS! STOP WITH ALL THE STUPID DISTRACTIONS AND GET BACK TO THE DAMN BLACK LIST! YOU KNOW, WHAT YOUR SHOW IS SUPPOSED TO BE ABOUT! And, while you're at it, give Dembe more to do. The dynamic between Red and Dembe is far more compelling than any Red and Elizabeth crap you've been shoveling.
New Amsterdam
Where to start. On the plus side, I like the characters quite a lot. Ryan Eggold is a compelling actor who knows how to sell a scene. He makes even the corniest plot devices workable because he has the skill and conviction to make them work. But that strength is also the show's greatest weakness... the writers keep coming up with corny bullshit knowing that Eggold will save them from themselves. But there comes a point where there's so much bullshit that nobody can save you. And we're past that point. It's like the concept for the show was to take everything people hate about hospitals and attack them so that they'd have the audience on their side. Everybody be like "Yeah! I hate waiting at the hospital! So good on you, Dr. Max for telling the hospital to not make people wait any more! Why don't real hospitals do that?" Well, the reason they don't is because it's fucking bullshit. So just stop. Stop and come up with compelling stories that actually make sense in the framework of fictional television instead of idiocy so outlandish that you're destroying an otherwise good show.
The Chilling Adventures of Sabrina
This is a great concept show with a fantastic cast. But the whole Satanism angle, which was an interesting plot device at the start, became an absurd crutch. Okay. We get it. The witches get their power by serving Satan and Sabrina is starting to question that. But you don't have to go running to Satanism every damn time you need to move a story forward. It's just so tired and lazy. The shock value has long since run its course, and you need to find more interesting and inventive ways to move your narrative forward. I mean, come on, even The Church Lady didn't have this big of an obsession with Satan.

THE WORST...
Supergirl
I was able to find entertainment in the show for seasons 2-3, but this current season has been a disaster. First of all, I'm sick of "Team Supergirl" trouncing all over what should be interesting stories revolving around The Girl of Steel. Second of all, the whole "aliens are a threat to the country" arc is stupid as shit. For the love of Pete, ditch the squad, find good stories, and make this show what it should be.
The Flash
Same problem as Supergirl. "Team Flash" is annoying as shit and is destroying the show. Any time something remotely interesting starts happening, some idiotic drama has to start up with one of the "team" and it drives me absolutely bonkers.
The House on Haunted Hill.
I had such high hopes for this. Ended up being a total snooze-fest that bored the crap out of me. Sure, there are great moments to be had, but they are sandwiched by asinine stories that just aren't worth the investment. I know I'm in the minority here, as many people seemed to love the series, but I found it a disservice to the book and a big failure.
Manifest The old "Airplane Goes Missing And Magically Reappears" plot device was really interesting this time around. At first. But then it became clear that they were going to drag out the mystery forever, at which point it became boring, redundant, and stale. Unless you are bringing something new and interesting to the table, don't play the game! You just end up wasting everybody's time.
The Resident
This was bound to be bad because the ads had Matt Czuchry dumping a steaming load of overacting all over everything, but I gave it a try because I like Emily VanCamp. Turned out it was as awful as it looked and I gave up 15 minutes in. Not willing to let a bad thing go, I tuned in again this year and couldn't believe that it was even worse. I may not love New Amsterdam, but at least I can watch it.
The Neighborhood
Originally, this was a slightly annoying show that was made watchable because the "white neighbors" were so charming. Josh Lawson and Dreama Walker were perfectly cast as the well-meaning but clueless couple who move into a Black neighborhood. But then they were replaced by frickin' Schmidt from New Girl and Caroline from 2 Broke Girls? The result is something completely un-funny, and the show is borderline unwatchable. I can only guess this was a network decision to tie up two actors from previously successful shows rather than what was actually good for The Neighborhood. Hard pass.
This is Us
Everybody and their dog keeps telling me that this is must-see-television and I have got to start watching. I don't get it. I find all the characters to be kill-me-now annoying. The stories are all so transparent and manipulative. It's manufactured drama for the sake of being dramatic... not interesting.