I was upset with myself for going into credit card debt to buy the Sonos SUB (subwoofer) to complete my Dolby 5.1 setup... but couldn't pass up the $100 Black Friday savings. The thing is SEVEN HUNDRED DOLLARS and knocking a Benjamin off the price was just too good to be true. Even if it means that I've spent my tax refund before I've even seen it.
Now that I have it installed though? Amazing. Absolutely amazing. No regrets. Totally worth the three months' worth of groceries this thing cost me.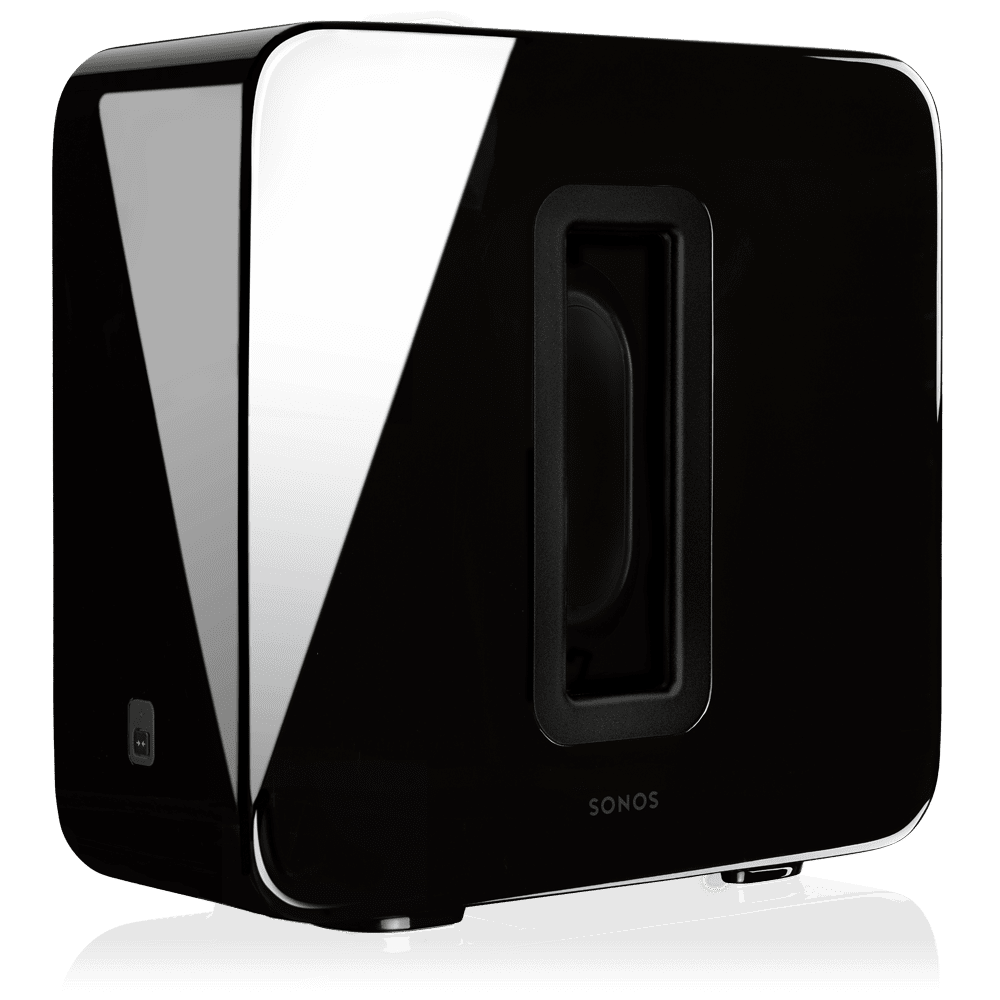 I knew that adding a subwoofer would give me better bass. I had one with my old audio system, so I knew what to expect. What I didn't expect is that Sonos would take the bass load off my front and rear channels so they can focus on producing bright, crisp midtones. Movie dialogue is phenomenal. My music is more alive. The room sounds bigger, fuller, and sound fills the space better. Acoustics with the SUB enabled are drastically improved.
As expected from Sonos, the build quality is excellent. The SUB weighs 36 pounds so you know the thing is capable of pushing serious air volume. The face-to-face drivers cancel cabinet vibration, which means it can be placed upright or lay flat. Sonos had mentioned you could put it under your couch if you wanted, so I attached the felt pads to a face, placed it on its side, then shoved it underneath mine (where the cats can't get to it). This has the side benefit of adding a nice punch under your butt when the bass is firing!
Setup is dead simple. You just open the Sonos app, tell it you want to add a SUB speaker, press a button on the unit, and everything happens automatically. You can then balance the sound by sitting where you'll be listening from and having the phone app "listen" to the room acoustics. Then you can use Sonos Trueplay tuning to walk around the room while the app "listens" to the space and adjusts to best fill it. The app makes the entire process fairly painless.
The first thing I did once I was all set up was to play Postiljonen's Plastic Panorama which is a beautiful piece of music that has soft, haunting vocals that can be overwhelmed by the punchy bass-line on a bad stereo. My Sonos system with the SUB added played the track beautifully. I've never heard the song sound so good...
Halsey's Without Me is particularly good with the SUB in play...
I then proceeded to play a wide variety of different music from every style and genre I could think of. Sonos took everything I threw at it and performed flawlessly. I then ran some movies with excellent sound design through the Sonos Dolby 5.1 separation and was consistently thrilled by what I was hearing (Blade Runner 2049 is incredible). I thought my stereo system sounded good before... and it did... but now it's next level. I turn the SUB off and on while listening and the difference is not subtle. This is one piece of equipment that will not be returned to the manufacturer because I don't want to live without it! I spend a huge chunk of my time listening to music and watching television or movies. It deserves to be the best experience it can be in my life. Even if I had to go into debt to do it.
I was worried about the cats adjusting to the increased bass, but they have completely ignored it. Don't ask me how they can sleep while music is playing, but they've never had a problem. There are quiet places they can retreat to but they don't. With that in mind, I try not to get too loud so as not to damage their sensitive ears.
So... to sum up...
If you've got a Sonos audio setup... especially if you've got a PLAYBAR with rear speakers for your home theater... the SUB is a fantastic addition. Perhaps even a necessary addition if you spend a lot of time watching movies at home like I do. Without it, you're kinda missing out.
The problem, of course, is the price tag. $700 is insanity. The $600 I paid on sale was still absurd. This is a $500 piece of audio equipment, tops. And yet... it sounds like a million bucks, so go figure.